Recipes
Seafood Soup With Ginger and Yuzu Kosho
Serves

serves 6

Cook

1 hour 5 minutes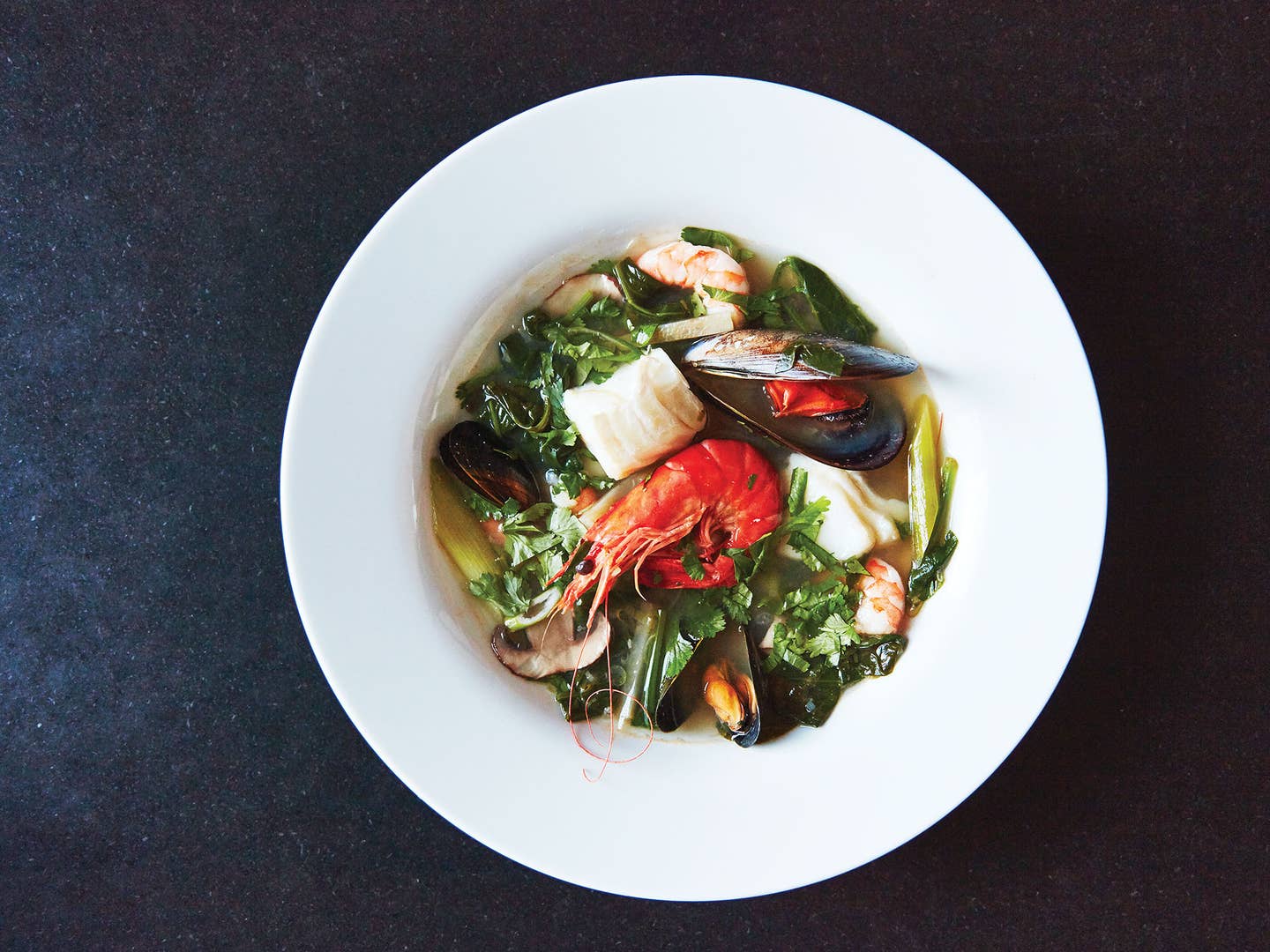 Flavored with wine and aromatics, this broth is similar to a nage or poaching liquid—you only need a shallow pool of it in each bowl. The broth features red yuzu kosho, a Japanese condiment made from citrus, yuzu, and chiles, which adds a round, tart flavor that is hard to replace. In a pinch, add a little more chile and lime zest. If head-on shrimp are hard to find—or you'd rather not fight with fish heads on New Year's Eve—nix them for more shelled shrimp.
Every December 31st, the dessert wizard invites a hodgepodge group of old and new friends for a perfect French fête, complete with oysters, gougères, and huge bottles of champagne by the Seine
Ingredients
For the broth
1 tbsp. olive oil
6 scallions, white and light green parts very thinly sliced
3 garlic cloves
1 large shallot, thinly sliced, rinsed and dried
1 lemongrass stalk, trimmed, tender bulb parts very thinly sliced
One 1-inch piece fresh ginger, peeled and very thinly sliced
1 thin slice red chile pepper
1 small strip lime zest
Salt
1 tsp. tsp. red yuzu kosho
1⁄4 cup dry white wine or vermouth
5 cups chicken, fish, or vegetable broth
Pinch of sugar
For the fish and vegetables
24 mussels, scrubbed
1 1⁄2 lb. skinless cod fillet, or other firm white fish
24 medium shrimp, peeled and cleaned
6 large, head-on shrimp, or substitute peeled
6 scallions, white and light green parts only, each cut crosswise into 3 pieces
2 large white or brown mushrooms such as cremini, trimmed and thinly sliced (preferably with a mandoline)
1 shallot, very thinly sliced, rinsed in cold water and strained
1⁄2 sweet potato (cut crosswise), peeled and thinly sliced (preferably with a mandoline)
1 handful baby spinach
Salt
Lime wedges, for serving (optional)
Chopped cilantro or seaweed flakes, for serving (optional)
Instructions
Step 1
Make the broth: Warm the oil in a large Dutch oven or pot over medium-low heat. Stir in the scallions, garlic, shallot, lemongrass, ginger, chile, and lime zest; season with salt and cook, stirring occasionally, until softened and fragrant, about 5 minutes. Stir in the yuzu kosho, then the wine. Raise the heat to medium-high and cook, stirring, until almost evaporated, 1–2 minutes. Add the prepared broth and bring to a boil. Reduce to a simmer, cover, and cook for 20 minutes. Add a pinch of sugar and taste and adjust the salt as needed. Remove the large pieces of garlic. Broth can be chilled for 3 days or frozen up to 1 month.
Step 2
Make the fish and vegetables: Bring the broth to a boil. Reduce to a simmer and add the mussels. Cover and cook for 3 minutes. Add the remaining ingredients and cook, uncovered, until the shrimp are pink and the mussels open, 2 minutes (discard any mussels that don't). Remove the pot from the burner.
Step 3
Divide the fish, vegetables, and broth between 6 shallow bowls. Squeeze with lime juice and sprinkle with cilantro or seaweed, or serve with the garnishes on the side.