Recipes
Maritozzi: The Age-Old Roman Breakfast Pastry That's Easily Made at Home
These lightly sweetened buns are also great for proposing marriage!
Serves

makes 10 buns

Cook

4 hours 15 minutes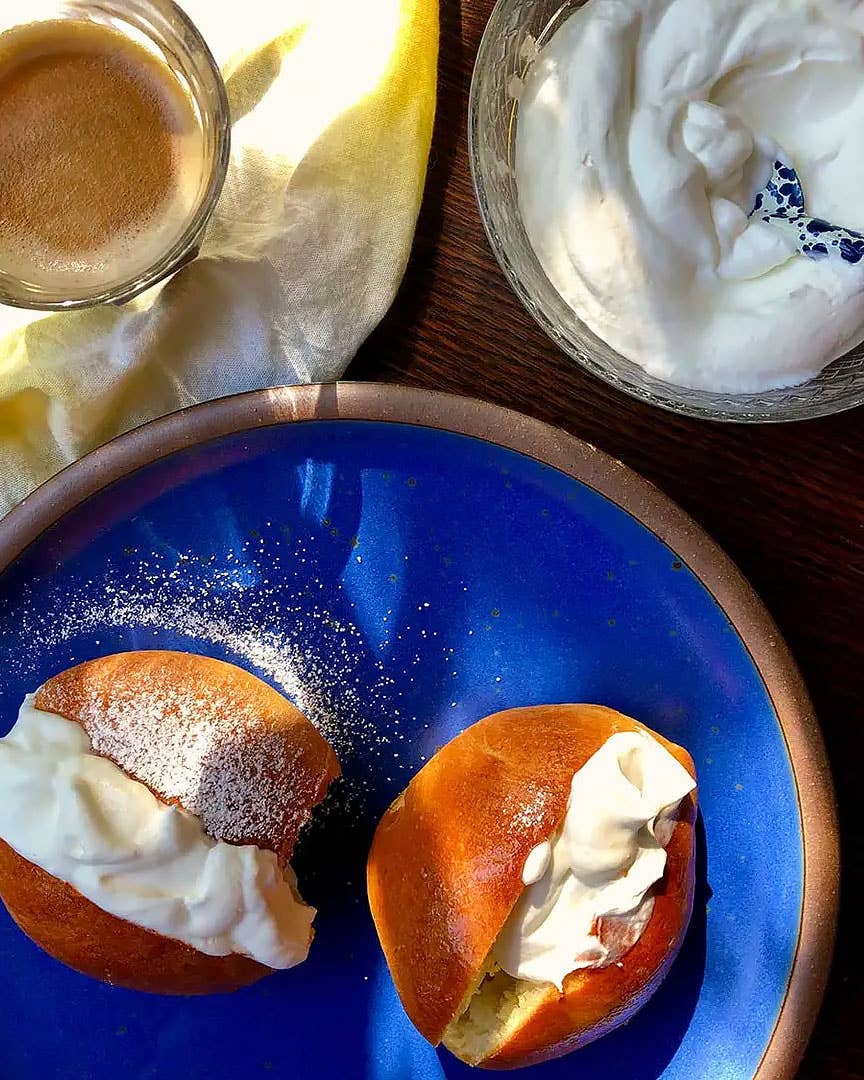 Let's imagine that we're traveling again. You're in Rome. The pastry cases you see as you meander the streets likely show preference toward cornetti—Italian variations on croissants that have become standard breakfast fare—which have most likely been delivered from a larger, third-party distributor, leaving something to be imagined. But were you to stumble upon a pasticceria that bakes in-house, you must order maritozzi. Lightly sweetened brioche-style buns in the shape of a football, split and filled with whipped cream, maritozzi are the kind of breakfast that encourages you to slow down for a moment. To slowly sip your espresso, licking cream from fingers as you people-watch.
A Pastry Worthy of A Proposal?
Dating back as far as the Middle Ages, so the stories go, maritozzi apparently served two purposes. The simple buns, enriched with honey and olive oil, studded with pine nuts and dried fruit, were a treat during Lent (not too sweet, no animal fat). Keeping in mind that "marito" is Italian for "husband," legend also has it that by the 18th century, to propose marriage, a man would give his intended one of these buns, perhaps even having a ring or another token of affection baked inside—thus earning the maritozzi their name (though whether the practice or name came first is a chicken-or-the-egg situation).
"Maritozzi is a very Roman pastry, and some outside the city hardly even know about it," Saghar Setareh, a Rome-based food photographer and writer who hosts food tours and cooking classes, told me. It's for that reason that he always makes a point to bring his groups for maritozzi before a morning tour of the city. "My favorite place is Pasticceria Barberini…they slice and stuff the maritozzo when you order."
Cookbook author and photographer Kristina Gill, who's also based in Rome, explains that word-of-mouth is the best way to find pasticcerie that make their own maritozzi. "Some places who have external suppliers don't offer maritozzi at all," she says, adding that she's had luck at Bar Benaco, Pasticceria Linari, and Pasticceria Regoli (the latter is mentioned in her cookbook, Tasting Rome).
Over the past few years, Rome has hosted maritozzi festivals as part of an attempt to embrace the pastry as part of its unique cultural tradition. Food tour company Tavole Romane hosts an annual Maritozzo Day, where local shops are invited to participate. The buns can be sweet or savory; you can find them filled with everything from gianduja and zabaglione custard to eggplant caponata, meatballs, and mortadella. Vegan and gluten-free versions also appear to be growing in popularity.
Why Not Make It Yourself?
Since it's unlikely you'll travel to Rome anytime soon, now's a good time to make maritozzi at home. The technique is straightforward and the ingredient list relatively short. Gill noted that when developing the recipe featured in Tasting Rome, she wanted the buns to be quite similar to a classic brioche, which would call for all-purpose flour, but after recipe testing, she found that higher-protein bread flour worked as well, "I'd say a reader could use either with great results."
Stephanie Tantillo, an Educational Chef at Eataly in New York, offered yet another option: 00 flour. Tantillo, who learned to make maritozzi while working as a baker at Fedora in Florence, found that most Italian enriched doughs, including maritozzi, were made with soft wheat 00 flour, which produces a finely textured bun. "Italian flour has different classifications than American. All-purpose is the most similar to 00," she added. "The big difference is 00 is only soft wheat, whereas all-purpose is a mixture of soft and hard." That said, it's clear that the buns are wildly adaptable to whatever the home baker has on hand.
On the matter of the historical practice of folding nuts or dried fruit into the dough: "I am one of those people who discards candied fruit," said Gill, on her decision to omit them in her recipe. Setareh said "maritozzi are supposed to be like soft clouds, not dense with dry fruits," but adds that she wouldn't mind finding a raisin or two in a bun. While Fedora serves versions both with and without dried fruit, Tantillo says that the plain option is more popular.
Ingredients
For the buns:
2 tsp. active dry yeast
1 Tbsp. (21 g) honey
2 1⁄2 cups plus 2 Tbsp. (330 g) all-purpose flour, divided
1⁄3 cup (40 g) bread flour
1⁄3 cup (66 g) sugar
1⁄2 tsp. kosher salt
4 Tbsp. (57 g) unsalted butter, cut into small pieces and softened
2 Tbsp. (53 g) olive oil, plus more for bowl
3 large eggs
2 tsp. finely grated orange or lemon zest
For the syrup and filling:
3 Tbsp. (40 g) sugar, optional
1 1⁄4 cups heavy cream, whipped to stiff peaks* and sweetened to taste with confectioner's sugar
Instructions
Step 1
Make the buns: In a medium bowl, whisk together ⅓ cup lukewarm water, the honey, and yeast, and set aside until the mixture is foamy, about 10 minutes. Stir in ½ cup of the all-purpose flour, cover with a clean kitchen towel or plastic wrap, and set aside in a warm place until the mixture is bubbly and starts to rise, about 20 minutes.
Step 2
To the bowl of a stand mixer fitted with the paddle attachment, add the remaining all-purpose flour, the bread flour, sugar, and salt. Mix on low speed until combined, then add the eggs, lemon or orange zest, and the reserved yeast mixture, and continue mixing until smooth and combined. Using a plastic bowl scraper or silicone spatula, scrape down the bottom and sides of the bowl and the paddle attachment. Turn the mixer up to medium-low speed, then add half of the butter, and mix, stopping to scrape down the bowl and paddle occasionally, until the butter is completely incorporated into the dough. Add the remaining butter and continue mixing and scraping until completely incorporated, then, with the mixer still running, slowly drizzle in the olive oil. Turn the mixer up to medium speed and continue mixing until the dough is very smooth, elastic, and slightly sticky, 8–10 minutes.
Step 3
Lightly oil a large bowl, transfer the dough into it, then cover with the kitchen towel or plastic wrap. Set aside to rise in a warm place until doubled in size, 1–1½ hours.
Step 4
Line two large rimmed baking sheets with parchment paper and set aside. Turn the dough out onto a clean work surface. Using a large chef's knife or bench knife, divide the dough into 10 equal pieces (about 70–75 grams each). Round each piece into a smooth balI by using the palm of your hand to roll it against the work surface in a circular motion, then, working with one ball at a time, use both hands to roll each piece back and forth against the work surface while using the outsides of your hands to put gentle pressure on two sides of the ball, creating a tapered oval shape, about 5 inches long. Transfer the buns to the lined baking sheets, leaving at least 2 inches between each bun. Cover each pan with a clean towel or plastic wrap and let rise in a warm place until the buns are puffed, very soft, and not quite doubled in size, 30–45 minutes.
Step 5
Meanwhile, preheat the oven (with one of its racks positioned in the center) to 350ºF. Working with one tray at a time, bake the buns, rotating the tray halfway through cooking, until golden brown, 15–17 minutes.
Step 6
While the buns are baking, make the syrup: In a small pot over medium heat, combine the sugar and 3 tablespoons water. Cook, stirring frequently, just until the sugar is dissolved, about 2 minutes, then remove from heat and set aside.
Step 7
As soon as the buns come out of the oven, brush them generously with the syrup, then cool completely.
Step 8
Using a serrated knife, split the buns vertically down the center without cutting all the way through, leaving the two halves connected (like hot dog buns); fill with sweetened whipped cream and serve immediately.
*Find our how-to video guide to perfect whipped cream here.