Recipes
Sheermal: Northern India's Lesser Known But (We Think) Superior Flatbread
This fragrant, saffron-laced flatbread is fit for royalty.
Serves

serves 14

Cook

5 hours 35 minutes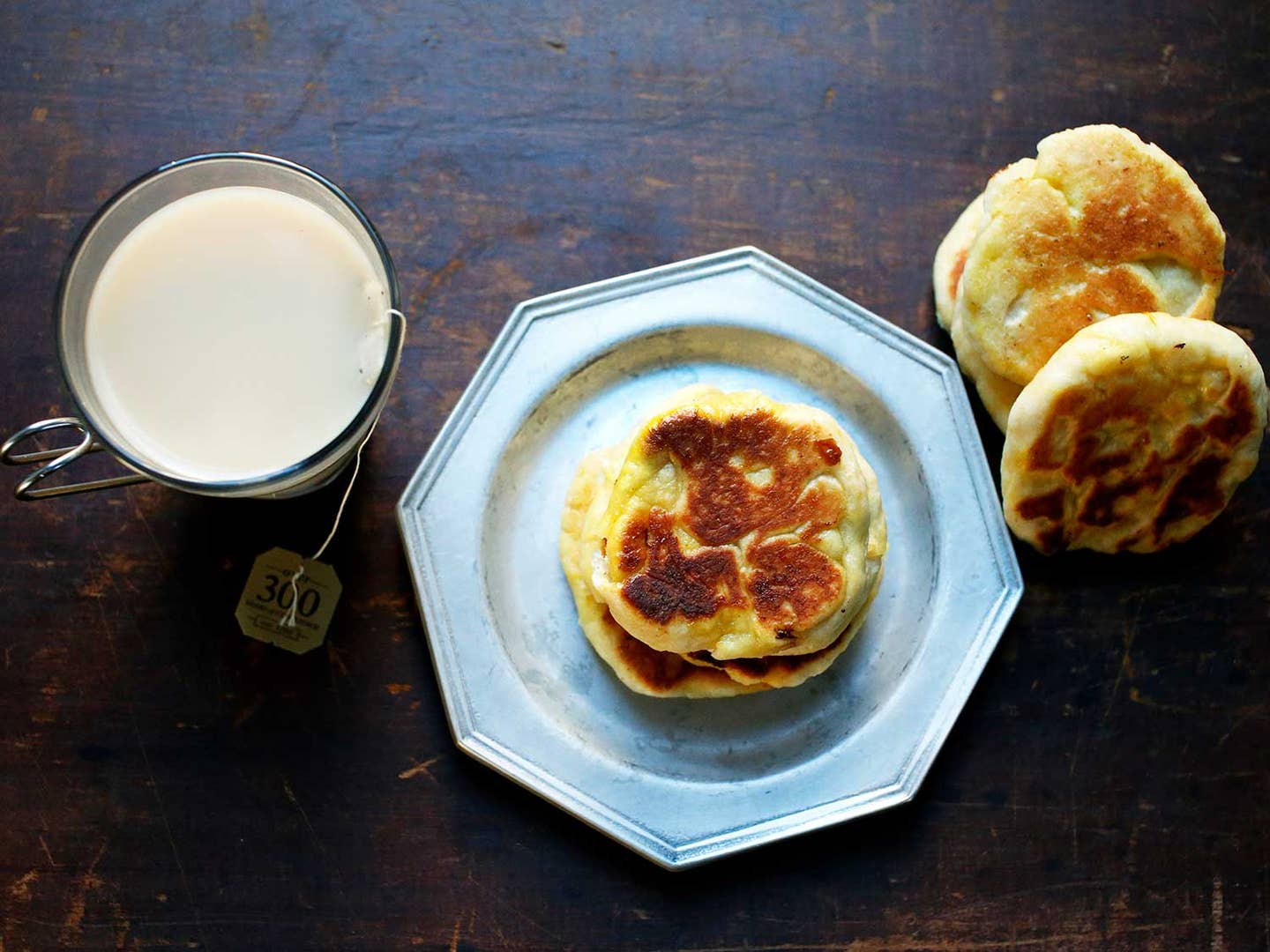 When most people think of flatbreads from India, they imagine naans, parathas, and chapatis. For me, though, with strong family ties to Lucknow in the north, it's hard to think of those more well-known breads without also thinking of their lesser-known Awadhi counterparts—in particular, sheermal. Puffy, sweet, and fragrant with saffron, the Northern Indian flatbread truly is a royal dish.
Awadhi cuisine as we know it today is anchored to Lucknow, the capital of the Indian state of Uttar Pradesh. It is an amalgamation of the many cultures the region has absorbed as it changed hands through waves of ruling dynasties. The most prominent amongst these were arguably the Persians and the Mughals, each of whom contributed their unique cultural and culinary traditions to the region; it was the Mughals who divided India into twelve provinces, of which Awadh was one.
In many cultures, the nobility focuses their patronage on the arts and Lucknow is no exception. In addition to supporting local crafts, music, and dance, Awadhi nobility, referred to as Nawabs, elevate and revere the culinary arts as well. Since the days of the British Raj, Nawabs have maintained and enriched Awadhi cuisine. (Lucknow, which is referred to as "the city of Nawabs", has also been playfully dubbed "the city of kebabs".)
In the documentary "Raja, Rasoi, Aur Anya Kahaniya" ("Kings, Kitchens, and their Stories") erstwhile Nawab Jafar Mir Abdullah translates awadh from the Sanskrit word meaning "indestructible"—a fitting descriptor when applied to the culinary tradition preserved in Awadhi cuisine. To this day, chefs who specialize in this cuisine train and study for decades, each generation safeguarding recipes and spice blends passed down from their predecessors.
Chef Ghulam Qureshi of Dum Pukht—an Awadhi restaurant at the food-forward hotel ITC Maurya, in Delhi—is a prime example. Qureshi comes from a long line of Awadhi culinary royalty. When I tell him I'm writing about sheermal, he is momentarily quiet before narrating the history of the dish, then describing how to make it from start to finish, as if he means to say, "It's easy, isn't it?"
In fact, the bread is made from four basic ingredients: flour, milk, saffron, and sugar. (The name itself is derived from an ancient Farsi-Urdu word literally meaning "milk", sheer, and "rub", mal.) As is the case with many Awadhi recipes, however, there are hundreds of variations. The only certainty, says Qureshi, is that the quality of these ingredients is key.
Sheermal dough, once mixed, can be leavened with either yeast, baking soda, or a natural starter culture before being baked in an iron tandoor (a cylindrical oven used for bread baking). The reason for using an iron tandoor rather than a clay one is to ensure that the dough sticks while it cooks at a low temperature. Some Awadhi food historians also argue that, traditionally, clay tandoors were reserved for commoners. This distinction, paired with the fact that it takes a considerable amount of fat and expensive saffron to make a sheermal, speak to the recipe's elite origins.
"Each house, each kitchen," says Riwaz Ahmed, an Awadhi chef and caterer, "had its own traditions, its own tastes." As such, even the thickness is debated when making sheermal. Both Qureshi and Ahmed call for an optimal half-inch thickness. "The idea," Ahmed explains, "is that you don't want the sheermal to dry up over time. It must remain soft."
Qureshi points out that buffalo milk is naturally sweeter and creamier than cow's milk, which makes for a softer dough and more long-lasting finished bread. He also adds *kewra*, a fragrant extract distilled from the flower of the Pandanus plant. Ahmed does the same, and also incorporates *chironji* paste (ground from a nut called the cuddapah almond) into his dough. Other typical additions might include cardamom or rose water.
When Ustaad Imitiaz Qureshi—the godfather of modern Awadhi cuisine and chef Ghulam Qureshi's father-in-law—first opened Dum Pukht, he served his sheermal with a kakori kebab: an exceptionally tender regional specialty made from finely minced, fatty goat meat, skewered and cooked in a coal-fired tandoor. The pairing was a deliberate one, says Ghulam Qureshi: unlike most other kebabs, the kakori does not traditionally contain ginger or garlic, which could overpower the sheermal's delicate kewra and saffron flavors.
However you choose to make it, and whatever you choose to eat with it, the sheermal must be prepared with an intense amount of patience. When I asked Qureshi if he had any advice as far as recipes go, he told me that they're all intuitive but require a great deal of practice.
I still can't say that I've perfected the sort of buttery-soft sheermal that I tasted at Dum Pukht—and with good reason. The Qureshis' recipe, and those used by other Awadhi cooks, have taken generations to master, and original local recipes are still safeguarded by the handful of chefs employed in Nawabi kitchens.
For now, though, I take solace in knowing that there is no "perfect" sheermal—just the perfect sheermal to accompany one's mood, music, and kebabs. The backbone of Awadhi cuisine is its adaptability, both to the tastes and budgets it suits, and to the traditions it rests on. The version I make at home is a compromise between the sheermal I've tasted in restaurants and those sold from pillowy stacks in Lucknow's outdoor bazaars, enjoyed well with a cup of chai, an unabashedly greasy curry, or a slathering of butter.
Ingredients
1½ cups plus 2 Tbsp. whole milk, divided, slightly warmed
Pinch of saffron threads
2½ cups (12 oz.) all-purpose flour
2¼ (1 packet) dry instant yeast
½ kosher salt
¾ cup sugar
2 freshly ground cardamom pods (optional)
¾ cup ghee or unsalted butter, at room temperature
Instructions
Step 1
In a small bowl, stir together 2 tablespoons milk and the saffron; set aside at room temperature until the liquid turns a deep yellow-orange, 25–30 minutes.
Step 2
Meanwhile, in a large bowl, add the flour, yeast, and salt; stir to combine. In a small pot over medium heat, add the remaining 1½ cups milk, sugar, and cardamom, if using. Cook, stirring occasionally, until the sugar dissolves (do not boil). Remove from the heat, then add the ghee or butter; set aside to melt in the residual heat, about 5 minutes.
Step 3
Add the milk-ghee mixture, a few tablespoons at a time, to the flour mixture, stirring constantly until a soft, shaggy dough forms. Set the remaining milk-ghee mixture aside. Turn the dough out onto a lightly floured work surface and knead until smooth and elastic, about 10 minutes. Transfer the dough to a clean bowl, cover, and set aside in a warm place until gassy and nearly doubled in volume, about 2 hours.
Step 4
Meanwhile, add the saffron-milk mixture to the remaining milk-ghee mixture, cover, and refrigerate.
Step 5
Uncover the dough and give it a few more quick kneads in the bowl to deflate and tighten. Cover and set aside again until the dough is puffed and nearly doubled in volume, about 1 hour more.
Step 6
Turn the dough out onto a lightly floured work surface. Using your hands, stretch the dough out into an even rectangle without completely deflating it, then use a bench scraper or chef's knife to divide the rectangle into fourteen 1½-ounce pieces. Gently roll each piece into a round, then transfer to a large baking sheet, cover, and set aside until the dough has relaxed, 20–30 minutes more.
Step 7
Meanwhile, heat a large tawa, cast-iron skillet, or nonstick skillet over medium-low. Retrieve the reserved milk mixture from the fridge and heat over medium-low, stirring occasionally to melt the ghee. Remove from the heat and cover to keep warm.
Step 8
Using your hands, stretch each piece of dough into 3½-inch rounds (do not use a rolling pin, as it will deflate the dough). When the tawa or skillet is hot, cook the sheermal in batches: place 4 or 5 pieces in the skillet, brush the surface of each liberally with the milk mixture, and cook, covered, until golden brown on one side, 2–4 minutes. Uncover, flip, brush again with the milk mixture, and continue cooking, covered, until cooked through, 2–4 minutes more. Remove from the heat and keep warm as you cook the remaining sheermal. Serve warm or at room temperature.