Palestinian Pantry Staples We Can't Live Without
Stock up on these Middle Eastern sauces, spices, and preserves to make your everyday dishes pop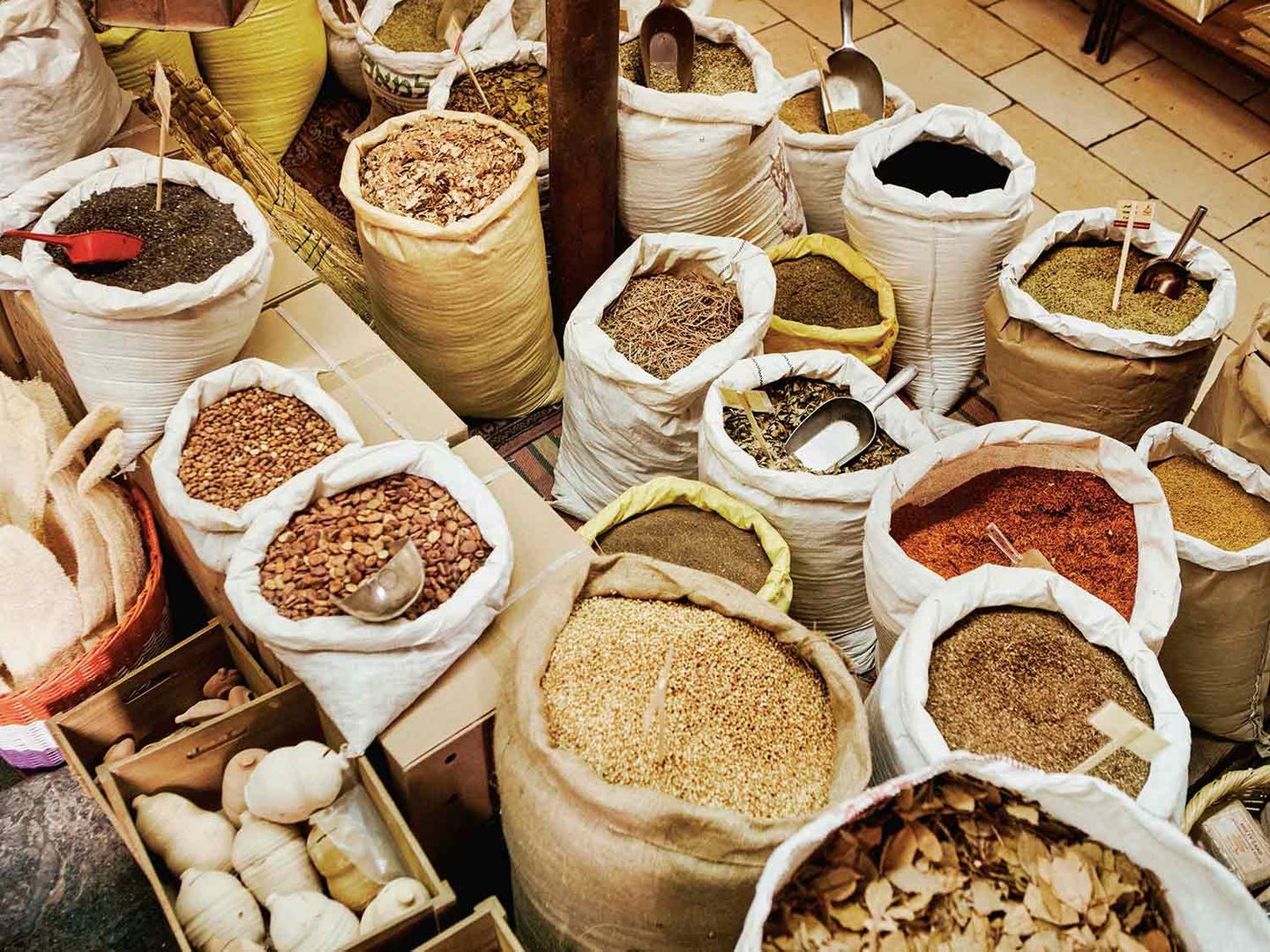 Lemon, olive oil, chiles, fresh herbs—everyone is familiar with these pan-Mediterranean flavors. But zoom in on Palestine, and you'll find a distinctive combination of spices, sauces, and other ingredients that—once you get to know them—will become essential pantry mainstays. At least that's the case that Sami Tamimi and Tara Wigley make in their Palestinian cookbook Falastin (Ten Speed Press, June 2020), the October-November pick for the SAVEUR Cookbook Club.
Palestine comprises Gaza and the West Bank, an area roughly the size of Delaware. Because it's so densely populated, with around 5 million people, regional differences in cooking are becoming less pronounced. "Everyone is cooking everyone else's food nowadays," Tamimi told me in an interview, "but in Gaza, seafood and fish are everywhere, [whereas] Bethlehem is known for its cheese and bread."
Ascribing a national identity to a recipe or ingredient is always problematic, especially in the Middle East, but there are undeniable through-lines in Palestinian cooking: stuffed vegetables, stewed beans and legumes, fresh salads with handfuls of herbs, creamy spreads like hummus and baba ghannouj, and syrup-soaked sweets, to name a few. To recreate these, and such show-stopping Palestinian dishes as roasted cod with cilantro crust and pomegranate-cooked lentils with eggplant—both in Falastin—it pays to stock up on a few flavor-packed essentials. With the below items in your cupboard and fridge, you'll be off to a running start.
Za'atar
Palestinians sprinkle this tart, heady blend of herbs, sesame seeds, sumac, and salt on everything from kebabs to flatbreads to salads. The earthy dried herb mixture—a combination of hyssop (the ancient plant for which the za'atar blend is named), thyme, oregano, and others—plays marvelously with the acidic ground berries of the sumac tree.
Za'atar is subtle, so you can really heap it on. As with all dried herbs, it will lose its fragrance quickly, so be sure to buy the greenest stuff on the shelf and to use it within six months. There's perhaps no better way to savor freshly blended za'atar than on jammy boiled eggs drizzled with olive oil and lemon juice, a weekend treat in Tamimi's childhood home. ($7.49 for 1.7 ounces, Penzey's)
Preserved Lemons
Preserved lemons have a floral, slightly medicinal flavor that adds oomph to poultry dishes, stews, and salads. In Palestine, market vendors sell preserved lemons, which Wigley calls "little flavor bombs," alongside the olives and pickles, but they're a cinch to make at home: All you need is lemons, salt, and time. That said, Belazu's jarred ones made with thin-skinned beldi lemons are great in a pinch. Most of the flavor of these preserved fruits is in their pungent skin, which should be minced before using. ($6.59 for 7.75 ounces, Amazon)
Pomegranate Molasses
At once fruity, sweet, and bracingly sour, pomegranate molasses is a pinch-hitter condiment that Palestinians use in (mostly) savory dishes such as meatballs, stews, and spreads. The top-shelf stuff (e.g., Mymouné brand) contains nothing more than syrupy reduced pomegranate juice. Though pomegranate molasses usually fades into the background, lending a hint of sugary tartness, you can really taste it in muhammara, the addictive roasted red pepper and walnut dip in which it's a key ingredient. ($19.99 for 8 fluid ounces, Snuk)
Rose and Orange Blossom Water
These highly fragrant distillates, both of which double as perfume, are made from Damask roses and Seville orange blossoms. Often used together, they add an unmistakably Mediterranean scent to cakes, pastries, custards, cookies, and, occasionally, decadent stews and rice dishes. Falastin has a terrific recipe for Palestinian shortbread cookies called ghraybeh, whose combination of pistachios, butter, and rose and orange blossom waters explains their name, "swoon" in English. (rose water, $8.78 for 10 fluid ounces; orange blossom water, $12.99 for 8.5 fluid ounces, both Amazon)
Dried Limes
You could probably play ping-pong with these hollow, brown to brownish-black limes,, which get tossed whole into soups, braises, and rice dishes for added acidity and depth. To get the fresh citrus fruits to their shelf-stable rock-hard texture, they're boiled in heavily salted water then thoroughly dried. Beyond their Palestinian applications (see Falastin's recipe for "upside-down" rice called maqloubeh), dried limes are also mainstays of Omani and Iranian cuisine. ($5.99 for 3 ounces, Kalustyan's)
Date Syrup
As if Palestine's Medjool dates weren't sweet enough, they get chopped and boiled to make an even sweeter date syrup. Rich like molasses but without the bitter bite, date syrup can be swapped out for honey or brown sugar in savory dishes like South Asian curries and American-style glazed pork ribs. Tamimi and Wigley recommend drizzling it over toast, swirled with tahini for Palestine's answer to PB&J. ($12.17 for two 8.8-ounce bottles, Amazon)
Tahini
For a condiment containing just one ingredient—sesame seeds—tahini sure runs the gamut in texture, color, and flavor. So-so tahini, often produced in southern Europe (no offense, Cyprus), is gritty, bitter, and a shadow of the sweeter, pourable Middle Eastern versions. Use it like peanut butter, spread on toast and pastries and even beaten into cookie dough. Its savory applications are far more numerous, from sauces (just add lemon and garlic and voilà!) to salads (use it to add richness to dressings) to roasted meats and fish (drizzle it on just before serving as you would good olive oil). Most tahini is of the light variety—it's the only type called for in Falastin—but toasty, pleasantly bitter dark versions, made from unhulled sesame seeds, and even black tahini, made from black sesame seeds, are also available. ($14.05 for two 11-ounce jars, Soom)