Recipes
Roasted Cod with a Cilantro Crust (Samak mashew bil cozbara w al limon)
This combination of tender cod fish, tahini, and fresh herbs is hard to resist.
Serves

serves 4

Cook

15 minutes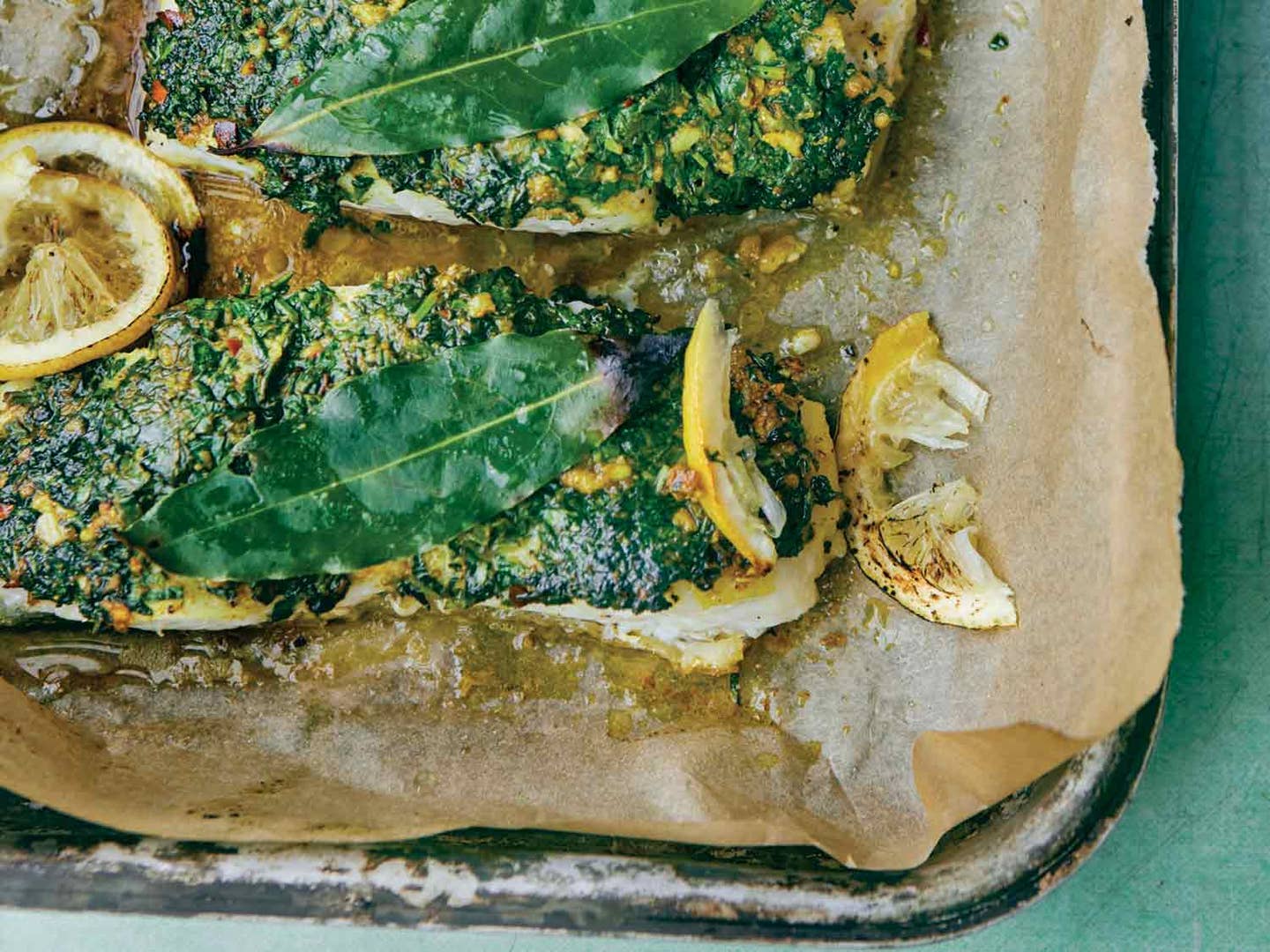 The combination of fish and tahini is hard to resist, but if you're looking for a shortcut or want to keep the focus on the lemon, this easy recipe works just as well without the sauce.
If you do use the tahini sauce, make the whole quantity of the master recipe and save the leftovers for drizzling over all sorts of roasted vegetables, meat, salads, and fish. Most meaty white fish, such as sea bass or halibut, works just as well here, as does salmon.
Ingredients
For the tahini sauce
1⁄2 cup plus 2 Tbsp. (5¼ oz.) tahini
2 medium garlic cloves, coarsely chopped (2 tsp.)
2 tbsp. fresh lemon juice
1⁄2 tsp. kosher salt
For the spice blend and fish
2 tsp. ground cardamom
2 tsp. ground cumin
2 tsp. ground turmeric
1 tsp. paprika
1⁄4 cup extra-virgin olive oil, divided
4 medium garlic cloves, coarsely chopped (1 Tbsp. plus 1 tsp.)
2 oz. finely chopped cilantro (2½ cups)
1⁄2 tsp. chile flakes
Kosher salt and freshly ground black pepper
Four 6-oz. cod fillets (or another sustainably sourced white fish)
4 large fresh bay leaves (optional)
2 medium lemons, 1 cut crosswise into 8 slices, 1 quartered lengthwise into wedges
1⁄4 cup tahini sauce (optional)
Instructions
Step 1
Make the tahini sauce: In a medium bowl, whisk together the tahini, garlic, lemon juice, salt, and ¼ cup cold water to make a thick and creamy sauce. Set aside.
Step 2
Preheat the oven to 500°F. Line a large roasting pan with parchment paper.
Step 3
In a small bowl, stir together the cardamom, cumin, turmeric, and paprika. Measure 2½ teaspoons of the spice mix and set aside (save the rest for another use).
Step 4
To a small pot over medium-low heat, add 2 tablespoons of oil. When the oil shimmers, add the garlic and cook for 10 seconds, then stir in the cilantro, the reserved fish spice mix, and the chile flakes. Season lightly with salt and pepper and cook, stirring frequently, until very fragrant and the cilantro is slightly wilted, 4–5 minutes. Remove from heat and set aside.
Step 5
Place the cod in the prepared roasting pan and brush the fish with the remaining oil. Season lightly with salt and pepper, then spoon the cilantro mixture over each fillet. Top each fillet with a bay leaf (if using), followed by 2 slices of lemon. Transfer to the oven and roast just until the fish flakes easily when poked with a fork, 10–12 minutes. Drizzle with tahini sauce (if desired), then serve hot, with lemon wedges on the side.