Recipes
Baked Fish in Tahini Sauce (Siniyet samak bil tahineh)
A creamy tahini sauce—with lemon, garlic, and green chiles—adds flavor and fragrance to this comforting Middle Eastern casserole
Serves

serves 4-6

Cook

1 hour 20 minutes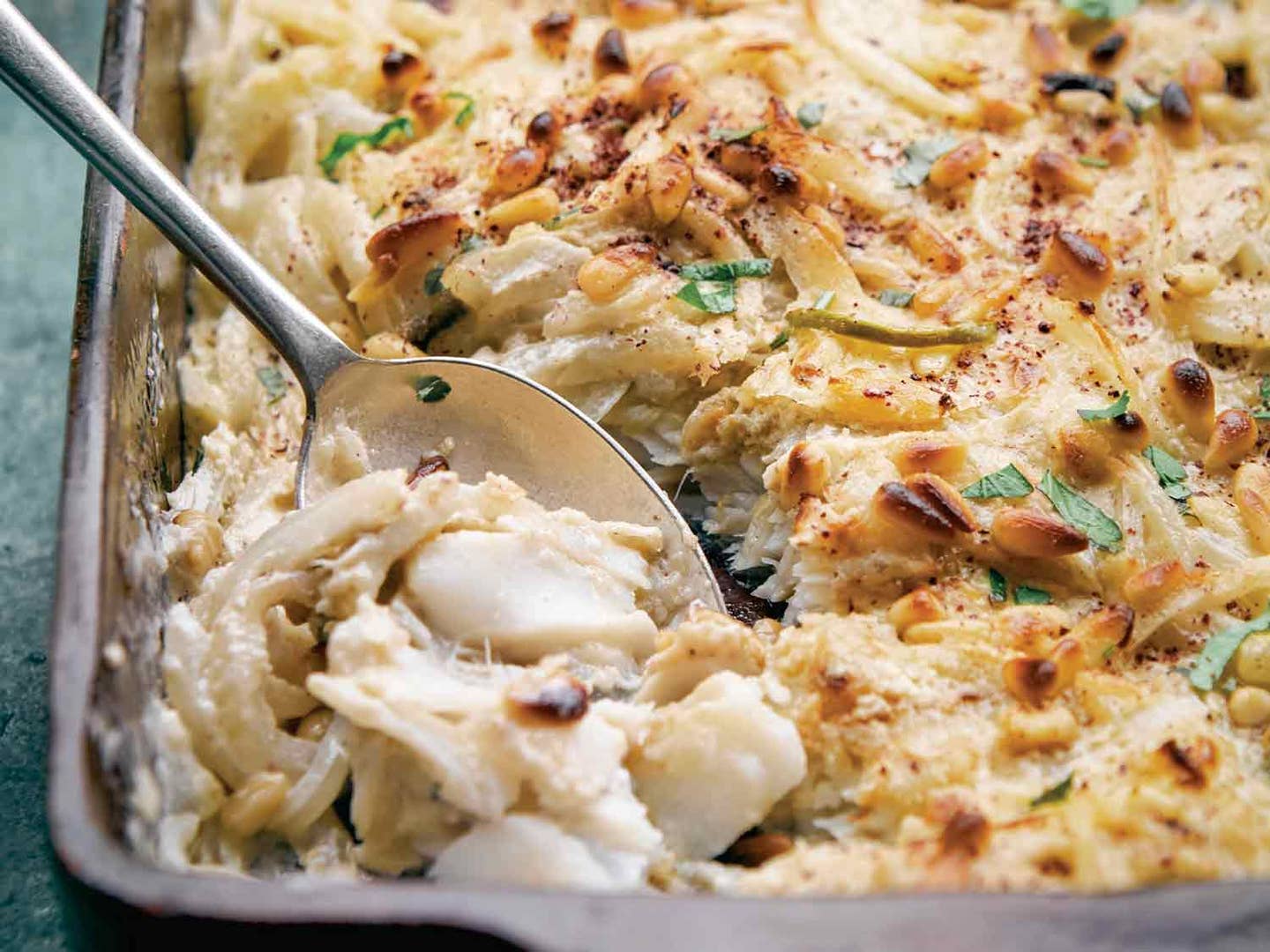 According to Sami Tamimi and Tara Wigley, authors of the Palestinian cookbook, Falastin, preparing fish with dairy is not common in Arabic cuisine, as it's not considered to be healthy. Therefore, tahini often steps in to fulfill the enriching role butter or cream might have otherwise played. If you'd like to get a head start on the dish, both the tahini sauce and the cooked onions can be prepared up to three days in advance.
Ingredients
For the tahini sauce
1⁄2 cup plus 2 Tbsp. (5¼ oz.) tahini
2 medium garlic cloves, coarsely chopped (2 tsp.)
2 Tbsp. fresh lemon juice
1⁄2 tsp. kosher salt
For the fish
1⁄4 cup plus 3 Tbsp. extra-virgin olive oil, divided
2 medium onions, thinly sliced (3⅓ cups)
Six 5¼-oz. cod, hake, or halibut fillets
2 Tbsp. fresh lemon juice
1 Tbsp. finely grated lemon zest
1½ tsp. ground cumin, divided
Kosher salt and freshly ground black pepper
1⁄4 cup plus 2 Tbsp. all-purpose flour
2 medium-hot green chiles, such as serrano or jalapeño, stemmed, seeded, and thinly sliced (⅓ cup)
3 Tbsp. pine nuts
1⁄2 cup coarsely chopped Italian parsley leaves
1 tsp. ground sumac
Lemon wedges, to serve
Instructions
Step 1
Make the tahini sauce: In a medium bowl, whisk together the tahini, garlic, lemon juice, salt, and ¼ cup cold water to make a thick and creamy sauce. Set aside.
Step 2
To a large skillet over medium-low heat, add 3 tablespoons of olive oil; when the oil is hot, add the onions and cook, stirring occasionally, until wilted, 10–12 minutes. Add 3 tablespoons cool water and cook, stirring occasionally, until the onions have completely softened but have not taken on any color, 8–10 minutes more. Remove from the heat and set aside to cool to room temperature.
Step 3
Preheat the oven to 425°F.
Step 4
Meanwhile, in a large, shallow bowl, stir together the lemon juice and zest, and ½ teaspoon cumin; season to taste with salt and black pepper, then add the cod fillets and turn several times to coat. Set aside to marinate at room temperature for 10 minutes. (Don't leave it for much longer than this, otherwise the fish will start to break down.)
Step 5
To a medium skillet over medium-high heat, add the remaining oil. Sprinkle the flour over a large plate and, one at a time, lift the fish pieces from the marinade and lightly dredge in the flour. Add the fish to the skillet (without crowding the pan) and cook, turning once halfway through, just until both sides are golden, about 2 minutes per side. Transfer the fish to a 9-by-13-inch baking dish and set aside.
Step 6
Stir the cooled onions and the chiles into the reserved tahini sauce, then pour the sauce over the fish, smoothing the surface with the back of a spoon. Sprinkle with the pine nuts, transfer to the oven, and roast until the fish is just cooked through, 6–8 minutes. Switch the oven to the broiler setting and continue cooking until browned and bubbly, about 3 minutes more. Sprinkle with parsley and sumac and serve warm or at room temperature, with lemon wedges on the side.