Korean Black-Bean Noodles (Jajangmyeon)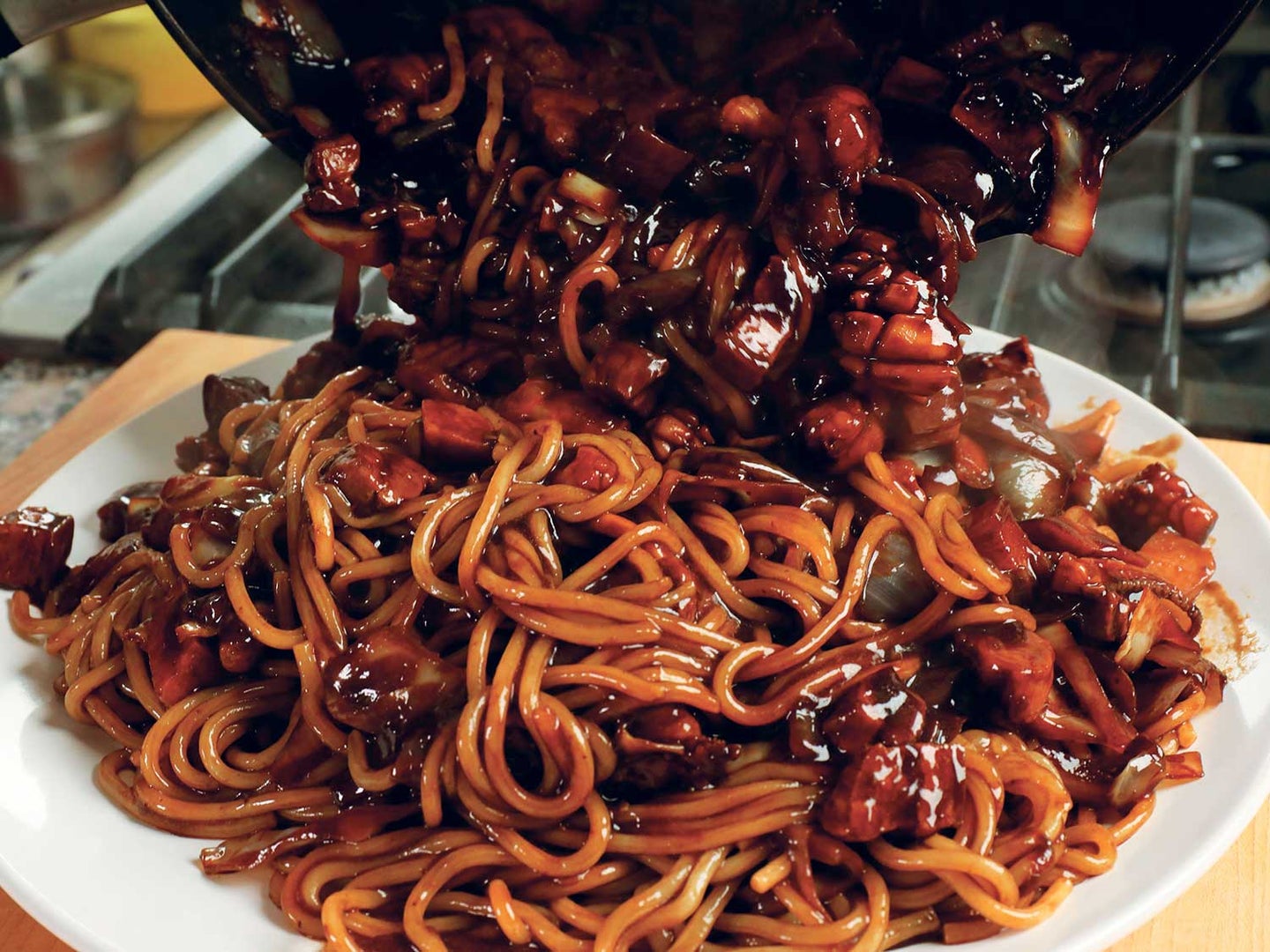 Get seasonal recipes, methods and techniques sent right to your inbox—sign up here to receive Saveur newsletters. And don't forget to follow us on Instagram at @SaveurMag.
Jajangmyeon is a Koreanized version of a noodle dish created by Chinese immigrants in Incheon, Korea. You'll find it in every basement food court of every department store, and it's especially popular for home delivery. The dish is usually made with pork or beef, but this recipe also includes seafood. Serve it already mixed together on a big platter.
Adapted from Maangchi's Big Book of Korean Cooking: From Everyday Meals to Celebration Cuisine © 2019 by Maangchi. Photography © 2019 by Maangchi. Reproduced by permission of Rux Martin/Houghton Mifflin Harcourt. All rights reserved.
Featured in: These Black Bean Noodles Are Korea's Most Popular Takeout Dish
Equipment
Yield: serves 2 to 4
Time: 1 hours 5 minutes
Ingredients
⅓ cup vegetable oil
3 medium scallions, cut into 1-inch pieces
⅓ cup Korean black-bean paste (chunjang)
8 oz. pork belly, cut into ½-inch cubes
6 oz. green cabbage, coarsely chopped (2 cups)
1 large onion, coarsely chopped (1½ cups)
1 medium potato, peeled and cut into ½-inch cubes (1⅓ cups)
1 small zucchini, cut into ½-inch cubes (1⅓ cups)
4 oz. squid, cleaned and cut into bite-size pieces
4 oz. medium shrimp, peeled, deveined, and cut into bite-size pieces
1 tsp. sugar
2 bunches (18 oz.) jajangmyeon noodles
2 Tbsp. potato starch
1 tsp. toasted sesame oil
Instructions
Make the sauce: In a small, heavy skillet, heat the oil over medium-high. When the oil is nearly smoking, lower the heat to medium, add the scallions, and cook, stirring frequently, until crisp and brown, 7–9 minutes, then remove from the heat. In a fine-mesh strainer set over a heatproof bowl, strain the oil, discarding the scallions. (You should have about 5 tablespoons of scallion-infused oil.) Add 3 tablespoons of the infused oil to the skillet and return to medium heat. Add the black-bean paste and cook, stirring quickly and continuously with a wooden spoon, until fragrant, about 1 minute. Remove from the heat and set aside.
In a large skillet, heat the remaining 2 tablespoons infused oil over medium-high. When the oil is hot, add the pork and cook, stirring occasionally, until the meat is golden brown and crunchy, 5 to 6 minutes. Increase the heat to high, then stir in the cabbage, onion, potato, and zucchini. Cook, stirring frequently, until the vegetables have softened and the onions and cabbage are slightly translucent, 6–8 minutes. Push the vegetables and pork to the edges of the skillet, leaving a little oil in the center. Add the squid, shrimp, and reserved black-bean paste to the center of the skillet. Add the sugar and cook, stirring continuously, until the squid and shrimp are just barely cooked, about 4 minutes. Lower the heat to medium-high, add 3 cups cold water, and stir well to combine. Cook, covered, until the broth is bubbling and the seafood and vegetables are cooked through and tender, about 5 minutes more. Remove from the heat and set aside.
Cook the noodles: Bring a large pot of water to a boil over medium-high heat. Place the noodles on a cutting board; uncoil and spread them apart with your hands. Add the noodles to the boiling water and stir with a wooden spoon; cook, covered, until the water starts to boil over, about 2 minutes. Uncover, stir well, and continue cooking until the noodles are chewy but cooked through, 3–4 minutes more. Drain, discarding the cooking liquid, then rinse the noodles well under cold running water, rubbing them with both hands to remove the excess starch. Drain again and set aside.
In a small bowl, combine the potato starch and ¼ cup cold water. Return the skillet of sauce to high heat until bubbling, then slowly stir in the potato-starch slurry. Cook until the sauce is thickened and glossy, 2 minutes, then add the reserved noodles and the sesame oil. Cook, stirring frequently, until the sauce is bubbling and the noodles are coated in the sauce, about 1 minute more. Transfer to a large platter and serve immediately.