Teff Carrot Cake with Cream Cheese Frosting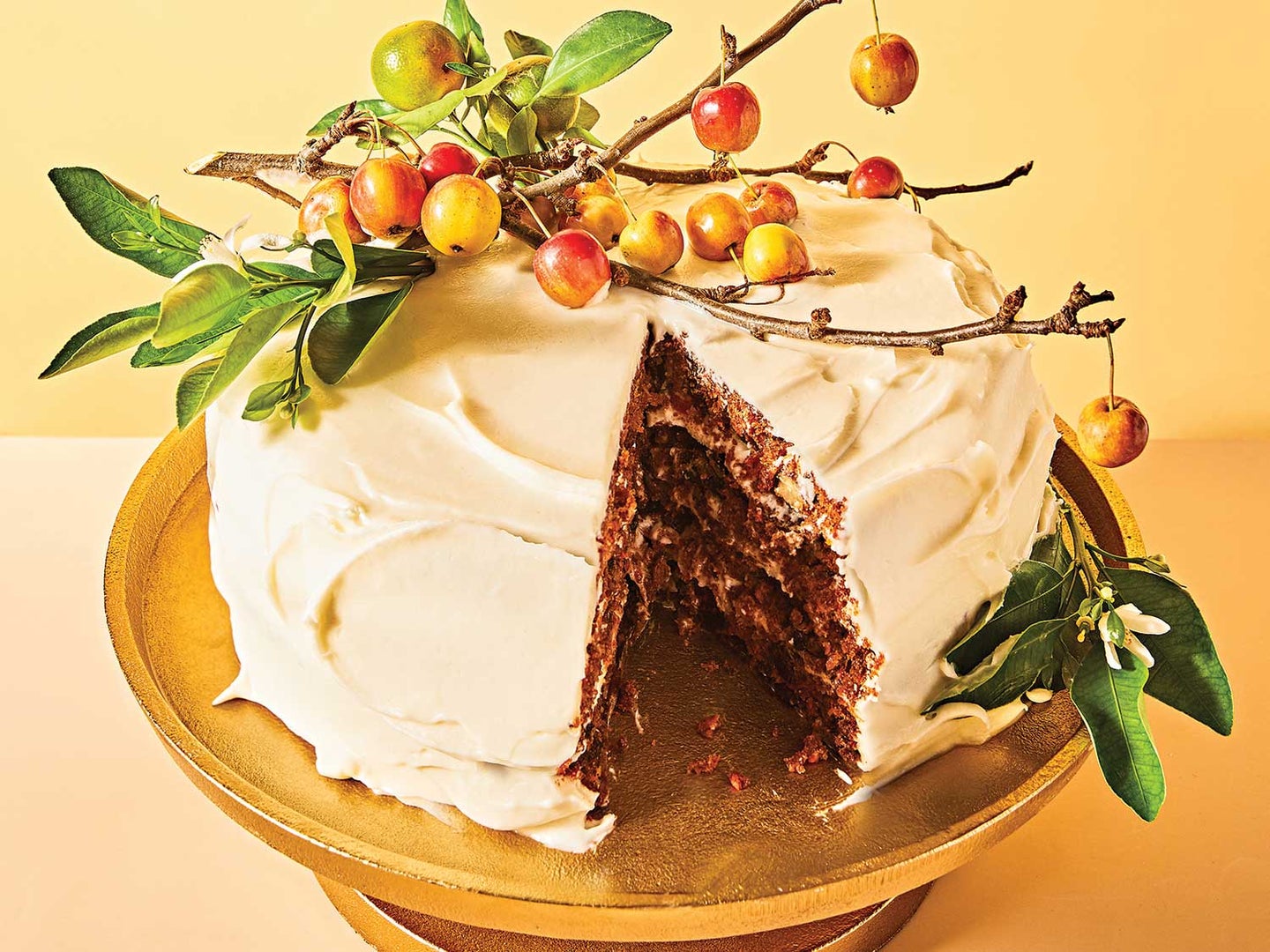 This recipe for a rich and textured carrot cake is one of several additions to the original Tartine cookbook's updated edition. Prueitt uses dark and nutty teff flour as its primary starch, which happens to make it gluten-free.
Featured in: Bake Our 25th Anniversary Cake
Equipment
Yield: makes One 9-inch cake
Time: 1 hours 55 minutes
Ingredients
For the cake
1 Tbsp. unsalted butter, for greasing
1¾ cups raisins
1 cup sugar
1 cup coconut sugar or 3/4 cup packed brown sugar
4 large eggs
1 lb. peeled, grated carrots (31/2 cups)
1 cup whole milk
¾ cup olive oil
2 tsp. finely grated orange zest
1 cup plus 2 Tbsp. (51/4 oz.) teff flour
2⁄3 cup (2 1/2 oz.) potato starch
1⁄2 cup (2 1/2 oz.) rice flour
2 1⁄2 tsp. ground cinnamon
1⁄2 tsp. ground cloves
1⁄2 tsp. ground nutmeg
2 tsp. baking soda
1 tsp. baking powder
1 tsp. kosher salt
1 1⁄2 cups (7 oz.) toasted walnuts
1⁄2 cup unsweetened shredded coconut
For the frosting
1 cup (8 oz.) cream cheese, at room temperature
6 Tbsp. (3 oz.) unsalted butter, at room temperature
3 cups (13 oz.) confectioners' sugar, sifted
1 Tbsp. fresh lemon juice
1⁄4 tsp. kosher salt
Instructions
Preheat the oven (with its rack positioned in the center) to 350°F. Butter the bottom and sides of two 9-inch round cake pans and line the bottoms with parchment paper. In a small bowl, cover the raisins with hot water, soak to plump for 10 minutes, then drain and set aside.
In a large bowl, using a handheld mixer or a stand mixer fitted with the whisk attachment, use medium speed to whip the sugar, coconut sugar or brown sugar, and eggs until thickened and light in color, about 4 minutes. (When you lift up the whisk, the mixture should fall back into the bowl in ribbons.) Add the carrots, milk, olive oil, and orange zest, and mix well to combine.
In a separate bowl, stir together the teff flour, potato starch, rice flour, cinnamon, cloves, nutmeg, baking soda, baking powder, and salt. Add the flour mixture to the egg mixture and, using a rubber spatula, fold just until combined, then fold in the reserved raisins, walnuts, and shredded coconut. Divide the batter evenly between the prepared pans, then transfer them to the oven and bake until a knife inserted into the centers comes out clean, rotating the pans 180° halfway through cooking, 35–40 minutes. Let the cakes cool in their pans on a wire rack for about 10 minutes before unmolding. To unmold, run a thin knife around the edge of the pan, and then invert the cake onto the wire rack and turn rightside up. Let cool completely, then transfer the cakes to the refrigerator and chill for at least 30 minutes before frosting.
Make the frosting: In the bowl of a stand mixer fitted with the paddle attachment, beat the cream cheese and butter on medium-high speed until fluffy and light, 3 minutes. Add the confectioners' sugar, lemon juice, and salt and mix until smooth. Use immediately or transfer to an airtight container and refrigerate for up to 3 days. (Soften to room temperature before using.)
To finish the cake, spread half of the icing on top of one of the cake layers, cover with the second layer, and smooth the remainder of the icing over the top and sides (or leave the sides bare). Cut into wedges and serve at room temperature or cover and store in the refrigerator for up to 3 days.