Recipes
Strawberry-Beet Sorbet
Serves

makes about 1 quart

Cook

5 hours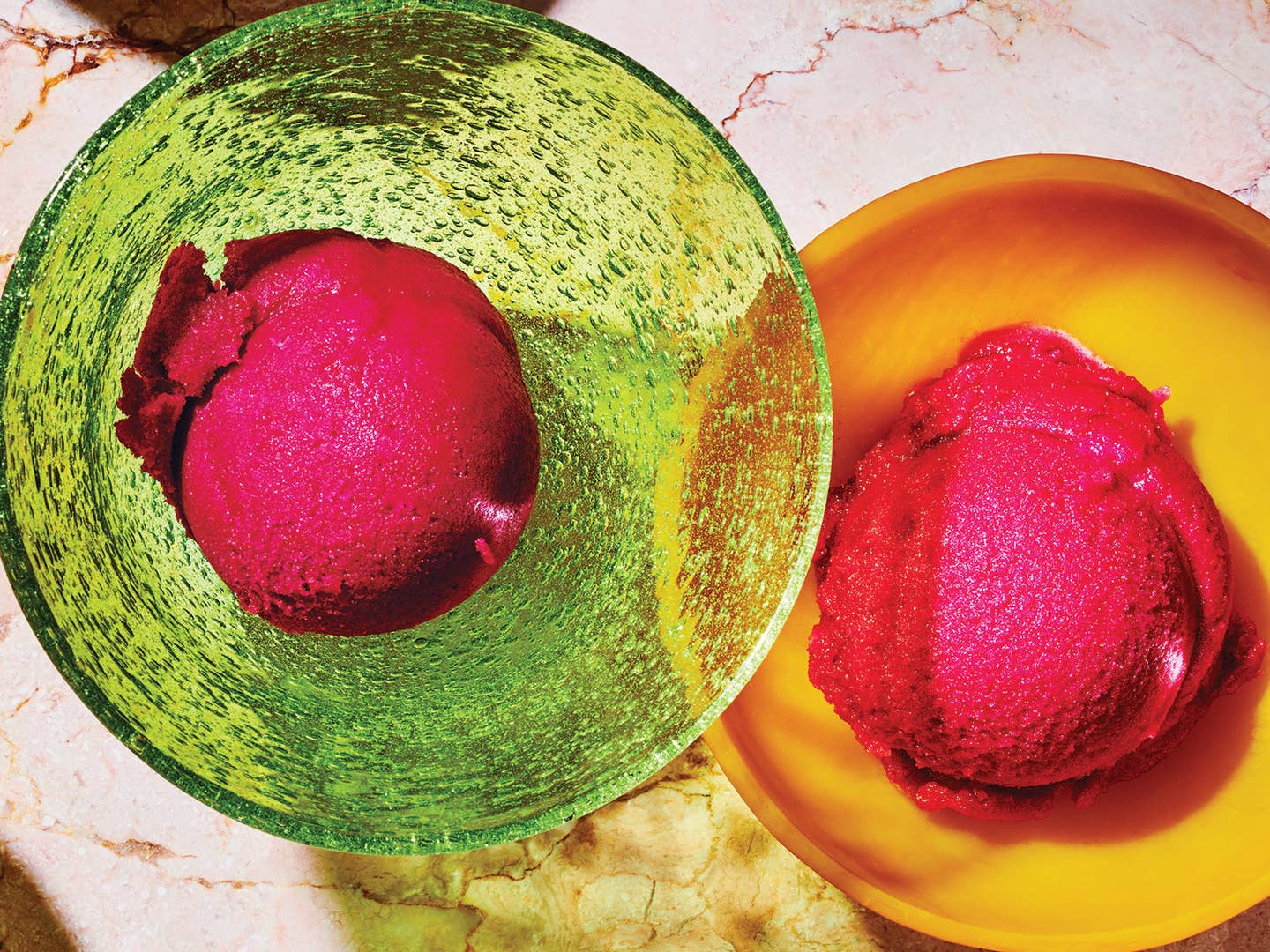 Red beets provide a bit of stabilizing starch and an earthy depth in this striking strawberry sorbet. You can also use raspberries here, or like Thai-Thanh of Paris's La Tropicale, fresh black currants.
Ingredients
2 medium red beets, peeled and cut in 1-inch cubes (330 g)
⅔ cup (160 g) raw cane sugar
2 cups ripe strawberries, hulled (300 g)
¼ cup plus 1 Tbsp. heavy cream
Instructions
Step 1
In a small pot, add the beets and enough water to cover by 1 inch. Bring to a boil over high heat, then adjust to maintain a simmer. Cook until tender, 15–18 minutes.
Step 2
Make the syrup: In a small pot over medium heat, whisk 1 cup (240 grams) cold water and the sugar. Bring to a boil, stirring until the sugar dissolves. Let cool completely.
Step 3
Meanwhile, drain the beets, reserving the cooking liquid. Transfer the beets to a blender and purée, adding a tablespoon or two of the liquid as needed to achieve smoothness. Reserve 1¼ cups (300 grams) of the purée, and let cool completely (save the rest for another use). Once cooled, add the strawberries to the beet mixture and purée until liquefied. (If desired, strain out the seeds using a fine-mesh strainer.) Add the cream and cooled syrup, and blend until smooth.
Step 4
Transfer the mixture to the bowl of an ice cream maker, and churn according to the manufacturer's directions until the sorbet is thick and frozen, with the consistency of soft serve, about 30 minutes. Transfer to an airtight metal or plastic container and freeze until set, at least 3–4 hours.
Step 5
To serve, dip an ice cream scoop or spoon in hot water, or temper the sorbet in the refrigerator for 20 minutes before scooping. Serve immediately.