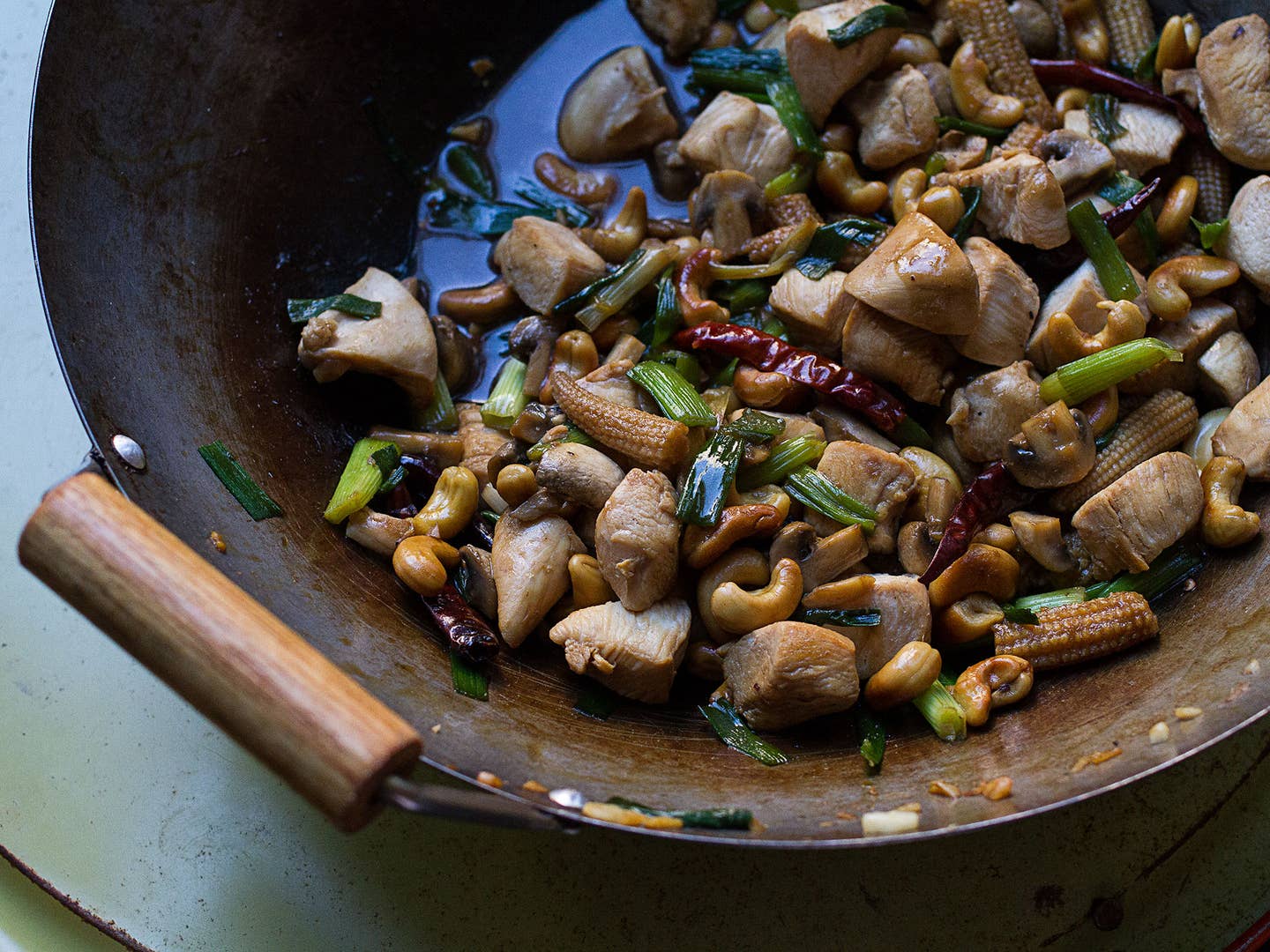 Techniques
Make This Cashew Chicken Stir Fry Your Leftovers Hero
A Thai cooking lesson becomes a weeknight staple
I visited Thailand about 10 years ago, when I knew I liked to cook but was still an amateur in the kitchen. Signing up for a cooking class seemed like a fun way to learn about Thai cuisine, not only by not only eating it, but also by making it. And if you're traveling solo through Chiang Mai, it's a good way to meet people. (It turns out a couple on their honeymoon also thought taking a Thai cooking class was a novel idea. How romantic for all of us.)
My newly acquired third-wheel status established, the three of us and our instructor headed out to the market to buy ingredients to cook. Good Thai food is all about the produce, and the fresh curry pastes, mango sticky rice, and spring rolls we made were fantastic, but my favorite dish happened to be the simplest: chicken stir-fried with mushrooms, spring onions, oyster sauce, and cashews. It reminded me a little of Chinese takeout cashew chicken, but with fresher and deeper flavors. A touch of sugar balanced the salty trio of oyster sauce, fish sauce, and soy sauce, and whole dried chiles added a pleasant but mild heat.
First you toast the cashews and chiles in the wok, both to flavor the oil and enhance their nutty and spicy attributes. Then you remove them, brown your chicken, quickly stir fry some mushrooms and baby corn, and bring it all together with a sweet and salty brown sauce you'll want to use again and again. It's such an easy dish that it wasn't long before I had it memorized, and it's one I still cook for family and friends.
If you don't have baby corn or the right kinds of mushrooms on hand, don't worry about it. Cashews, chicken, brown sauce—get those parts down, then use whichever vegetables are in your fridge. This is one souvenir to make your own.