Recipes
Spicy Tomato-Braised Snails with Mint (Lumache alla Romana)
Serves

serves 6 as an appetizer

Cook

50 minutes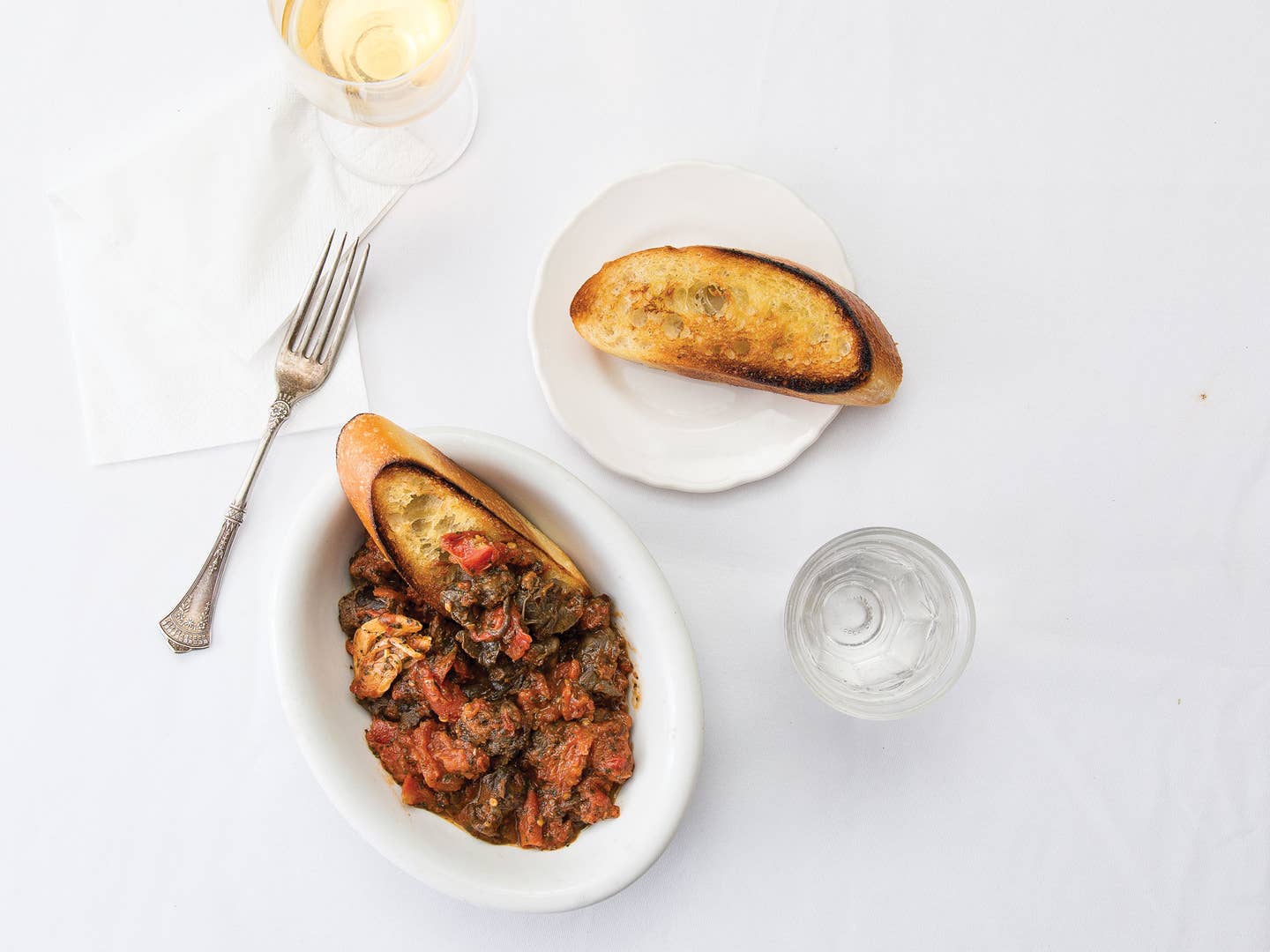 These snails, braised in a tomato sauce flavored with pungent anchovies and spicy chile flakes, are typically eaten around the Feast of Saint John the Baptist in late June. While wild or farmed snails are traditional for this dish, high-quality canned snails are the best and most accessible option.
Ingredients
1 tbsp. extra-virgin olive oil, plus more for drizzling
1⁄2 tsp. crushed red chile flakes
1 clove garlic, peeled and smashed
2 oil-packed anchovy fillets, drained and minced
1 (8-oz.) can whole peeled tomatoes in juice, crushed by hand
1 (7-oz.) can large snails (see Where to Buy Snails), rinsed and drained
1 tbsp. finely chopped mint leaves
Kosher salt and freshly ground black pepper
Toasted ciabatta, for serving
Instructions
Step 1
In a medium saucepan, heat the olive oil over low until it begins to shimmer. Add the chile flakes and garlic and cook, stirring, until both are fragrant, about 1 minute. Stir in the anchovies and cook until they melt into the oil, about 4 minutes. Add the tomatoes, bring to a simmer, and cook until slightly reduced, about 10 minutes.
Step 2
Stir in the snails and ¾ cup water, bring to a simmer, and cook, stirring occasionally, until the snails are tender, about 18 minutes. Remove the pan from the heat, stir in the mint, and season with salt and pepper. Spoon the snails into a shallow serving bowl, drizzle with more olive oil, and serve over slices of toasted ciabatta.