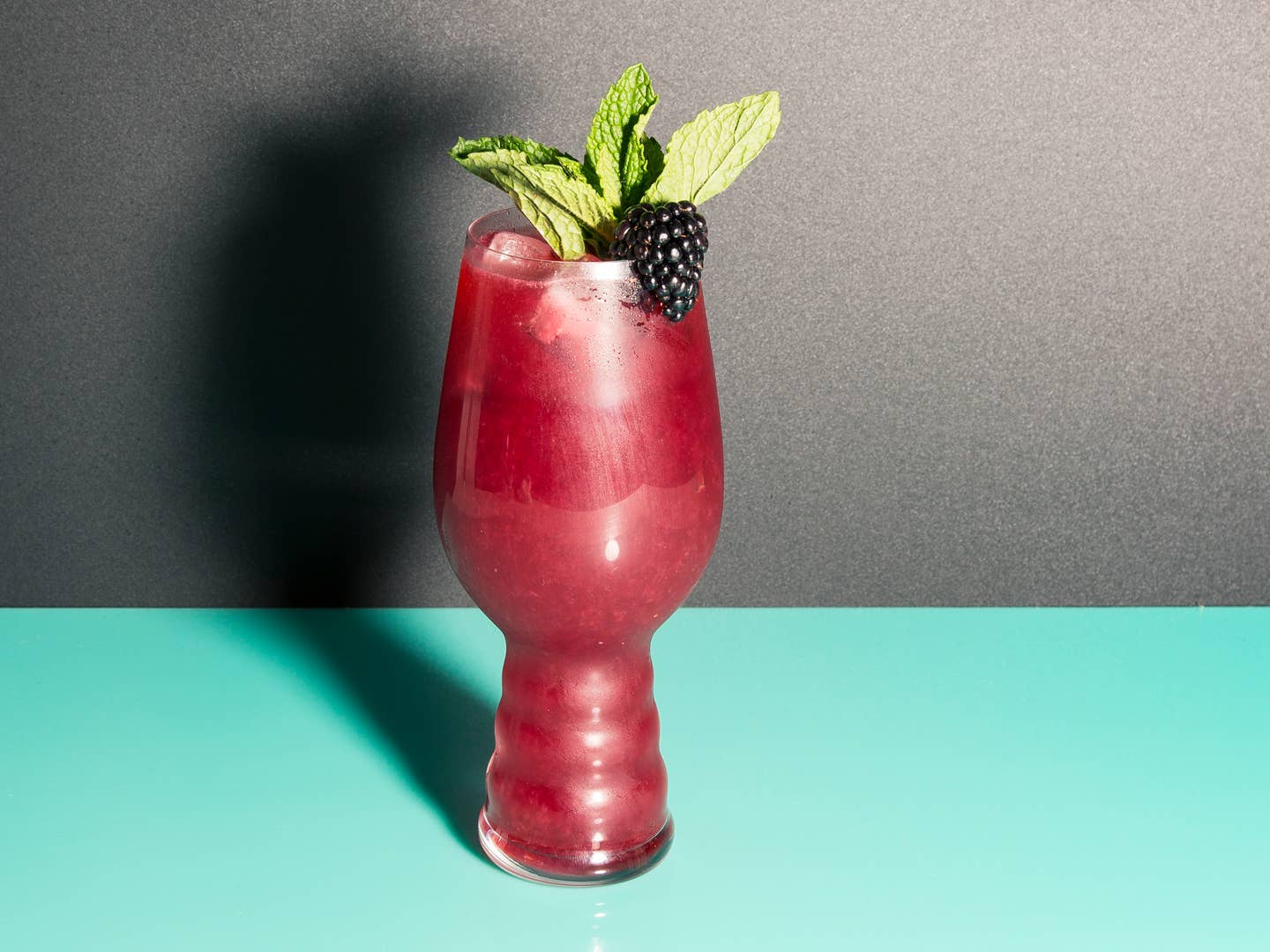 Drinks
The Drinker's Guide to Growing Windowsill Herbs
Beyond basil and thyme: five hard-to-find but delicious herbs to upgrade your drinks that you can grow yourself
Herbs and cocktails go together like, well, mint and juleps. But instead of buying bunches of basil and mint at the grocery store, using two leaves, and letting the rest languish, try growing them yourself, right on your own windowsill.
Sara Gasbarra, founder of Verdura, a garden design company in Chicago that creates culinary gardens for chefs, restaurants, and hotels, loves experimenting with different herbs and flowers to add layers of flavor to cocktails. "Using herbs with citrus flavor profiles such as lemon verbena, lime scented geranium, or lemon basil will complement and enhance the actual citrus in your drink, while also lending a grassy, herbaceous quality," she says.
You don't need a lot of room to grow the herbs. "Even with limited growing space, you can easily fit in several types of herbs, and by harvesting leaf by leaf, you'll cut down on waste," Gasbarra says.
She recommends starting your cocktail garden using seedlings. You can usually find unusual varieties at your local farmers market in the spring, which is the time to start planting if you live in cooler climates. (For those who live in warmer climates, you can grow your cocktail garden year-round). If you're feeling more adventurous and wish to start sprouting your herbs from seed, Gasbarra recommends Baker Creek Heirloom Seed and Seed Savers Exchange, both of which have a wide variety of options, and are excellent resources on gardening.
The key with herbs is to find a space that gets sunlight for six to eight hours a day, use a good soil that has nutrient-dense organic matter, water the plants around the same time every day, and fertilize every other week.
Also, you want to avoid snipping and harvesting for a few weeks after planting. "It's important to allow the plants to fully take root and become established in their new home," she says. When you start cutting leaves, harvest leaf-by-leaf or just using a small stem at a time to promote new growth.
Five Windowsill Herbs for Better Cocktails
With a light, clean, crisp, lemony flavor, this prolific herb is easy to grow and a little goes a long way in a cocktail. Gives a nice lemony splash to The Ultimate Gin and Tonic.
These edible flowers taste like an intense rose infusion. Make a simple syrup and then add the two geranium sprigs while the mix heats. Remove the foliage when it's cooled. The combination adds elegant, sweet floral notes to a rose gin martini. Or make the Hibiscus Rose Vesper and garnish with a petite pink rose geranium flower.
With a pronounced licorice flavor, anise hyssop, which is in the mint family, imparts an absinthe-like taste to a drink. It tastes delicious with bourbon and muddled summer peaches, or try it in The Wild Ruffian, a twist on the mint julep.
Straightforward spearmint is great, but you can really jazz up your drinks by experimenting with different mint flavors. Apple mint's wooly leaves add a subtle fruity complement when used to garnish drinks you use mint in, like a mint julep. Or add an extra layer of fruity mint to this pineapple mojito.
The citrus flavor in lemon thyme is more savory and herbaceous than the lighter lemon verbena. The fragrant leaves work well for muddling in a cocktail shaker and then straining. Try it with a heavier booze, like a smoky mezcal, in this Mezcal Martinez.