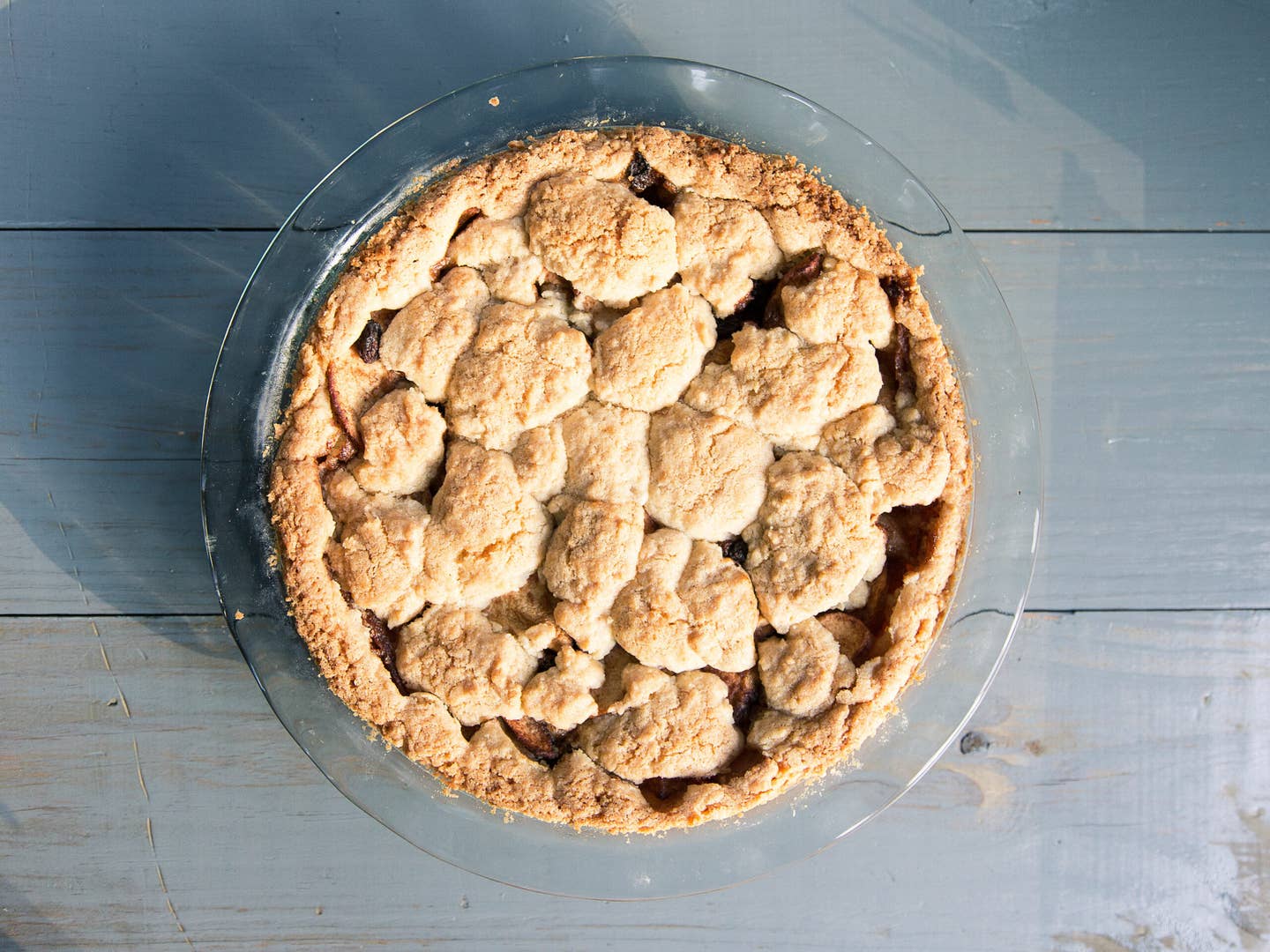 Recipes
The Apple Dessert That's Half Cake, Half Pie
This Rosh Hashanah dessert has the best of both worlds
"Honestly I don't think I can handle this on my own again next year, Elizabette," my aunt Susi tells my mother as she exits the kitchen carrying a heavy platter of brisket to set at the center of our dinner table for Rosh Hashanah. It's a sentence that she delivers every single year—but every single year, Susi breaks out the silver platters and single-handedly prepares our holiday feast for my rambunctious New York City Jewish family. She's a true glutton for punishment.
Rosh Hashanah is a holiday to remind Jews to reflect on the past year, but for my reform family, the holiday is more about congregating in Queens to share a meal too big to finish in one sitting. One moment, tension runs high as my uncle picks on my grandmother; the next, we're overtaken with uncontrollable laughter as my mother exclaims in disbelief, "Can you believe how great the gefilte fish is? It's from Costco!" But for me, the highlight of the gathering comes at the end of the meal. After we've finished our dinner and leftovers have been divided, Nanny's apple cake hits the table. My great grandmother first made this cake for Rosh Hashanah in the late 1940s after her family fled Europe for Cuba during the Holocaust, and after she passed, aunt Susi took over making it. Eating dessert has become our version of dipping apples in honey (a Rosh Hashanah tradition) to bring a "sweet new year."
Though my nanny called it a cake, she used a pie dish to push in some of the dough before filling it with apples and pinching off pieces of the remaining dough for a streusel topping. Half cake, half pie, this dessert combines the best parts about both into one superior dessert. With a tender crust and bright fruit filling, it's the perfect way to ring in the sweetest new year. And this year, when we gather again to eat and laugh and yell, I'll do as I always do and make sure to grab an extra-large piece of uneaten cake to bring back home from Queens to eat for breakfast the next morning.