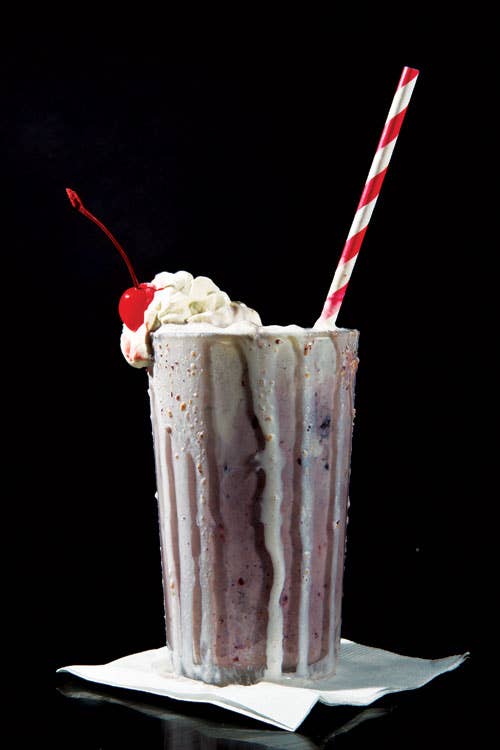 Drinks
Creamy Milkshake Recipes
Part drink, part dessert, all delicious
A relic from the days of soda fountains, the milkshake blurs the line between drink and dessert. There's nothing quite like that rich mixture of ice cream and flavorings, blended until just barely thin enough to sip through a straw. From family-friendly classics to adults-only indulgences, we've rounded up our favorite milkshake recipes.
Chocolate versus vanilla is an age-old conflict in the ice cream world. We don't think you need to make a choice. Our black and white shakes pairs vanilla ice cream with chocolate ice cream and chocolate sorbet, plus banana to add a little fruitiness and creaminess.
For something extra fruity, our strawberry milkshake incorporates strawberry flavor in three ways: with ice cream, sorbet, and jam. A little lemon juice brightens the shake up, while milk thins it out slightly. Or go for blueberries with our blueberry pie milkshake, which actually contains a whole piece of blueberry pie blended with vanilla ice cream.
The Grasshopper is a sweet, minty cocktail made with crème de menthe and crème de cacao. Adding ice cream to the mix makes for a rich grown-up milkshake. The basic formula is versatile—make a Golden Cadillac by substituting the crème de menthe for Galliano, a sweet liqueur with a vanilla-anise flavor. The Pink Squirrel replaces the crème de menthe with almond-flavored crème de noya. The liqueur's red color makes the drink a whimsical shade of pink that will make you feel like a kid again.
Find all of these shakes and more in our collection of our favorite milkshake recipes.