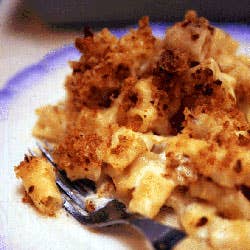 Recipes
Family Meals
Gathering together once a week for a shared meal helps feed our culinary imaginations and our appetites.
Pausing for a good meal is a wonderful way to shake up a routine, and for that reason the staff of SAVEUR tries to gather around the table once a week and put aside, if only for an hour, the duties and deadlines that pile up during the production of the magazine. We call this a family meal, a restaurant ritual that we've adopted. And for better or worse, we do start acting like family during it.
As SAVEUR's test kitchen director, I have the responsibility of preparing the weekly meal, and I appreciate the opportunity to step away from the rigors of recipe testing to cook improvisationally, without digital scales and timers or measuring spoons, as I do in my home kitchen. The duty is one that I have taken seriously ever since I was a young line cook. Years ago I left behind a newspaper career and moved to New York City to work in kitchens, but I was shaky behind the stove and the lowest cook on the totem pole. Sensing my apprehension (and, no doubt, tired of the duty himself), my chef assigned me to four months of cooking the family meal in addition to cooking lunch service.
Every morning I walked into the restaurant with the same challenge: what to cook? On a shelf in the walk-in refrigerator I would find the cast-off building blocks of the meal: overripe produce, leftover mise-en-place like romesco sauce or short rib jus that had been taken off the menu, and precious scraps of meat, fish, or chicken. Combined with some sort of staple kitchen starch, like day-old bread, pasta, potatoes, or rice, those ingredients had to feed 15 to 20 waiters, busboys, dishwashers, bartenders, and cooks every day, promptly at 4:30 p.m. The meal also had to be fairly nutritious, filling, and tasty, and, most important, it could not negatively impact the restaurant's bottom line.
Over time, the assignment made me a more efficient, thoughtful, and thrifty cook, and taught me lessons that I couldn't glean from a textbook or another busy chef: how to season food, how to control heat, and the intricacies of the kitchen equipment, from a massive wood-burning oven and grill to the ranges and deep-fat fryer. My fundamentals improved. I learned the rhythm and flow of the line. I fell in love with eggs for their versatility. I started savoring the leftovers culled from the entree prep: salmon collars, chicken wings, and pieces of skirt steak. I discovered that no kitchen should be without a stack of tortillas on hand.
A well-made family meal satisfies the collective belly of the staff. At SAVEUR, our family meals also allow us to return to old favorites from our past travels, research, and writing, such as Macaroni and Cheese, Rustic Frittatas, and huge skillets of pasta, like Orechiette with Broccoli Rabe. The meal always involves a massive green salad tossed with a simple vinaigrette or, during the summertime, when herbs are plentiful, a dressing like Green Goddess. Together around our huge table, we slow down and we relax, trading jokes, stories, and ideas. We are nourished.