Recipes
Frittata with Ricotta Cheese and Roasted Peppers (Frittata con Ricotta e Peperoni)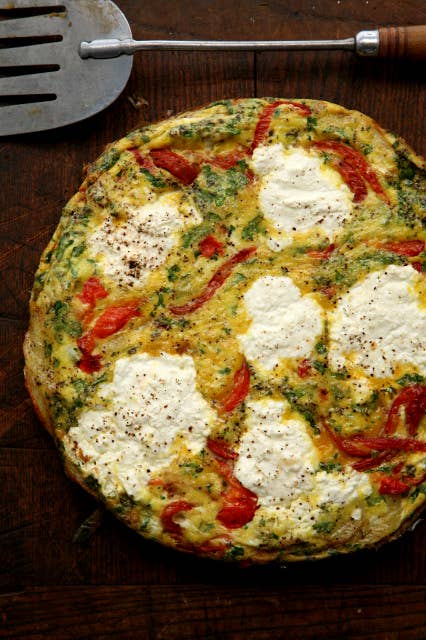 Calabrians in Italy sometimes add sliced cured sausage to this popular frittata on Easter, to celebrate the end of Lent. This recipe appeared in Janet Fletcher's "The Shepherd's Way," about ricotta made by Calabrian farmers (August/September 2008).
Ingredients
1⁄2 cup grated pecorino
2 tbsp. roughly chopped flat-leaf parsley leaves
1 1⁄2 tsp. kosher salt
1 tsp. chopped fresh oregano
8 eggs, beaten
Freshly ground black pepper, to taste
3 tbsp. extra-virgin olive oil
1 large yellow onion, halved and thinly sliced
1 small waxy potato, peeled and sliced into 1/8" rounds
1 red bell pepper, roasted, peeled, and cut into 1/4" strips
3⁄4 cup homemade or store-bought ricotta
Instructions
Step 1
Arrange a rack in the middle of the oven and heat to 425°. In a large bowl, whisk together 1⁄4 cup of the pecorino, parsley, 1⁄2 tsp. of the salt, oregano, and eggs and season with black pepper. Set egg mixture aside.
Step 2
Heat the oil in a 10" nonstick ovenproof skillet over medium-high heat. Add the remaining salt, onions, and potatoes and cook, stirring occasionally, until lightly browned and soft, about 20 minutes.
Step 3
Remove skillet from heat. Add the egg mixture to the skillet and stir to distribute the onions and potatoes evenly. Scatter the peppers over the top, spoon the ricotta over the mixture in 6 dollops, and sprinkle with the remaining pecorino. Bake until lightly browned and the center is set, about 15 minutes. Run a rubber spatula around the edges of the frittata to loosen it. Slide the frittata onto a serving plate. Season with more black pepper, if you like.