One Ingredient, Many Ways: Artichokes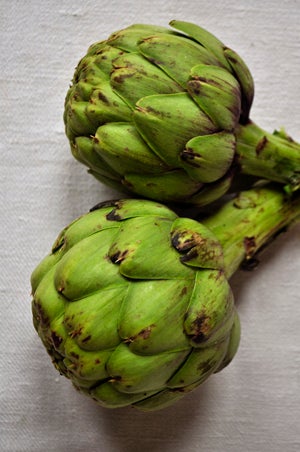 Artichokes, like dogs, must have evolved for human companionship. How else to explain their detachable leaves, so perfectly pluck-able with a forefinger and thumb? Or their natural bowl-shape, so well suited for holding dipping sauces?
The artichoke is a classic thistle — a tall, spindly plant with a rough, dinosaur-skin exterior that first developed thousands of years ago in the Levant. Over the centuries, the artichoke spread throughout the Mediterranean, prized for its meaty leaves and tender heart. Our ancestors cultivated scores of artichoke varieties many of which — from the wine-colored siena to the maroon-kissed chianti — are still grown today in Italy and Spain. American farmers, however, almost exclusively grow the bulbous Italian variety called Green Globe.
Growing up, my family ate artichokes steamed tender and served with melted butter pooling at the heart's rounded center. My mother would spend a good half hour at the sink trimming the leaves of their thorny tops and gutting the core of bristles. Then we would sit at the kitchen table, plucking, dipping, and scraping the leaves against our top teeth, pausing only to wipe the melted butter from our fingers and cast off discarded leaves onto an empty plate set between us. Since then I have learned to appreciate artichokes in many different dishes. In Rome, I ate them pounded flat and deep-fried into crisp flowers. At an old-school Italian joint in Brooklyn I swooned over whole artichokes stuffed with breadcrumbs and Parmesan and baked until juicy. At home in the early spring when artichokes are at their peak, I braise baby artichokes and toss them with pasta, or slice them into salads. The rest of the year, I turn to canned or jarred artichoke hearts packed in oil or brine, pureeing them into dips, sandwich spreads, or a tangy filling for stuffed mushrooms. And yet at heart, I remain an artichoke purist — preferring the springtime thistle dressed in nothing more than melted butter and served with plenty of napkins.
WHOLE ARTICHOKE
Steamed Artichokes
This simple, classic preparation uses only two ingredients – three if you count the water.
Steamed Artichokes
This sublime recipe stuffs artichokes with breadcrumbs, pecorino, lemon juice and parsley.
Raw Artichoke Salad with Parmesan and Mint
Tender baby artichokes are brightened with fresh mint and spicy arugula in this salad.
Fried Whole Artichokes
This recipe for fried whole artichokes served with salt and lemon are a Roman Jewish speciality.
Sauteed Artichokes Baked with Mozzarella
This tangy casserole tops sauteed baby artichokes with mozzarella and Parmesan cheeses.
Fettuccine with Artichokes and Chicken
This pasta dish is simple enough for a weeknight, and yet festive enough for a dinner party.
Truffle and Artichoke Salad
Sliced white truffles and artichokes pair perfectly in this sophisticated side dish.
Artichoke and Mushroom Souffle
This airy souffle is brimming with savory flavor.
Artichoke and Fava Stew with Lemon Sauce
Springtime veggies, artichokes and fava beans combine in this hearty stew.
Skirt Steak with Artichoke and Potato Hash
Steak and potatoes get a twist with the addition of baby artichokes.
HEARTS ONLY
Artichoke Crostini
Marinated artichoke hearts and mascarpone cheese top slices of grilled bread in this beautiful appetizer.
Artichoke and Lamb Stew
This hearty Syrian stew combines two of spring's best flavors.
Artichoke Tea Sandwiches
Artichoke hearts mashed with mayonnaise and spices make a delicious sandwich spread.
Artichokes with Scrambled Eggs
Steamed, sliced artichoke hearts are a delicious mix-in for scrambled eggs.
Artichokes in Cilantro and Pomegranate Sauce
Tangy pomegranate molasses adds depth to steamed artichoke hearts.
Cream of Artichoke Soup
What's the secret ingredient to this creamy, springtime soup? Frozen artichoke hearts.
Leah Koenig is a freelance writer and author of The Hadassah Everyday Cookbook: Daily Meals for the Contemporary Jewish Kitchen