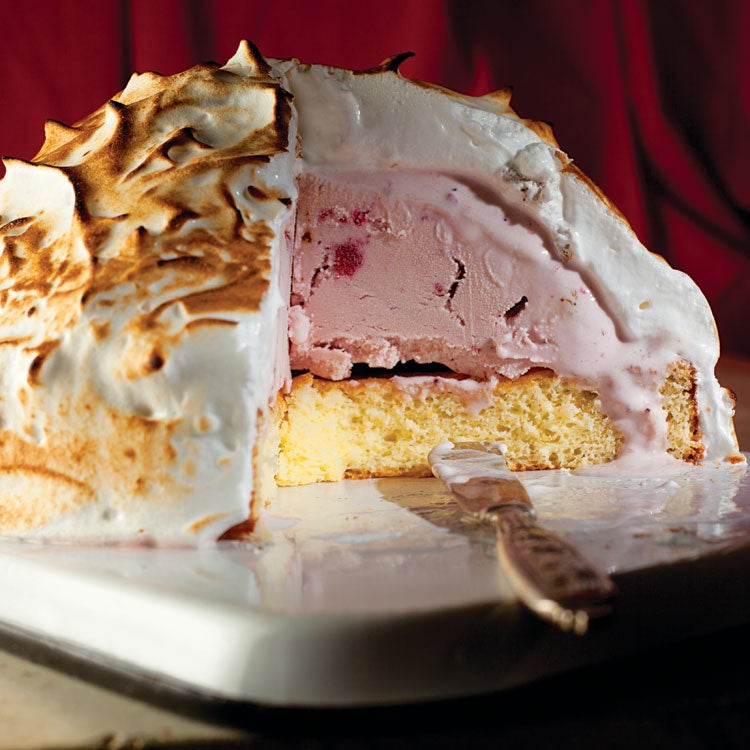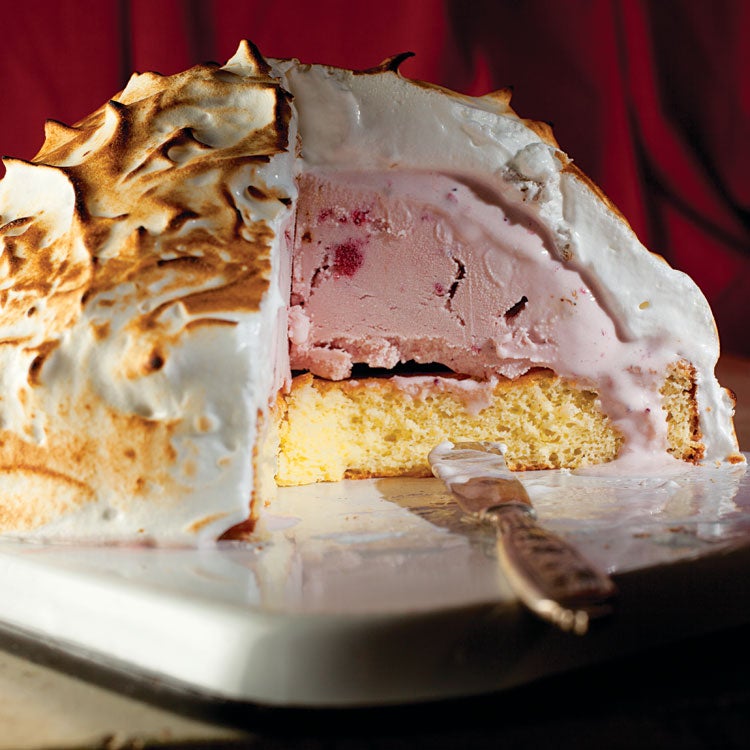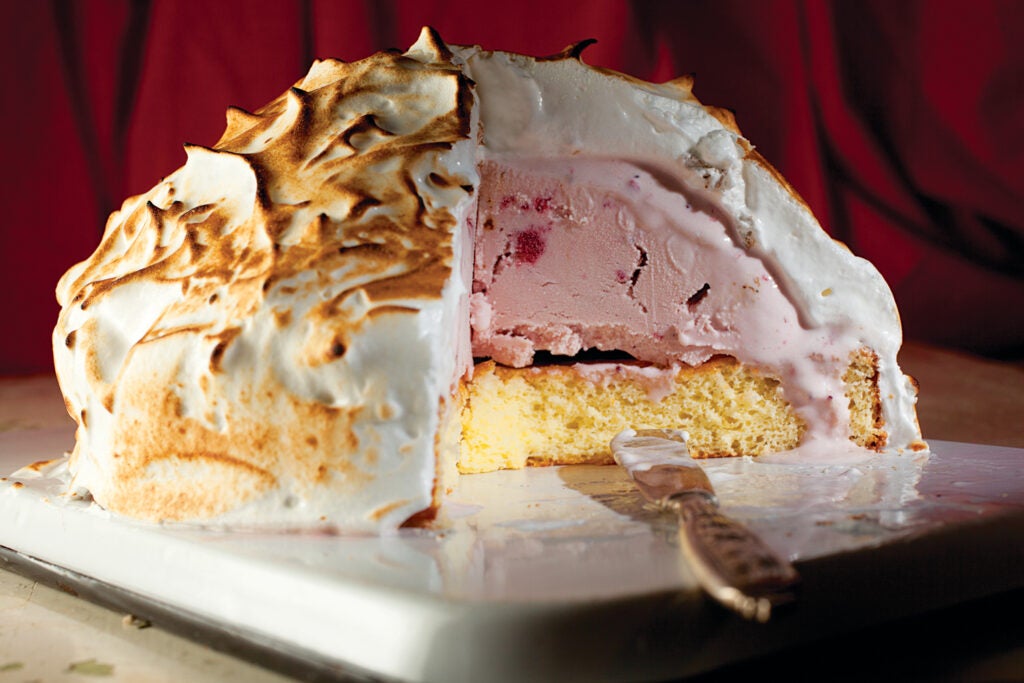 Baked Alaska
Baked Alaska first made its way into print in Fannie Farmer's 1896_ Boston Cooking-School Cook Book,_ but the idea of baking ice cream inside cake and meringue had been around for much of the century. The way was paved in the early 1800s by that genius of thermodynamics Benjamin Thompson, with his work on the resistance of egg whites to heat. —Raymond Sokolov, from "Ice Cake" (December 2001)
What You Will Need
Baked Alaska
Baked Alaska first made its way into print in Fannie Farmer's 1896 Boston Cooking-School Cook Book, but the idea of baking ice cream inside cake and meringue had been around for much of the century.
For the Filling and the Cake
2 pints strawberry ice cream, slightly softened
Unsalted butter, for pan
1⁄2 cup cake flour, plus more for pan
1⁄4 tsp. kosher salt
1⁄2 cup sugar
3 eggs
1 tbsp. fresh lemon juice
1⁄2 tsp. grated lemon zest
For the Meringue
1⁄4 tsp. cream of tartar
4 egg whites
1⁄2 cup sugar
Instructions
For the filling: Line a 7″-diameter bowl with a 15″ piece of plastic wrap, allowing excess to hang over rim of bowl. Pack ice cream into bowl, smoothing top, and freeze until solid, at least 4 hours.
For the cake: Heat oven to 325°. Grease and flour an 8″ round cake pan; set aside. Whisk together flour and salt in a bowl; set aside. Beat sugar and eggs in a bowl on medium-high speed of a hand mixer until tripled in volume, about 5 minutes. Stir in juice and zest; fold in flour mixture. Pour into prepared pan; bake until a toothpick inserted in the middle comes out clean, about 25 minutes. Cool completely, invert onto a rack, and set aside.
For the meringue: Heat oven to 450°. Place cream of tartar and egg whites in a large bowl; beat on medium speed of a hand mixer until soft peaks form, about 1 minute. Add sugar, and beat until stiff but not dry peaks form, about 2 minutes.
To serve, place cake on a parchment paper-lined baking sheet. Invert ice cream onto cake and peel off plastic. Cover ice cream and cake with meringue. Bake until meringue begins to brown, about 5 minutes. Using 2 metal spatulas, transfer to a cake plate and serve immediately.
See all 150 classic recipes featured in our 150th issue »