Recipes
Baklava
While the recipe varies throughout the Middle East and Mediterranean, it's always a sweet treat.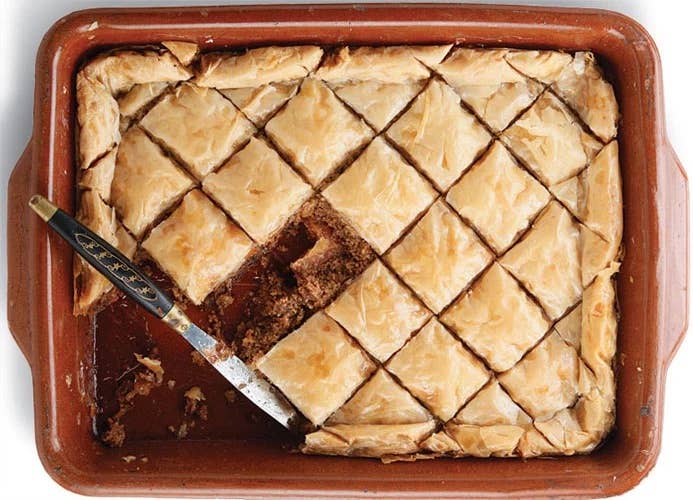 When my father made his baklava—phyllo pastry luxuriating in syrup sweetening a layer of ground nuts—the smell filled the house. Back then, I believed he'd invented the stuff. I later learned that baklava likely has roots in 11th-century Persia, though versions vary today throughout the Middle East and eastern Mediterranean. No matter what form it takes, for me, it always evokes my father's kitchen. —Diana Abu-Jaber, from "Crispy Sweet" (November 2001)
Ingredients
5 cups finely chopped blanched almonds
4 1⁄2 cups sugar
1⁄3 cup bread crumbs
1 1⁄4 tsp. ground cinnamon
40 sheets (about 2 lb.) phyllo dough
1 lb. unsalted butter, melted
2 tbsp. fresh lemon juice
1 stick cinnamon
Instructions
Step 1
Heat oven to 300°. Combine almonds, 1⁄2 cup sugar, bread crumbs, and ground cinnamon in a large bowl; set filling aside. Unwrap phyllo and trim to fit an 11″ x 15″ x 2″ baking pan. Cover phyllo sheets with a damp dish towel.
Step 2
Grease pan with some of the melted butter. Place 1 sheet of phyllo in pan; brush with butter. Lay a second sheet of phyllo over first sheet, brush with butter, and then evenly sprinkle with 2 tbsp. almond filling. Spread a sheet of phyllo out on a clean work surface, brush with butter, then transfer, buttered side up, to pan (nuts in the filling make it difficult to butter phyllo in the pan). Evenly sprinkle with almond mixture. Set aside two sheets of phyllo for the top, then continue alternating almond mixture with single buttered sheets of phyllo. Use reserved phyllo sheets, separated only by butter, to cover top.
Step 3
Brush top with butter. Arrange pan so short side faces you. Cut across baklava with a serrated knife at about 2″ intervals. You should have 8 equal strips. Sprinkle top with water, cover with 2 sheets of parchment paper, and bake until golden, about 1 1⁄2 hours.
Step 4
Heat remaining 4 cups sugar, juice, cinnamon stick, and 2 cups water in a saucepan over medium heat; cook until sugar dissolves, about 15 minutes. Remove from heat, and discard cinnamon stick; let cool.
Step 5
Remove baklava from oven. Discard parchment paper, then pour syrup over entire surface. Tilt pan so syrup reaches all corners, then set baklava aside to cool for 2 hours. Finish cutting baklava on the diagonal for a traditional diamond shape or cut into squares.