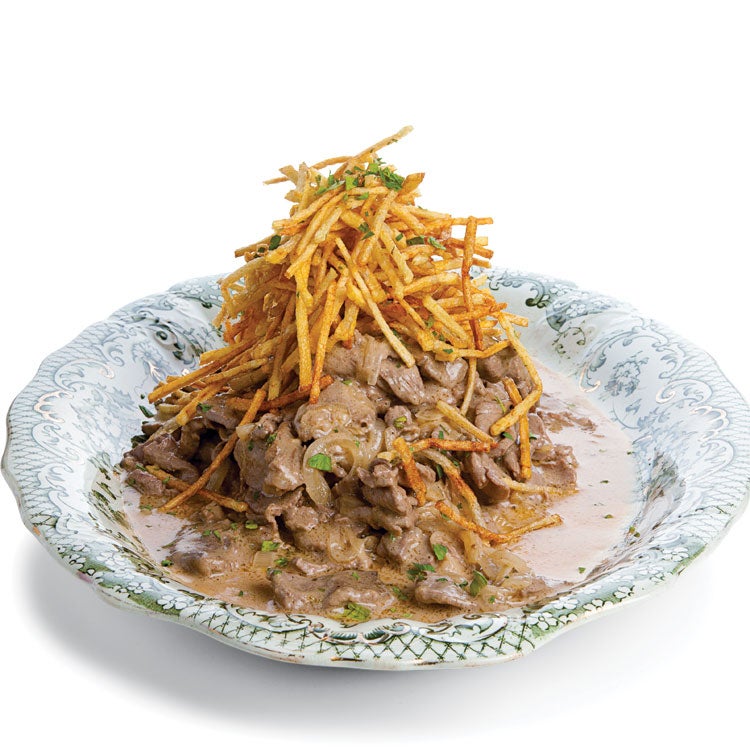 This dish of sliced beef in a sour cream sauce garnished with straw potatoes was named for the Stroganov family of Russian merchants. The inventor was plainly familiar with French cuisine (browning meat to make a pan sauce was not a Russian technique)—no surprise in a country whose wealthiest sent their chefs to train in France. The sour cream, however, is distinctly Russian. —Darra Goldstein, from "Classy Dish" (September/October 2000)
Beef Stroganoff
Tender, fast-cooking beef tenderloin makes quick work of dinner, coated in a rich sour cream sauce and topped with crispy shoestring potatoes.
Ingredients
4 tbsp. unsalted butter
2 tbsp. flour
1 tsp. dry mustard
1 cup beef stock
1⁄4 cup sour cream
1 small yellow onion, thinly sliced
1 1⁄2 lb. beef tenderloin, cut into 3″ x 1″ x 1/8″ slices
Kosher salt and freshly ground black pepper, to taste
Canola oil, for frying
4 russet potatoes, peeled and sliced into 1/8″ matchsticks
2 tbsp. finely chopped parsley
Instructions
Heat 2 tbsp. butter in a 2-qt. saucepan over medium heat. Add flour and dry mustard, and cook, stirring, for 2 minutes. Gradually add stock, whisking constantly, and bring to a boil; cook until thick, about 2 minutes. Stir in sour cream, remove from heat, and set aside.
Heat remaining butter in a 12″ skillet over medium heat. Add onion, and cook until soft and lightly golden, about 5 minutes. Increase heat to high, add meat, and cook until just cooked through, about 3 minutes. Reduce heat to low, add reserved sauce, and season to taste with salt and pepper. Cover to keep warm.
Meanwhile, pour oil to a depth of 1 1⁄2″ in a 4-qt. saucepan, and heat over medium heat until a deep-fry thermometer reads 365°. Working in batches, fry potatoes until golden and crisp, about 3 minutes. Drain on paper towels; season to taste with salt while still warm.
Spoon stroganoff onto a serving platter, and cover with a mound of jumbled straw potatoes. Garnish with parsley.