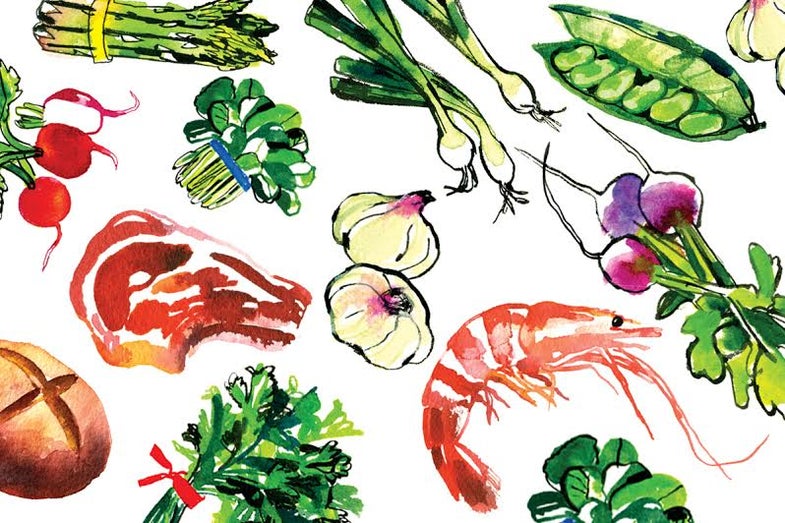 This Russian favorite is a cool and colorful vegetable salad using beets and potatoes.
Yield: serves 6
Ingredients
3 beets (about 1 ¼ lbs.)
¼ cups canola oil, plus 1 tbsp.
3 medium red new potatoes (about 1 1⁄4 lbs.), peeled
3 carrots, cut into small cubes
1 cup frozen peas
¼ cups red wine vinegar
1 tsp. dry mustard
1 tbsp. sugar
1 small yellow onion, chopped
Salt and freshly ground black pepper
Instructions
Heat oven to 400°. Rub beets with 1 tbsp. of the canola oil. Bake on a baking sheet until tender, about 1 hour. When cool, peel and cut into small cubes.
Cut potatoes into small cubes. Transfer to a pot; cover with salted water. Bring to a boil and reduce heat; simmer until tender, 4-5 minutes. Drain; let cool.
Bring another pot of salted water to a boil. Add carrots; cook until tender, 3-4 minutes. Transfer to a plate with a slotted spoon; let cool.
Add peas to water; cook for 30 seconds. Drain; let cool. In a large bowl, combine vinegar, dry mustard, and sugar. While whisking, drizzle in remaining 1⁄4 cup of oil. Mix in onions, beets, potatoes, carrots, peas, and salt and pepper to taste. Chill.