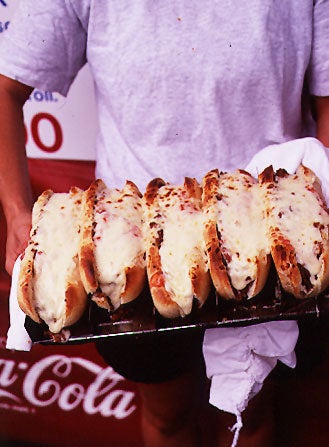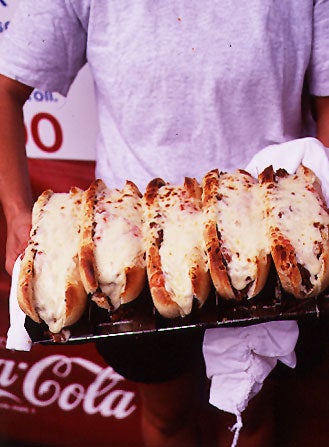 Carl Cardamon has been feeding Iowa State Fairgoers for over 50 years with hearty, middle American fare like his Gizmo sandwich—similar to an Italian grinder. "You're not going to get rich at the Fair," he says, "but you have fun and make some money."
Carl's Gizmos
This sandwich, similar to and Italian grinder, is a favorite at the Iowa State Fair.
Ingredients
4 Italian or submarine rolls
3⁄4 lb. lean ground beef
3⁄4 lb. sweet Italian sausage, casings removed
Salt and freshly ground black pepper
1 1⁄3 cups Marinara Sauce
1 lb. fresh mozzarella, cut into 8 slices
Instructions
Position an oven rack about 11 inches below the broiler, and preheat broiler. Slice rolls open lengthwise 3⁄4 of the way through, so that they open like a book. Arrange opened rolls side by side on a baking sheet. Set aside.
Sauté ground beef and sausage meat together in a large skillet over medium-high heat, breaking up meat with a wooden spoon as it cooks, until brown and cooked through, about 15 minutes. Drain off and discard any fat in the pan, then spoon about 1 cup of ground meat into each roll, and season to taste with salt and pepper. Spoon about 1⁄3 cup marinara sauce over meat in each roll and top each sandwich with 2 slices of mozzarella. Lightly season again with salt and pepper. Broil until cheese is golden, about 7 minutes.