Recipes
Clams Casino
Topped with shallot butter and bacon, these dainty baked littlenecks are the pinkies-up appetizer your next dinner party needs.
Serves

serves 4–6

Cook

25 minutes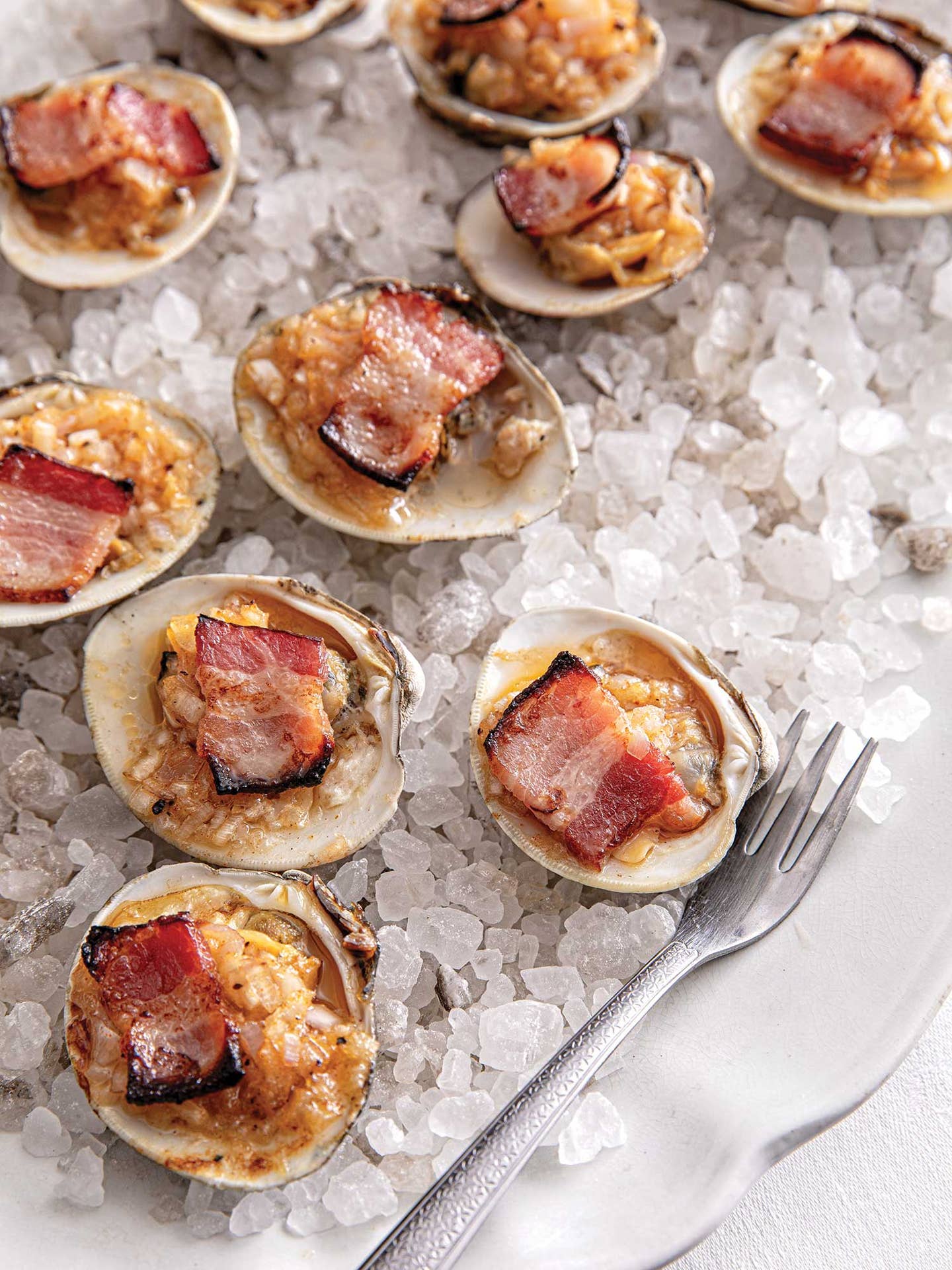 Former SAVEUR editor Kelly Alexander, who covered Clams Casino for our October 2003 issue, pointed readers to Inns and Outs, the 1939 autobiography of Julius Keller, once the maître d'hôtel of Rhode Island's now-defunct Narragansett Pier Casino hotel. In his memoir, Keller claims to have first served the littlenecks topped with bacon and bread crumbs sometime around 1917, to a patron who had simply requested clams. "Seizing the opportunity," he wrote, less than humbly, "I prepared a dish which I had tried on my own cultivated palate."
Ingredients
Rock salt
24 littleneck clams, scrubbed
8 Tbsp. unsalted butter (1 stick), softened
2 medium shallots, minced (about ½ cup)
¼ tsp. sweet Hungarian paprika
Kosher salt and freshly ground black pepper
4 slices of bacon, cut crosswise into 1-in. pieces
Instructions
Step 1
Position a rack in the top third of the oven and preheat to 500°F. Fill a large, rimmed baking sheet halfway with rock salt and set aside.
Step 2
Using a shucking knife, open the clams, loosening the meat from the top and bottom shells, then discarding the top shells. Nestle the shucked clams (in their bottom shells) atop the rock salt and set aside.
Step 3
In a medium bowl, stir together the butter, shallots, paprika, and salt and pepper to taste. Spoon a generous 1 teaspoon of the seasoned butter onto each clam, then top each with a piece of bacon. Bake until the edges of the bacon are crisp and the butter is browned and bubbling, about 5 minutes. Serve the clams casino hot.