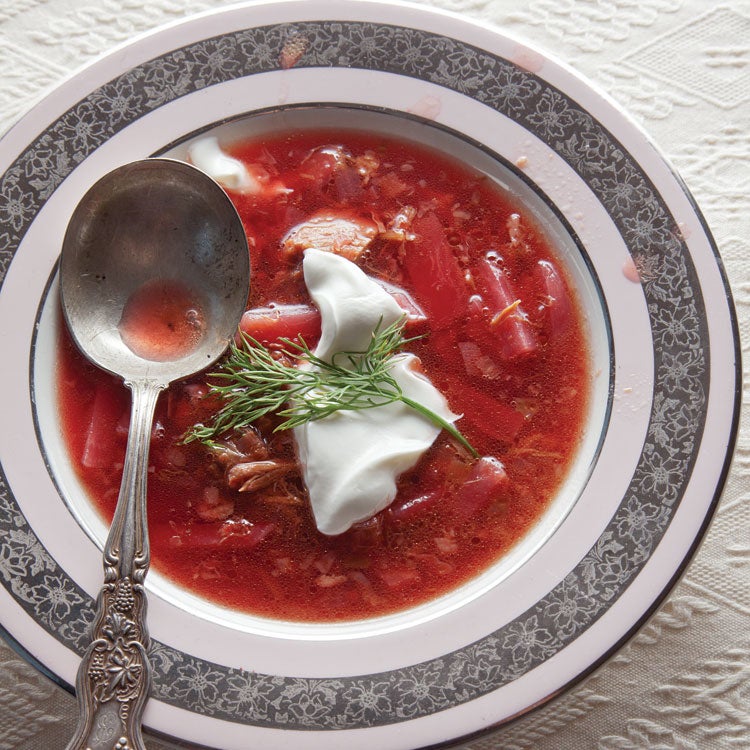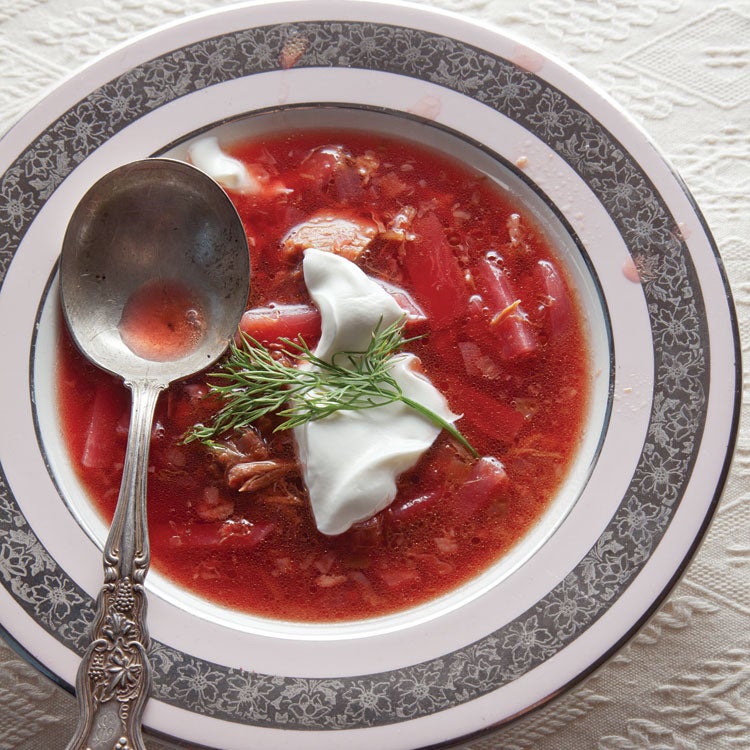 When my parents emigrated from the Soviet Union to the U.S. in 1975, it didn't take them long to assimilate, something they were eager to do. Among our Russian friends, they were always the most "American," whether it came to their impressive command of English or the fresh, light way we ate at home. There were a few homeland favorites, however, that Mom kept in her repertoire. Perhaps the most beloved was borscht. Eaten hot or cold, vegetarian or with shreds of beef, enriched with a dollop of sour cream and wisps of dill, the beet-based soup is the quintessence of good Eastern European cooking. Hearty yet fine-tuned, dramatic in color yet humble in its ingredients, borscht, unlike my family, remains unapologetically Russian. —Gabriella Gershenson
Borscht
Eaten hot or cold, vegetarian or with shreds of beef, enriched with a dollop of sour cream and wisps of dill, the beet-based soup is the quintessence of good Eastern European cooking.
Ingredients
2 3⁄4 lb. trimmed pork shoulder
2 1⁄4 lb. trimmed beef chuck
10 cups beef stock
4 ham hocks
1 bouquet garni (3 sprigs thyme, 3 sprigs parsley, 3 sprigs marjoram, 1 small leek, 1 rib celery, and 1 bay leaf, tied with kitchen twine)
1 1⁄2 lb. beets, roasted and cut into 1/4″-thick half-moons
4 leeks, white part only, finely chopped
1 large yellow onion, finely chopped
1 small head Savoy cabbage, cored and shredded
1 cup white wine vinegar
Kosher salt and freshly ground black pepper, to taste
Sour cream and dill fronds, to garnish
Instructions
Bring pork, beef, stock, ham hocks, and bouquet garni to a boil in an 8-qt. Dutch oven over medium-high heat; reduce heat to medium-low, and cook, stirring occasionally, until meat is tender, about 3 hours.
Using tongs, remove meats from broth, and transfer to a cutting board; let cool. Discard bouquet garni. Cut pork and beef into ½" chunks; shred meat from ham hocks, and cut into ½" chunks. Discard bone, skin, and excess fat from hocks. Return chopped meats to broth; add beets, leeks, onion, and cabbage, and bring to a boil; reduce heat to medium-low, and cook, stirring, until soft, about 25 minutes. Stir in vinegar, and season with salt and pepper.
Divide among bowls, and garnish with sour cream and dill.