Mostarda di Frutta (Spicy Mustard and Fruit Preserves)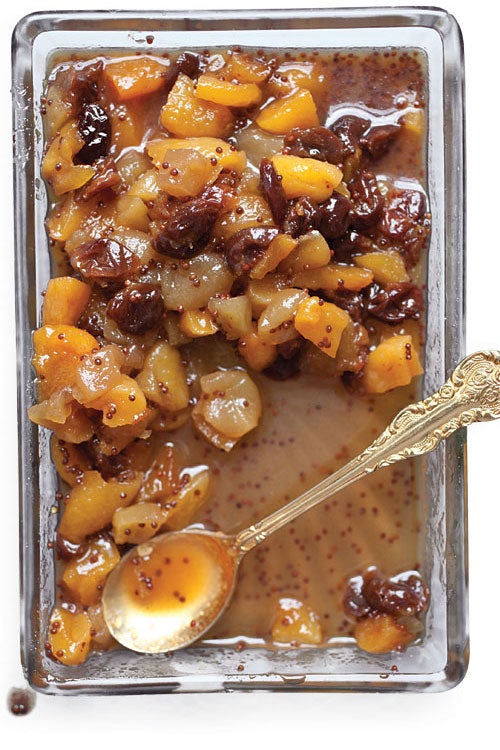 Mostarda is not mustard. It is not sweet or acidic, not salty or spicy—at least, it's none of those things alone. It is made mostly of fruit, but is neither jelly nor jam nor dessert. It is closest, maybe, to a relish … but what a relish! It's confident stuff, best served with meats—its traditional counterpart is bollito misto, an assortment of boiled cuts—or cheeses that can take its sharpness. I ate my first bites of mostarda in the Italian town of Sant'Ambrogio di Valpolicella, spooned over milky Monte Veronese cheese. I'll never forget its delicious bite. It's a condiment that makes a meal. —Tamar Adler, author of An Everlasting Meal (Scribner, 2011)
Mostarda di Frutta (Spicy Mustard and Fruit Preserves)
Mostarda best served with meats, an assortment of boiled cuts, or cheeses that can take its sharpness.
Ingredients
8 oz. dried apricots, quartered
4 oz. dried cherries, halved
1 1⁄2 cups sugar
3 tbsp. Dijon mustard
2 tbsp. brown mustard seeds
2 tbsp. canola oil
1⁄4 tsp. cayenne
4 green apples, such as Granny Smith, peeled, cored, and cut into 1/2″ cubes
3 bay leaves
Kosher salt, to taste
Instructions
Bring all ingredients and 3 cups water to a boil in a 4-qt. saucepan over medium-high heat; cook, stirring frequently, until the apricots and cherries are plumped, the apples have broken down, and the liquid is reduced and thickened, 60-70 minutes. Cool to room temperature and serve or transfer to an airtight jar and store in the fridge for up to 1 month.