Provençal Tuna Sandwich (Pan Bagnat)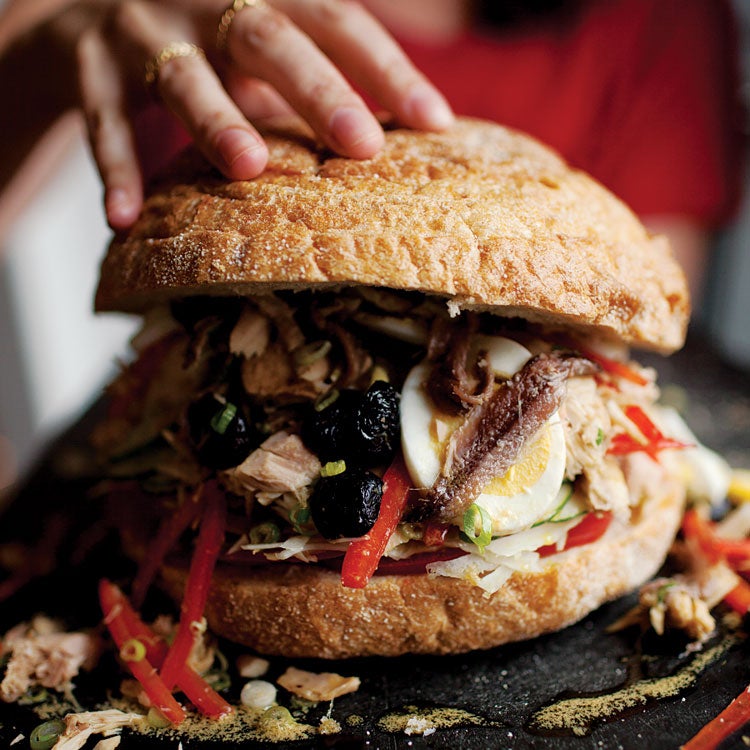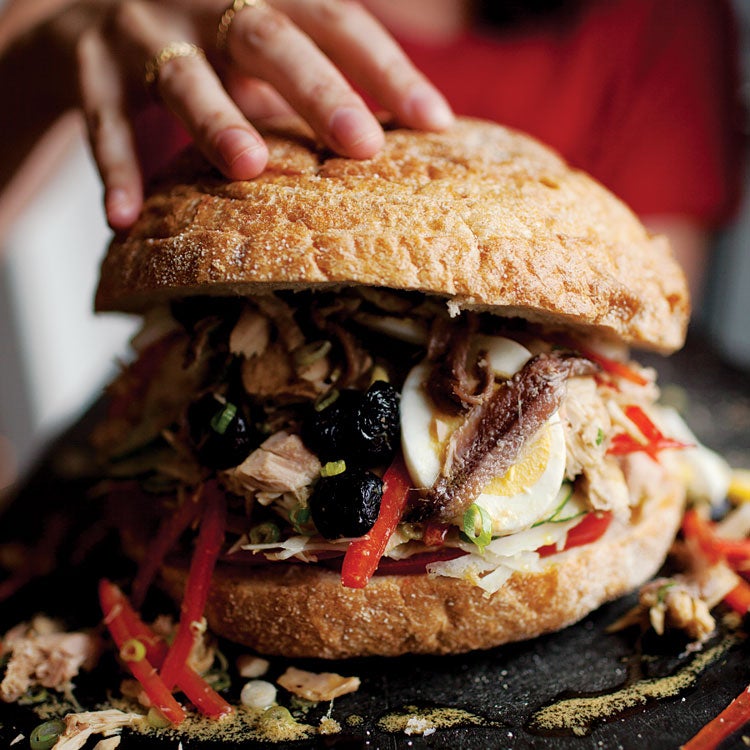 When my husband and I acquired our farmhouse in Provence in 1984, our visits were generally limited to weekend getaways from Paris. For the train ride back to the city, a snack was essential, and pan bagnat, or "bathed bread," the Provençal sandwich found at every bakery and market in the region, became our standby. It's inexpensive, travels well, and includes many of our favorite Provençal ingredients: tomatoes, local bell peppers, black niçoise olives, anchovies and tuna, salt, and pepper—a salade niçoise, effectively, between slices of crusty bread. I'd prepare the sandwiches on Saturday, scooping out some of the crumb of the bread, then letting the pan bagnat marinate, tightly wrapped and weighted down in the refrigerator, until departure time the next day, which always made for moist and satisfying sandwiches. —Patricia Wells, author of Salad as a Meal (William Morrow, 2011)
Provençal Tuna Sandwich (Pan Bagnat)
Packed with vegetables, niçoise olives, anchovies, boiled eggs, and tuna, pan bagnat is essentially a salade niçoise on crusty bread—bring it to a picnic!
Ingredients
2 plum tomatoes, cored and thinly sliced crosswise
Kosher salt, to taste
1 (5-oz.) can olive oil-packed tuna, drained
4 scallions, thinly sliced
1⁄2 small red bell pepper, stemmed, seeded, and thinly sliced into 2″ lengths
1⁄3 cup extra-virgin olive oil
1 tbsp. Dijon mustard
1 (7-inch–round) rustic bread loaf, split (about 20 oz.)
1 small bulb fennel, cored and thinly sliced crosswise
1 small cucumber, thinly sliced crosswise
2 hard-boiled eggs, thinly sliced crosswise
8 oil-cured anchovies, drained
10 salt-cured black olives, pitted and halved
Freshly ground black pepper, to taste
Instructions
Sprinkle tomato slices liberally with salt and transfer to a colander; set aside to drain for 30 minutes. In a small bowl, break up tuna with a fork and stir in scallions and bell pepper; set aside. In another small bowl, whisk together oil and mustard; set dressing aside. Scoop the insides from the bread loaf and discard or reserve for another use. Place tomatoes evenly over bottom of bread and then top with fennel and cucumbers; spread tuna mixture over top, and then top with egg slices, anchovies, and olives. Pour dressing evenly over ingredients, and season with salt and pepper; cover with top of bread, pressing lightly to compact.
Wrap sandwich tightly in plastic wrap and place on a baking sheet; top with another baking sheet and weight with a cast-iron skillet. Refrigerate for at least 4 hours or overnight. Slice into quarters to serve.