Deep-Fried Anchovy Spines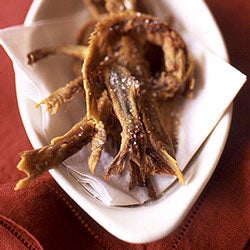 We deboned piles of anchovies while testing our recipe for Whole Wheat Spaghetti with Anchovy Sauce–and were about to throw the spines away when Colman Andrews looked in and said, "Stop! Those are good to eat!" Then he showed us this recipe from his Catalan Cuisine (Harvard Common Press, 1999).
Deep-Fried Anchovy Spines
This recipe, from Colman Andrews's <em>Catalan Cuisine</em>, makes good use of the spines left over when deboning anchovies.
Ingredients
1⁄2 cup milk
2–3 dozen anchovy spines
Olive oil
3⁄4 cup flour
Salt
Instructions
Put milk in a small bowl, add anchovy spines, and soak for 30 minutes.
Pour oil into a cast-iron skillet to a depth of ¾" and heat over medium-high heat until hot but not smoking. Put flour on a plate and dredge spines, shaking off excess flour. Fry spines until deep golden-brown, about 1 minute. Drain on paper towels. Sprinkle with salt.