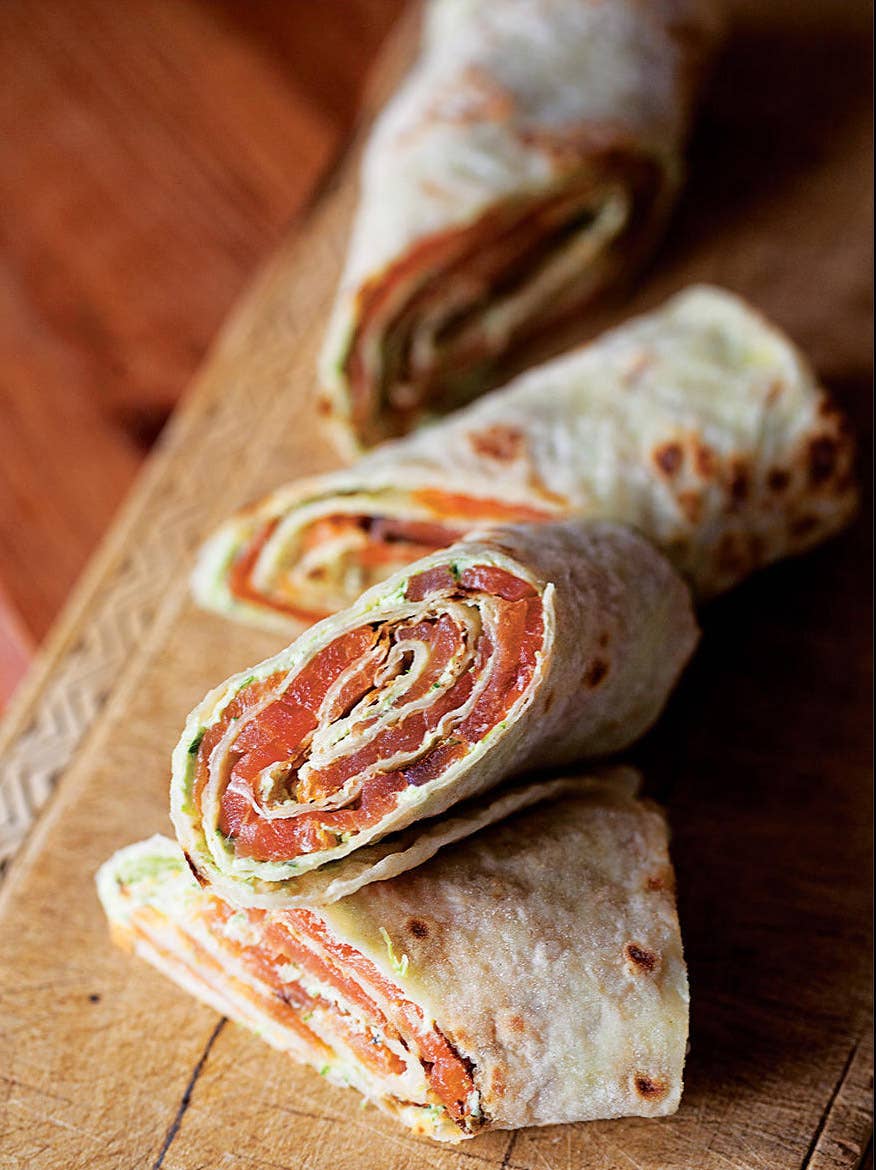 Recipes
Lefse with Herb Cream Cheese and Smoked Salmon
The Norwegian potato flatbread lefse is perfect for making wraps such as this one filled with smoked salmon and a cream cheese flavored with dill, tarragon, and other herbs. Use plenty of flour on your work surface when rolling out the sticky dough. This recipe first appeared in the iPad edition of our Jan/Feb 2013 issue along with Christopher Hall's article Norway.
1½ cups mashed russet potatoes
¾ cups flour, plus more for rolling
3 tbsp. unsalted butter, softened
1 tbsp. sugar
2 tsp. kosher salt, plus more to taste
¼ cup heavy cream
8 oz. cream cheese, softened
1½ tbsp. dill, finely chopped
1½ tbsp. parsley, finely chopped
1 tbsp. chives, finely chopped
1 tbsp. tarragon, finely chopped
Freshly ground black pepper, to taste
8 oz. thinly sliced smoked salmon, torn into 2" pieces
1. Make the lefse: Combine potatoes, flour, butter, sugar, salt, and 2 tbsp. cream in a food processor; pulse until a smooth dough forms. Form into a disk and cover with plastic wrap; refrigerate for 30 minutes. Heat a 14" cast-iron skillet over high heat. Divide dough into two 6-oz. pieces; roll each into a ball. On a heavily floured work surface, roll one ball at a time into a 14" circle about ⅛" thick; cook, flipping once, until lightly browned in places, 8-10 minutes. Transfer to a plate and cover with a clean dish towel; repeat with remaining dough, and set aside.
2. Combine remaining cream, the cream cheese, dill, parsley, chives, tarragon, and salt and pepper in a bowl; set aside.
3. Assemble the sandwich: Spread half the cream cheese mixture evenly over one of the lefse to the edges, scatter half the salmon over the cheese; starting on one end, roll to form a compact 14" wrap about 2" thick. Slice on an angle into 4 pices; repeat with remaining lefse, cheese, and salmon.