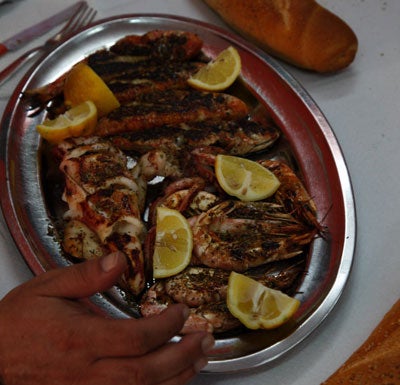 This is the quintessential Sicilian supper: fresh seafood grilled to perfection with a squeeze of lemon juice. This recipe appeared in our March 2011 issue as a part of our special feature, Soul of Sicily
Mixed Grilled Seafood
This is the quintessential Sicilian supper: fresh seafood grilled to perfection with a squeeze of lemon juice.
Ingredients
6 medium head-on shrimp
4 medium whole squid, separated into bodies and tentacles
3 medium red mullet, cleaned
3 tbsp. olive oil
Dried oregano, to taste
Kosher salt and freshly ground black pepper, to taste
2 lemons, quartered
Instructions
Build a medium-hot fire in a charcoal grill or heat a gas grill to medium-high. (Alternatively, heat a large cast-iron grill pan over medium-high heat.) Toss shrimp, squid, and mullet in a large bowl with oil to coat evenly; season with oregano, salt, and pepper. Grill seafood, turning as needed, until charred and cooked through, 3 minutes for squid, 6 minutes for shrimp, and 7–8 minutes for mullet. Transfer all seafood as it finishes cooking to a large platter and squeeze with lemon.