Pesto Genovese (Classic Basil Pesto)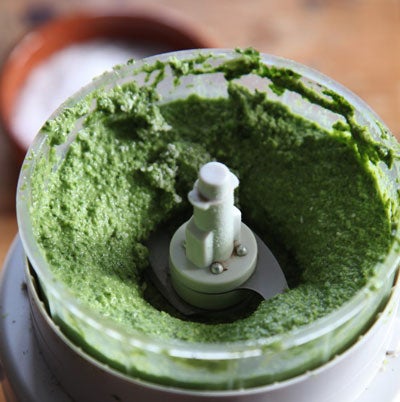 In this classic version of pesto, the basil leaves are blanched in boiling water, then quickly shocked in ice water, to give the sauce a brilliant green hue and to reduce any bitterness. This recipe first appeared in SAVEUR Issue #140 along with Laura Schenone's story Glorious Pesto
Pesto Genovese (Classic Basil Pesto)
In this classic version of pesto, the basil leaves are blanched in boiling water, then quickly shocked in ice water, to give the sauce a brilliant green hue.
Yield:
makes about 1 1/2 cups
Time: 10 minutes
Ingredients
4 cups packed basil, blanched briefly in boiling water and shocked in ice water
1⁄2 cup extra-virgin olive oil
1⁄2 cup finely grated parmesan
1⁄4 cup pine nuts
3 tbsp. finely grated pecorino
2 cloves garlic, finely chopped
Coarse sea salt, to taste
Instructions
Process basil, oil, parmesan, pine nuts, pecorino, and garlic in a food processor until smooth; season with salt.