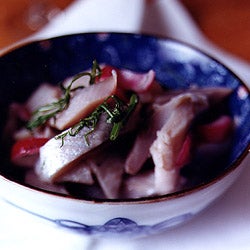 Use salted (brine-packed) herring filets for this recipe.
Yield: serves 6
Ingredients
8 salted herring filets
1 cup Swedish vinegar
2 cups sugar
5 white peppercorns
2 bay leaves
1 red onion, peeled and sliced
1 carrot, peeled and sliced
Fresh dill
Instructions
Soak herring filets in 1 quart water for 3 hours; skin and set aside.
Combine vinegar, sugar, 3 cups water, peppercorns, and bay leaves in a medium pot. Bring to a boil, then let cool.
Place filets in a nonreactive dish. Add onions and carrots. Pour vinegar mixture over herring, cover, and refrigerate for 3-7 days. To serve, remove herring from liquid, arrange on a plate, and garnish with sliced red onion and fresh dill.