Sicilian Roast Loin of Pork (Coscia 'i Maiali Arrustutu)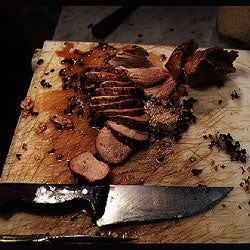 Actor Vincent Schiavelli shared the secret to his Papa Andrea's succulent roast, which lies in its onion-and-peppercorn coating, infusing the meat with loads of flavor.
Yield: serves 6
Ingredients
1 tbsp. black peppercorns
1 small peeled yellow onion
3 lb. boneless loin of pork
Salt
6 Idaho potatoes, peeled
3 tbsp. extra-virgin olive oil
1 cup dry white wine
Instructions
Preheat oven to 375°. Wrap black peppercorns in a clean dish towel, then crush by pressing with the bottom of a heavy skillet or tapping gently with a mallet. (Peppercorns should be cracked, not ground.)
Finely chop yellow onion. Generously salt boneless loin of pork. Place pork in a medium roasting pan fitted with a roasting rack. Top with cracked pepper and onions, patting them gently in place.
Cut potatoes into large pieces, toss with salt and oil, and add to roasting pan. Roast pork and potatoes for 45 minutes, then add wine. Stir potatoes and cook for an additional 45 minutes, basting occasionally.
Remove pan from oven, transfer pork to a cutting board, and allow to rest for 5 minutes before carving. To serve, transfer potatoes to a platter, arrange pork over potatoes, and top with any pan juices.