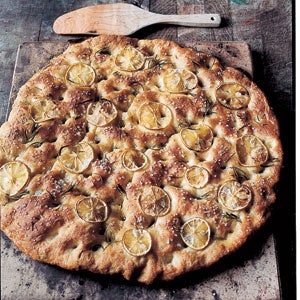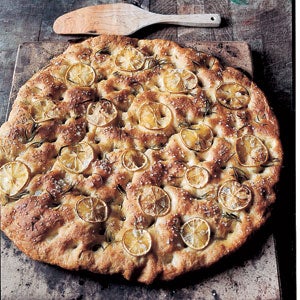 Marcella Hazan, a rosemary devotee, makes a similar focaccia.
Rosemary Focaccia
Marcella Hazan, a rosemary devotee, makes a similar focaccia.
Ingredients
1 (7-gram) packet active dry yeast
5 tbsp. extra-virgin olive oil
4 cups flour
1 tbsp. salt
8 branches rosemary
cornmeal
2 lemons, washed and thinly sliced into rounds
coarse sea salt
Instructions
Dissolve yeast in 1⁄2 cup warm water in a small bowl and let stand 10 minutes, then add 2 tbsp. of the oil. Combine flour and salt in a large bowl. Strip and chop leaves from 5 of the rosemary branches and stir into flour. Add yeast mixture and 1 1⁄4 cups water and stir until dough becomes too stiff to stir. Turn out dough onto a floured surface and knead until smooth. Shape dough into a ball, transfer to a large oiled bowl, and cover with a damp cloth. Allow dough to rise in a warm spot for 2 hours.
Transfer dough to a floured surface. Using your fingertips, press dough out to form a 12″ circle, then transfer to a baker's peel or inverted baking sheet dusted with cornmeal. Cover with a damp cloth and set aside for 1 hour.
Put a pizza stone in the oven and preheat oven to 400°. Whisk together remaining 3 tbsp. oil and 1 tbsp. water in small bowl. Remove cloth from dough and dimple dough with your fingertips, then brush with oil-and-water emulsion. Arrange lemon slices and small springs of rosemary from remaining 3 branches over dough and sprinkle with salt. Slide dough onto pizza stone and bake until golden, about 30 minutes.