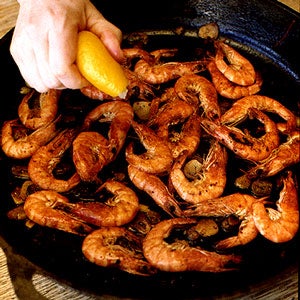 All over Spain and Portugal, meat and seafood are cooked on large, flat iron griddles, or planchas; cast-iron skillets are a perfect substitute. This dish is best made with fresh head-on shrimp, though the frozen, headless variety (thawed) can be used as long as they still have their shells; searing shrimp in the shell keeps the meat moist, while the shells get tender and crispy. (We like to eat the results, shell and all, sucking the juices out of the heads.)
Shrimp on the Griddle
All over Spain and Portugal, meat and seafood are cooked on large, flat iron griddles, or planchas; cast-iron skillets are a perfect substitute.
Ingredients
1 lb. medium head-on shrimp
6-8 cloves garlic, thinly sliced
coarse salt
1 lemon
Instructions
Heat 4 tbsp. extra-virgin olive oil in a large cast-iron skillet over high heat until very hot but not smoking. Add 1 lb. medium shrimp (about 25 shrimp to a pound) and 6–8 thinly sliced, peeled garlic cloves, then season generously with coarse salt.
Sear shrimp, shaking skillet over heat frequently, until shrimp turn pink and shells are golden and charred in places, 1–1 1⁄2 minutes per side. Squeeze juice from 1 lemon over shrimp, then serve, sopping up the pan juices with the shrimp and pieces of country bread.