Shrimp with Garlic and Cayenne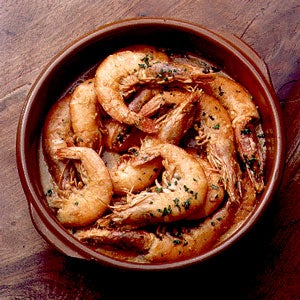 Valencian food authority Llorenç Millo notes that aficionados of this dish (traditionally made with eel or crayfish from the marshes where rice is grown) add a whole hot chile to the sauce.
Yield: serves 4
Ingredients
1⁄2 cup extra-virgin olive oil
8 cloves garlic, peeled; 4 crushed, 4 minced
1 slice country-style French or Italian bread, about 3" diameter, 3/4" thick, with crust removed
1 sprig fresh parsley, minced
1 cup sliced blanched almonds, toasted
2 cups fish stock
1 bay leaf
1⁄2 tsp. cayenne
Salt and freshly ground black pepper
16 jumbo shrimp, unpeeled
Instructions
Heat oil in a large skillet over medium-low heat. Add crushed garlic and cook for 10 minutes. Remove garlic with a slotted spoon and discard.
Increase heat to medium, add bread, and fry, turning once, until browned, about 2 minutes per side. Remove from heat, reserving oil in skillet, and drain bread on paper towels.
Crumble bread into a food processor (or mortar). Add minced garlic, parsley, almonds, and 3 tbsp. stock, then puree (or grind with a pestle) to make a fine paste.
Carefully pour remaining stock into skillet (it will spatter if oil is too hot). Add bay leaf and cayenne and season to taste with salt and pepper. Simmer over medium heat for 10 minutes.
Stir in bread paste, mix well, adjust seasoning, then add shrimp and simmer until pink and firm to the touch, about 5 minutes. Discard bay leaf and serve in shallow bowls, with toasted country-style bread if desired.