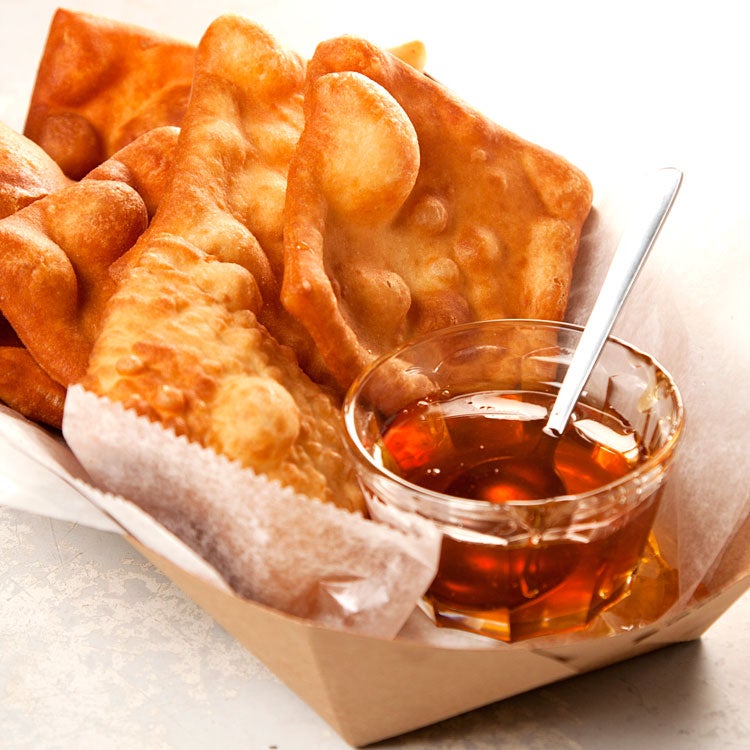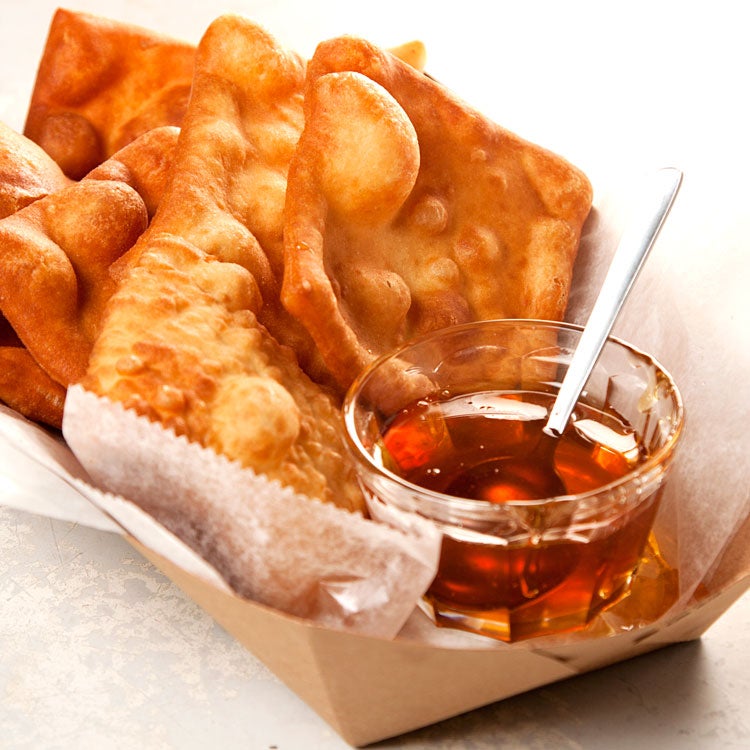 "I remember childhood visits to a restaurant on Albuquerque's Old Town Plaza. We'd press our noses to the glass as cooks rolled out the dough, cut it into squares or triangles, and plopped them into the vat of hot, bubbling fat, then, that dramatic moment, when the pallid little dough shapes magically inflated and turned golden brown. We'd seize one of the warm puffs of dough, bite off a corner, and drizzle honey into the hollow cavity." —Cheryl J. Foote, from "Pillows of Bliss" (February 2006)
New Mexican Sopaipillas
Seize one of these warm puffs of dough, bite off a corner, and drizzle honey into the hollow cavity.
Ingredients
2 cups flour
1½ tsp. sugar
1½ tsp. canola oil, plus more for frying
1 tsp. kosher salt
1 tsp. baking powder
¼ cups milk
1 cup honey
Instructions
Place flour, sugar, oil, salt, and baking powder in a large bowl, and mix with your fingertips to combine. Add milk and ½ cup lukewarm water, and stir until a sticky dough forms. Turn dough out onto a lightly floured surface. Knead vigorously until soft and no longer sticky, about 1 minute. Cover dough with a damp cloth and let rest for 15 minutes. Divide the dough into 3 equal balls, cover again, and let rest for 30 minutes. Pour oil to a depth of 2″ in a 6-qt. Dutch oven, and heat over medium heat until a deep-fry thermometer reads 400°. Meanwhile, using a rolling pin, gently roll 1 of the dough balls out on a lightly floured surface into an 8″ x 8″ square, keeping other balls covered until ready to use. Cut square into 4 equal squares. Trim and discard any ragged edges. Repeat process with remaining dough.
Place one square gently in the oil. When dough rises to the top (this will happen almost immediately), turn it over. Continue to turn dough until it puffs up to form a pillow and turns light golden brown, about 1 minute. (If dough remains on one side for too long, it will not puff up entirely.) Drain on paper towels. Repeat process with remaining dough. Serve immediately, drizzled with honey.