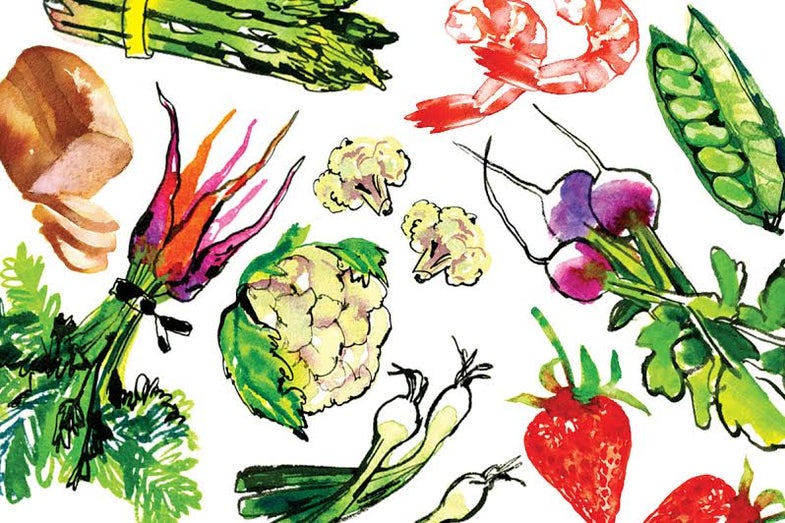 In her Lidia's Italian Table (William Morrow and Company, 1998), Bastianich reminisces about catching squid with her uncle, using a light and strips of white cloth to attract them: "Soon the first calamari appeared, waving their tentacles and looking like puffs of pink smoke floating in the water. My uncle quickly threw the snag in like a lasso, and then with a splash, the calamari were landed in the boat."
Squid on the Griddle
In her Lidia's Italian Table (William Morrow and Company, 1998), Bastianich reminisces about catching squid with her uncle, using a light and strips of white cloth to attract them.
Ingredients
2 lb. fresh squid, cleaned, with skin and tentacles left on
1⁄2 cup extra-virgin olive oil
8 cloves garlic, peeled and sliced
Leaves from 1 branch thyme
1 tsp. crushed red pepper flakes
1 tsp. fine sea salt
Instructions
Combine squid, oil, garlic, thyme, red pepper flakes, and salt in a medium bowl and marinate for 30 minutes.
Heat a large cast-iron skillet over medium-high heat. Transfer squid and marinade to hot skillet, and immediately place the clean bottom of a medium cast-iron skillet directly on top of squid to flatten it as it cooks. Be sure pans don't trap steam or squid won't be crisp. Cook, turning squid once, until browned and crispy and juices have caramelized, about 8 minutes per side.
Transfer calamari and juices to a large platter and serve garnished with parsley sprigs and wedges of lemon, if you like.