Stuffed Calamari in Gravy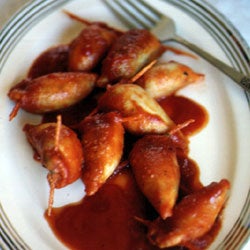 The North Beach neighborhood of San Francisco is one of the most famous Italian quarters in America and is home to the "old stoves"—the complimentary slang term used to describe an accomplished cook. This recipe is perhaps the quintessential "old stove" dish.
Stuffed Calamari in Gravy
This recipe is "old stove" cooking at its authentic best, straight from San Francisco's Italian quarter.
Ingredients
½ cups olive oil
2 onions, finely chopped
8 cloves garlic, chopped
1 tbsp. each chopped fresh oregano, basil, and marjoram
Salt and freshly ground black pepper
1 (28-oz.) can tomato sauce
1 (6-oz.) can tomato paste
1 cup chopped fresh parsley
2 cups fresh bread crumbs
⅓ Three-Cheese Mixture
2 eggs, beaten
2-3 lb. small squid bodies (3"-4"), cleaned
Instructions
Heat half the olive oil in a heavy pot, and cook onions and 6 cloves garlic over medium heat until soft. Add oregano, basil, marjoram, and salt and pepper to taste. Cook for 5 minutes. Add tomato sauce, tomato paste, and 2 cups water. Simmer for at least 30 minutes, adding half the parsley when sauce is cooked. If you have the time you can simmer the sauce for as long as 4 hours, adding a bit more water if sauce thickens too much.)
Combine bread crumbs, cheese mixture, remaining garlic, 1⁄3 cup parsley, eggs, and salt and pepper to taste. Stuff squid with bread-crumb mixture, then secure tops with toothpicks.
Heat remaining olive oil in a large skillet and saute squid in small batches until browned on all sides, about 2-4 minutes. Drain on paper towels.
When all squid is cooked, add to tomato sauce and cook for 15 minutes longer. Garnish with remaining parsley.