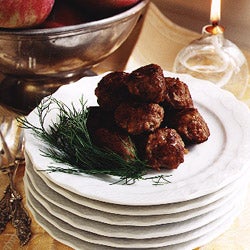 Yield: serves 12
Ingredients
1⁄2 cup fine bread crumbs
1⁄2 cup light cream
1⁄2 lb. ground beef
1⁄2 lb. lean ground pork
2 tbsp. grated onion
1 1⁄2 tsp. salt
1⁄2 tsp. ground allspice
1 egg, lightly beaten
3 tbsp. butter
Instructions
Place bread crumbs in a large bowl. Add cream and 1⁄2 cup water. Mix and set aside to soften for 5 minutes. Add beef, pork, onions, salt, and allspice. Mix well, then stir in egg and bread crumb mixture. Mix, taking care that all ingredients are thoroughly incorporated, then gently shape into 1″ meatballs. (Loosely packed meatballs are more tender.)
Melt butter in a large skillet over medium heat. Cook meatballs, in batches if necessary, turning frequently, until well browned and cooked through, about 8 minutes. Transfer meatballs to a platter and serve warm as an appetizer.
Variation—A simple sauce is served with slightly larger meatballs as a main course throughout the year in Sweden. Make the meat mixture as in step 1 above and shape into meatballs, about 2″ in diameter. Cook as in step 2 above, increasing the cooking time by 1-2 minutes. Transfer cooked meatballs to a serving bowl and cover to keep warm. To make the sauce, melt 1 tbsp. butter in same skillet over medium-low heat. Add 2 tbsp. flour and cook, stirring with a wooden spoon, for 5 minutes. Add 2 cups beef stock and simmer, whisking occasionally, for about 5 minutes. Add 1⁄4 cup heavy cream and 2 tbsp. red currant jelly. Season with salt and pepper, mix well, pour over meatballs, and serve. Serves 4.