Recipes
Apricot Soufflé
Turn the sweet stone fruit into a show-stopping French dessert.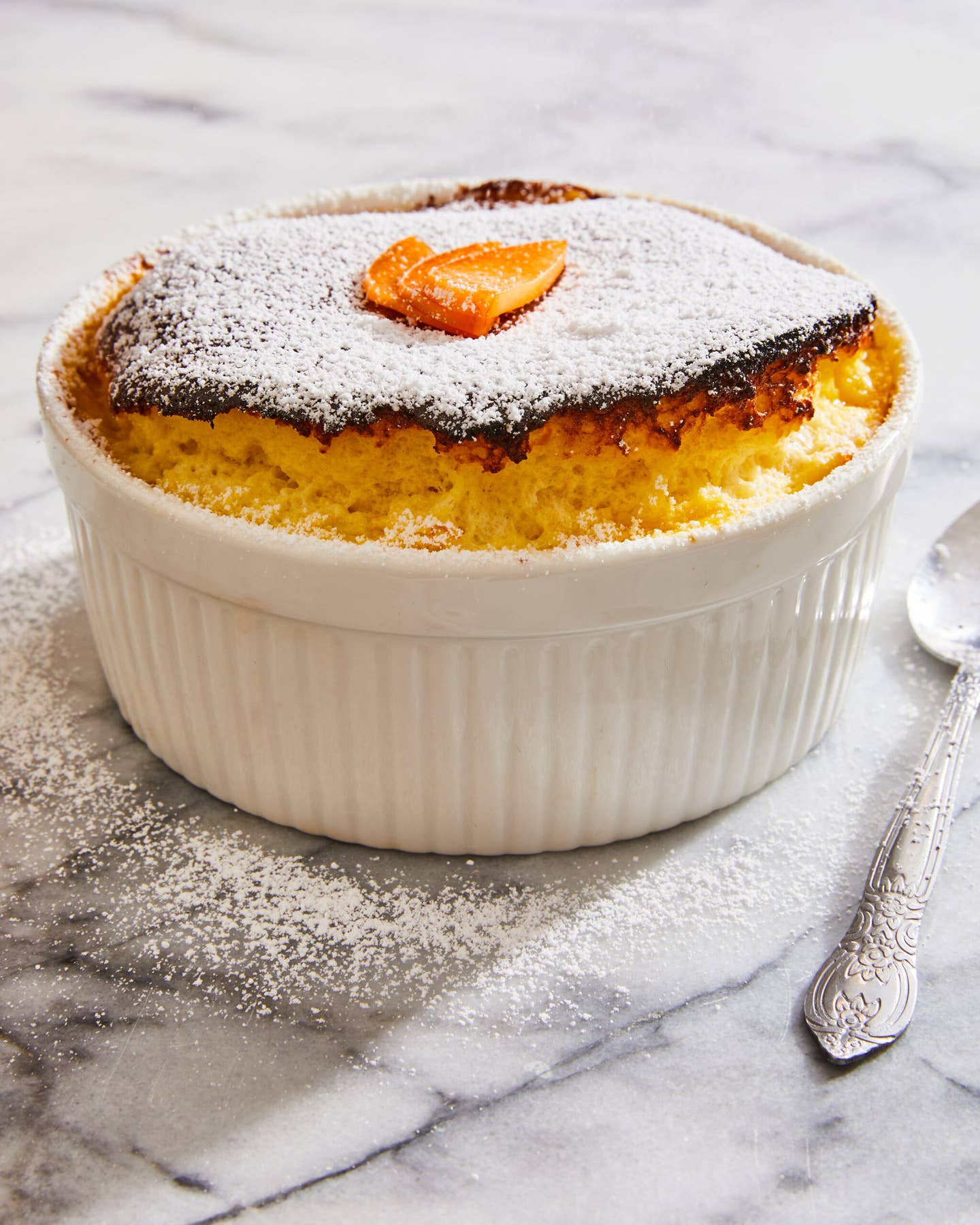 This exceptional apricot soufflé recipe comes to us from Café Jacqueline in San Francisco, a cozy bistro that serves homestyle French fare in a chandeliered dining room. Of proprietor Jacqueline Margulis's many delectable soufflés, this is our favorite, especially come late spring and summer, when fresh apricots are in season. The soufflé will begin to fall the moment it's pulled from the oven, but any change in appearance won't affect the taste.
Ingredients
Unsalted butter, for greasing
¾ cup heavy cream
¼ cup sugar, plus more for dusting
2¼ tsp. all-purpose flour
5 large fresh apricots, 4 coarsely chopped, 1 thinly sliced
1 tsp. kirsch
4 large room-temperature eggs, separated
⅛ tsp. cream of tartar
Confectioners sugar, for dusting
Instructions
Step 1
Preheat the oven to 450°F. Position a rack low enough in the oven to allow the soufflé room to rise as much as 2 inches above the rim. Butter a 6½-inch-diameter soufflé dish, then dust with sugar, tapping out any excess.
Step 2
To a medium pot over medium heat, add the cream, sugar, flour, and chopped apricots. Bring to a simmer and cook, whisking, until thick, about 3 minutes. Remove from the heat and whisk in the kirsch. One at a time, whisk in the egg yolks. Spread ¼ cup of the apricot mixture evenly on the bottom of the soufflé dish; set aside the rest.
Step 3
Using a stand or handheld mixer, beat the egg whites until foamy. Add the cream of tartar and beat until stiff peaks form. Using a silicone spatula, gently fold about one third of the egg whites into the remaining apricot mixture. Repeat, folding in the remaining whites in two batches. (Do not over-mix.) Scrape into the soufflé dish. 
Step 4
Bake until puffed and browned (but still slightly jiggly), 12–15 minutes. Dust generously with confectioners sugar and fan the sliced apricot on top. Serve immediately.