Recipes
Bourbon Balls
The Mitchell family recipe for these chocolatey confections is "boozy and bad to the bone."
Serves

Makes 28

Cook

25 minutes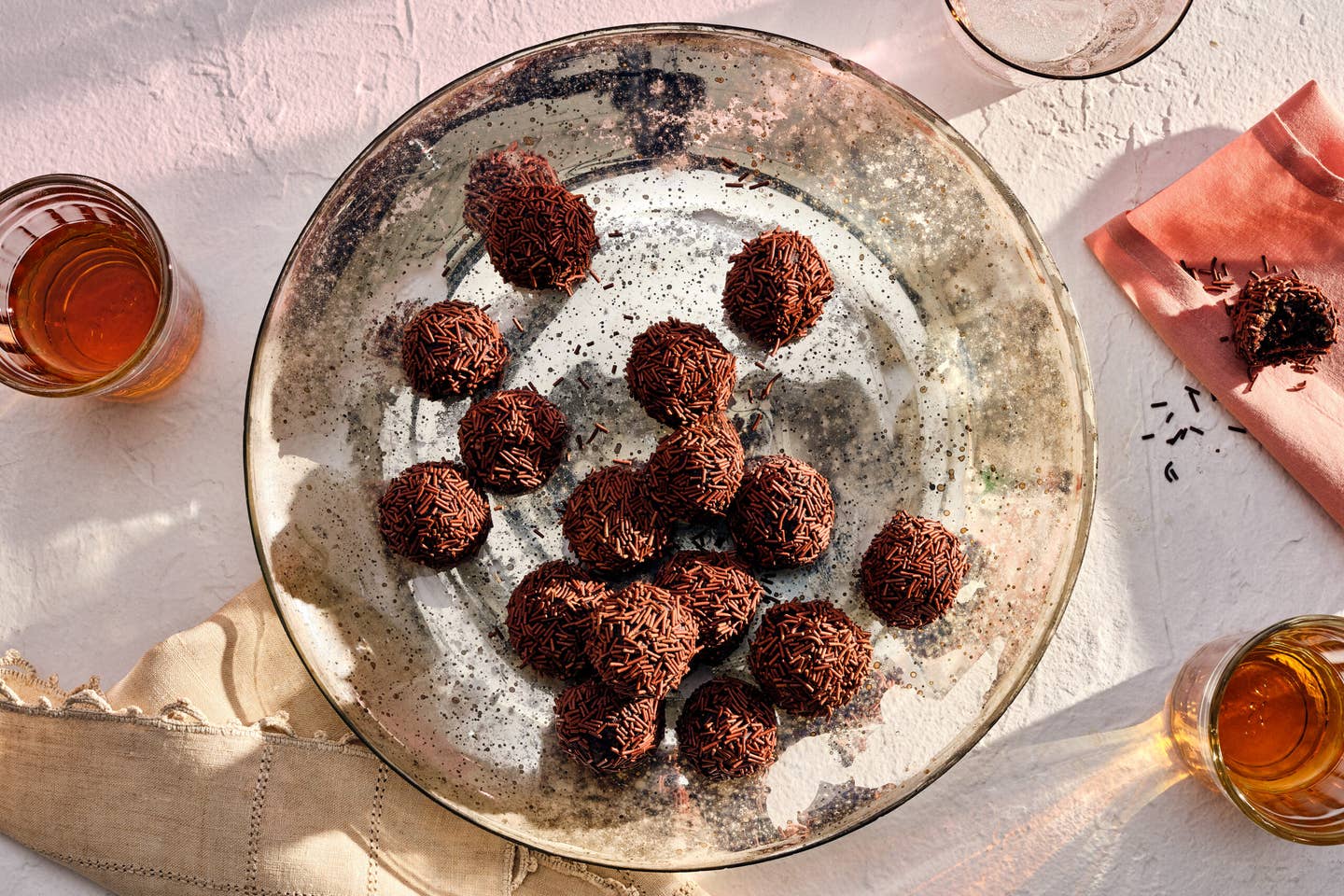 These chocolaty confections are what Editor-at-Large Shane Mitchell calls Southern truffles—"boozy and bad to the bone." Her family traditionally made them as a treat around the holidays, but these days, they're a year-round staple. We find that Callebaut makes particularly nice sprinkles, but if you're not wild about them, try swapping in crushed nuts. Chocolate wafers can be substituted for vanilla.
Ingredients
¼ cups light corn syrup
3 Tbsp. bourbon, plus more to taste
1 cup finely chopped pecans
3 Tbsp. cocoa powder
28 vanilla wafers, finely ground (about 1 cup)
¼ cup small chocolate sprinkles, plus more as needed
Instructions
Step 1
In a small bowl, stir together the corn syrup and bourbon (for boozier flavor, add up to 2 tablespoons more bourbon); set aside. In a large bowl, stir together the pecans, cocoa powder, and vanilla wafers. Add the reserved corn syrup mixture and stir until you have a sticky, slightly gritty uniform mass. Using moistened hands, pinch off 1 scant tablespoon and roll it into a 1-inch ball, then transfer to a parchment-lined baking sheet; repeat with the remaining bourbon balls.
Step 2
To a shallow bowl, add the sprinkles and a few of the balls and roll gently to coat. Transfer the balls to paper candy cups or a platter, then repeat with the remaining balls, adding more sprinkles to the bowl if you run out. Serve at room temperature. (Bourbon balls will keep, refrigerated or stored in a cool place, for up to 2 weeks.)