Recipes
Sichuan Dan Dan Noodles
Savory. Spicy. Tingly.
Serves

serves 4

Cook

25 minutes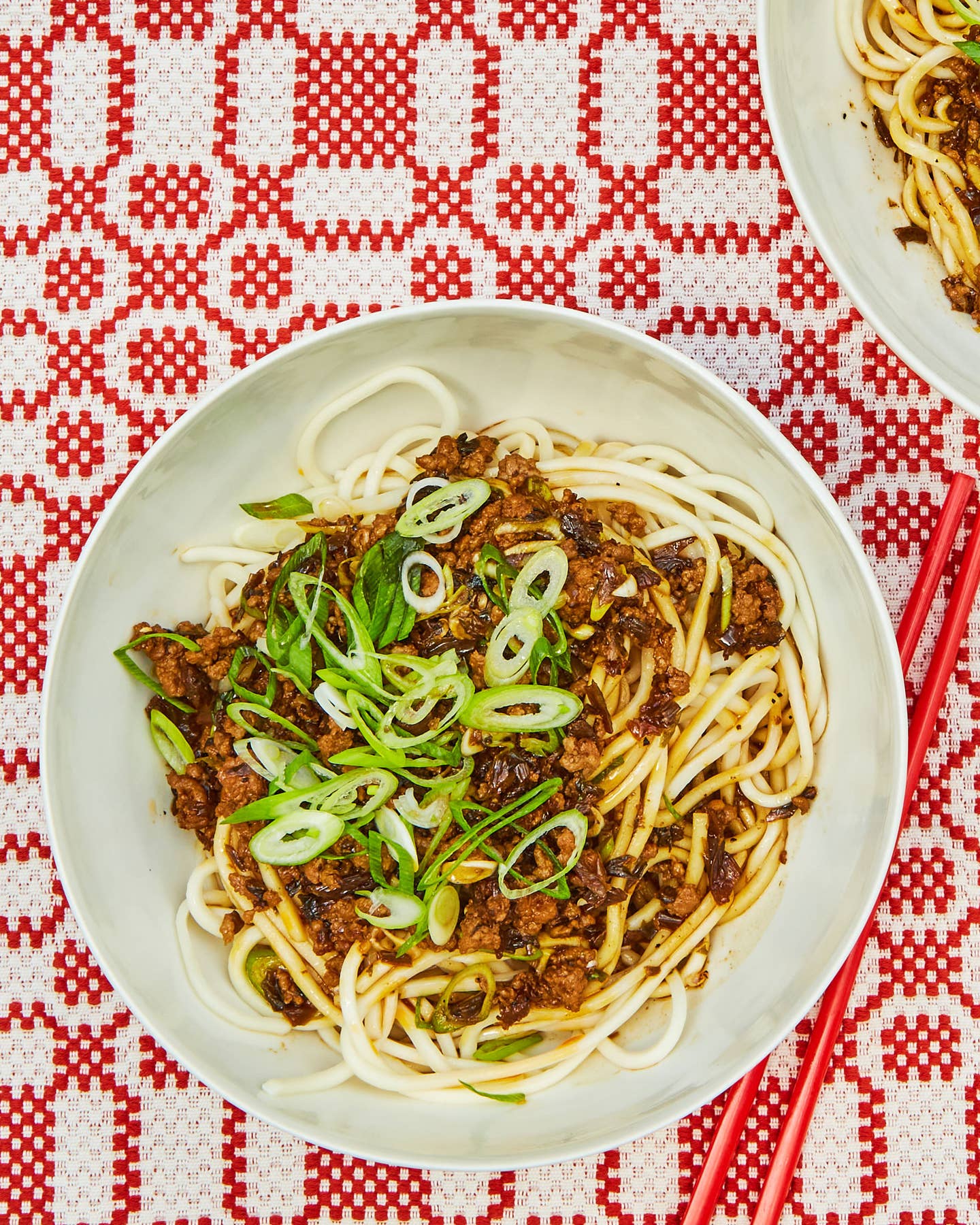 For this beloved Sichuan dish, a tangle of wheat noodles is topped with ground pork cooked in a tingly Sichuan peppercorn sauce. Hong you, a ruby red chile- and spice-infused oil, is essential to the cuisine of the southwestern Chinese province. Feel free to make your own jar or use a storebought oil. This version of Dan Dan Noodles is adapted from one that appeared in Fuchsia Dunlop's first cookbook, Land of Plenty.
Ingredients
2 tbsp. peanut oil
3 tbsp. finely chopped ya cai (Tianjin preserved vegetable), rinsed and drained
4 oz. ground pork
3 tbsp. hong you (Sichuan red chile oil)
2 tbsp. light soy sauce
1 tsp. dark soy sauce
2 tsp. Chinkiang black vinegar
1 tsp. Shaoxing wine
1⁄2 tsp. ground Sichuan peppercorns
2 scallions, finely chopped
Kosher salt
12 oz. fresh wheat noodles, or 8 oz. dried
Instructions
Step 1
Heat a large wok over high heat. Drizzle the peanut oil along the inside of the wok to coat, then when the oil just begins to smoke, add the ya cai and cook, stirring constantly, until fragrant, about 30 seconds. Add the pork and cook, stirring and breaking up the meat into small pieces, until browned, 2–3 minutes. Remove from heat; stir in the hong you, soy sauces, vinegar, wine, Sichuan peppercorns, and scallions, then set aside.
Step 2
Bring a large pot of salted water to a boil; add the noodles and cook until tender, 4–7 minutes. Drain the noodles and divide between 4 large serving bowls; divide the reserved sauce over noodles, and serve hot.