Recipes
Djaj Mahshi
Baharat and juicy ground meat add a heady fragrance and richness to these festive, rice-stuffed chickens.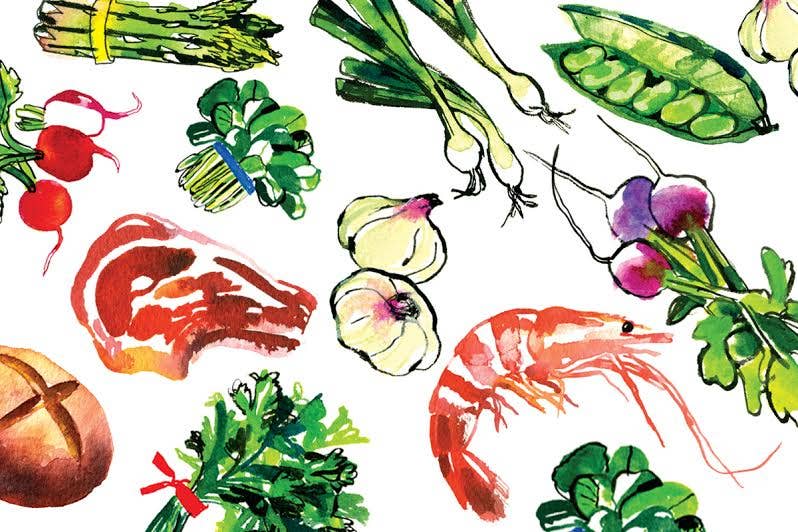 Baharat is an Arab seasoning mix containing anywhere from three to nine spices (the most popular versions have seven). Fatima Abbas, the Michegan-based Lebanese American home cook who shared this festive and fragrant djaj mahshi recipe with us, says that any seven-spice baharat will work here. Find the blend at your local spice shop, order it online (Burlap & Barrel makes an excellent version), or mix up a batch of your own.
This recipe ran alongside Alia Yunis' 2003 article: "Consuming Faith."
Ingredients
1 1⁄2 cups long-grain rice
1 Tbsp. vegetable oil
1 1⁄2 lb. ground beef or lamb
3⁄4 tsp. ground cinnamon
3⁄4 tsp. baharat
3⁄4 tsp. garlic salt
3⁄4 tsp. onion salt
Salt and freshly ground black pepper
2 lemons, halved
Three 3½–4 lb. whole chickens
6 pinches paprika
Instructions
Step 1
Put rice into a medium bowl, cover with warm water, and set aside to soak for 1 hour. Drain in a fine mesh strainer and set aside.
Step 2
Preheat oven to 450°. Heat oil in a large skillet over medium-high heat. Add meat, cinnamon, Arab spice mix, garlic salt, onion salt, and salt and pepper to taste and cook, breaking up meat with the back of a wooden spoon, until meat is no longer pink, 6–8 minutes. Add rice to meat mixture, reduce heat to medium-low, and cook, stirring often, until rice absorbs juices, 6–8 minutes. Transfer stuffing to a large bowl, adjust seasonings, and set aside.
Step 3
Squeeze lemons over chickens. Rub chickens inside and out with paprika and salt and pepper to taste. Fill chicken cavities with the stuffing, tie each pair of legs together with kitchen twine, then transfer chickens to a large deep roasting pan. Cover pan with heavy-duty foil and bake for 30 minutes. Reduce oven temperature to 350° and continue baking, basting chickens occasionally, until chickens are deep golden brown and completely cooked through, 30–45 minutes more. Remove chickens from oven and set aside to let rest for about 15 minutes. Discard kitchen twine and serve the djaj mahshi with pan juices.