Recipes
Nian Nian Nyu Wee (Steamed Bass with Garlic Brown Bean Sauce)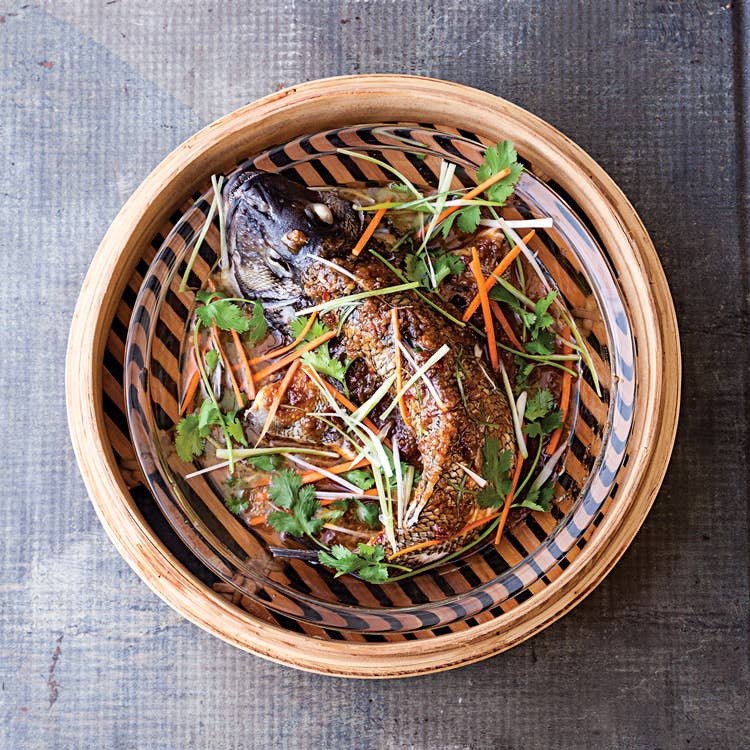 A drizzle of toasted sesame oil before steaming infuses whole sea bass with a nutty flavor, while a sauce of ginger, chili paste, and salty brown beans adds punch to this Chinese-Malaysian dish. This recipe first appeared in our May 2014 issue with the story Still Cooking.
Ingredients
10 cloves garlic
1 (1") piece ginger, peeled and thinly sliced
1⁄2 small yellow onion, thinly sliced
1⁄4 cup peanut oil
5 tbsp. sugar
3 tbsp. brown bean sauce, such as Koon Chun brand
1 1⁄2 tbsp. sambal oelek (red chili paste)
1 1⁄2 tbsp. shaoxing jiu (Chinese rice wine)
1 tbsp. oyster sauce
1 (12–14 oz.) whole sea bass, cleaned and dried
2 tbsp. toasted sesame oil
8 sprigs cilantro
2 scallions, julienned
1 small carrot, julienned
Instructions
Step 1
Purée garlic, ginger, and onion in a small food processor into a paste. Heat oil in a 10" skillet over medium-high heat. Cook paste until golden and fragrant, 3–4 minutes. Add sugar, bean sauce, chili paste, rice wine, oyster sauce, and 5 tbsp. water; simmer until sugar is dissolved, 2–3 minutes, and set aside.
Step 2
Slice bass on either side of head, just above each fillet. Place bass skin side up on a heatproof platter splayed open so it lies upright; drizzle with sesame oil. Bring 1" water to a boil in a 14" flat-bottom wok fitted with an 11" bamboo steamer. Place platter with bass in steamer base and cover; steam until cooked through, 12–15 minutes. Remove platter. Pour reserved sauce over fish; garnish with cilantro, scallions, and carrot.