Recipes
Peppermint Pillow Ice Cream
Retro hard candies lend this minty frozen custard a soft pink tint.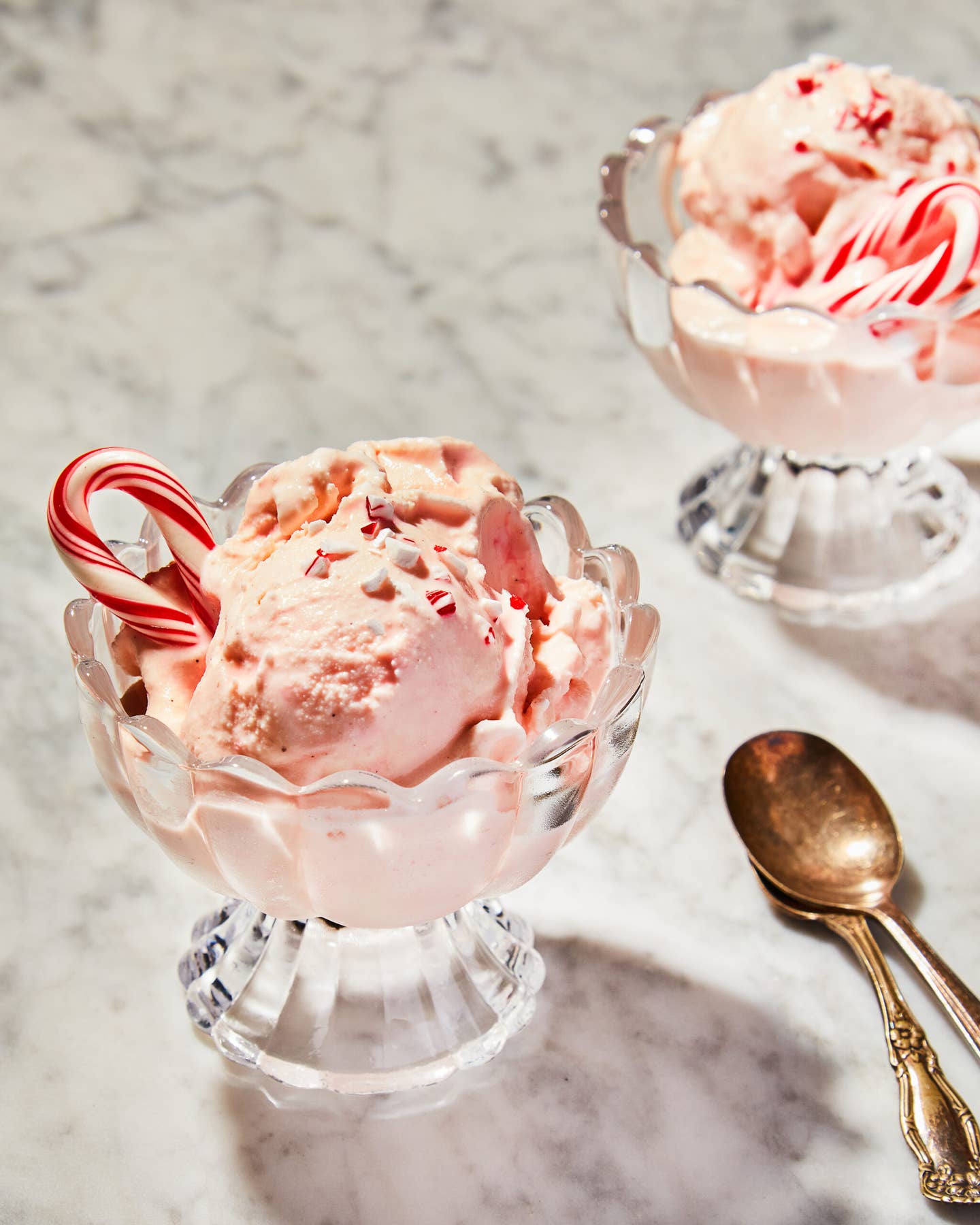 Visions of peppermint ice cream danced in my head as I watched the delicate, tiny candy pillows—each with 16 red and white stripes—come flying out of a hulking old machine at the Hammond Candy Company factory in Denver. I imagined the slight crunch and cool flavor of the best candy I'd ever tasted wrapped in the rich frozen cream. I like ice cream best in the winter, even if it doesn't seem to match the season.—Christopher Hirsheimer
Hammond's peppermint pillows can be ordered online, though any intensely pepperminty hard candy (including candy canes) will work well in this recipe, which is adapted from a version that first appeared in the Kitchen section of our November/December 1994 issue.
Ingredients
1½ cup heavy cream
1½ cup whole milk
2 vanilla beans, sliced lengthwise, seeds scraped and pods reserved
1 cup sugar
3 large egg yolks
Pinch of kosher salt
½ cup (2½ oz.) crushed peppermint pillows
Instructions
Step 1
To a medium pot over medium heat, add the cream, milk, and the vanilla bean pods and seeds. In a large bowl, whisk together the sugar, egg yolks, and salt. When the cream-milk mixture just comes up to a boil, remove from the heat, and, 1 cup at a time, vigorously whisk it into the sugar-yolk mixture.
Step 2
Once all of the cream-milk mixture has been incorporated, pour the liquid back into the pot and set over medium-high heat. Cook, using a silicone spatula to continuously stir and scrape the bottom and sides of the pot, until the custard thickens, 12–15 minutes. (Don't walk away from the stove or stop stirring; the eggs in the custard can scramble and clump quickly.) Remove from the heat. Set a fine mesh strainer in a large clean bowl or container; strain the custard, discarding the spent vanilla bean pods and any other solids that remain. Set the custard aside to cool to room temperature, then cover and transfer to the fridge to chill for at least 8 hours or up to 48 hours.
Step 3
Pour the chilled custard into an ice cream maker and churn according to the manufacturer's instructions until the ice cream is nearly frozen but still slightly loose, about 10 minutes. Pour the crushed peppermint candy into the ice cream maker and continue churning until the ice cream is fully frozen and clinging to the blades of the machine, about 10 minutes more. Turn off the machine, transfer the ice cream into an airtight container, and place in the freezer until firm enough to scoop, about 2 hours. Covered tightly, this ice cream keeps well in the freezer for up to a week.