Recipes
Chicken and Rice Vermicelli Soup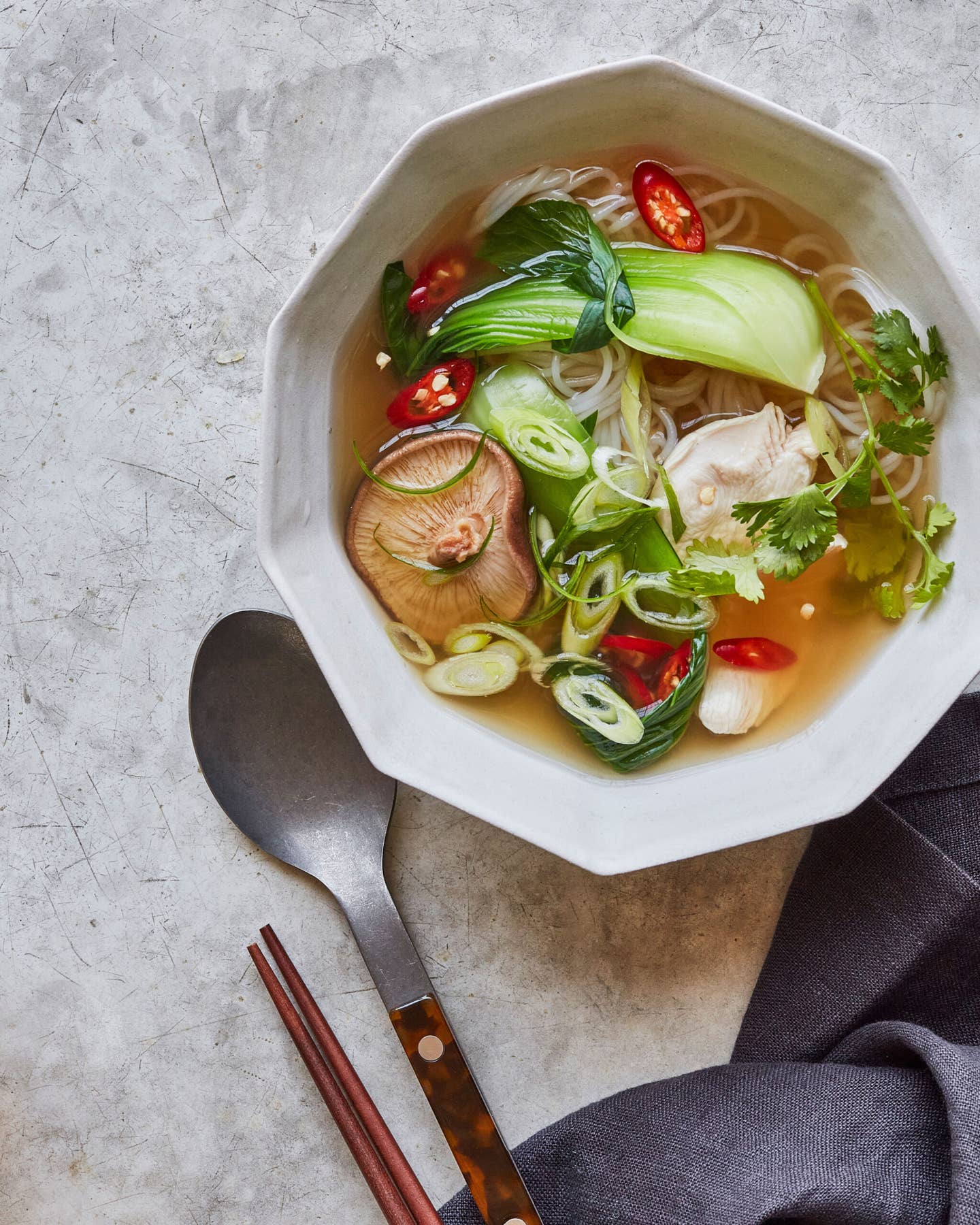 The delicacy of the ingredients in this Cantonese-style chicken and rice vermicelli soup belies the richness of the finished broth, perfect for staving off a winter chill. The level of spice in this warming Cantonese-style recipe, from cookbook author Corinne Trang, can be controlled by increasing (or omitting altogether) the fresh red hot chiles. Find more of our favorite Chinese recipes here.
Ingredients
Chicken and Rice Vermicelli Soup
8 oz. mi fen (dried rice vermicelli)
¼ cup medium dried shrimp
4 large dried shiitake mushrooms
¼ cup vegetable oil
4 large garlic cloves, finely chopped
8 cup chicken stock
5 scallions, white parts only; 3 crushed, 2 thinly cut on the bias
2 thin slices peeled fresh ginger
Kosher salt
1 skinless boneless chicken breast, very thinly cut on the bias
4 head baby bok choy, trimmed, leaves separated
½ cup cilantro leaves
2 red bird's eye chiles, thinly sliced on the bias
Instructions
Step 1
In three separate bowls of hot water, soak the noodles, dried shrimp, and mushrooms until each has softened, about 20 minutes. Drain the shrimp, discarding their soaking liquid, and set aside. Use a slotted spoon to remove the mushrooms (save their soaking liquid for another use), and squeeze them to extract any excess water. Trim and discard the mushroom stems; julienne their caps, and set aside.
Step 2
In a small pot over medium heat, heat the oil. Add the garlic and cook, stirring occasionally, just until golden, 2–3 minutes. Immediately remove the pan from the heat and pour the garlic oil into a small, heatproof serving bowl.
Step 3
To a large pot, add the rehydrated shrimp, julienned mushrooms, stock, crushed scallions, and ginger. Season lightly with salt, then bring to a boil over high heat. Turn down the heat to medium-low and continue to cook at a simmer until the aromatics are softened and the broth is rich and flavorful, about 15 minutes.
Step 4
Meanwhile, bring a second large pot of water to a boil over high heat. Drain the vermicelli, add it to the boiling water, and cook for 5 seconds; remove the noodles with a spider skimmer or long-handled sieve and divide among 4 large soup bowls. Add the sliced chicken to the boiling water, cook for 10 seconds, remove with the sieve, and divide among the bowls. Add the bok choy to the pot and blanch until just tender, 1–2 minutes. Remove the bok choy and arrange on top of the chicken. Ladle about 2 cups of the broth into each bowl, then garnish each serving with sliced scallions, cilantro, and chiles. Drizzle with the garlic oil just before serving.