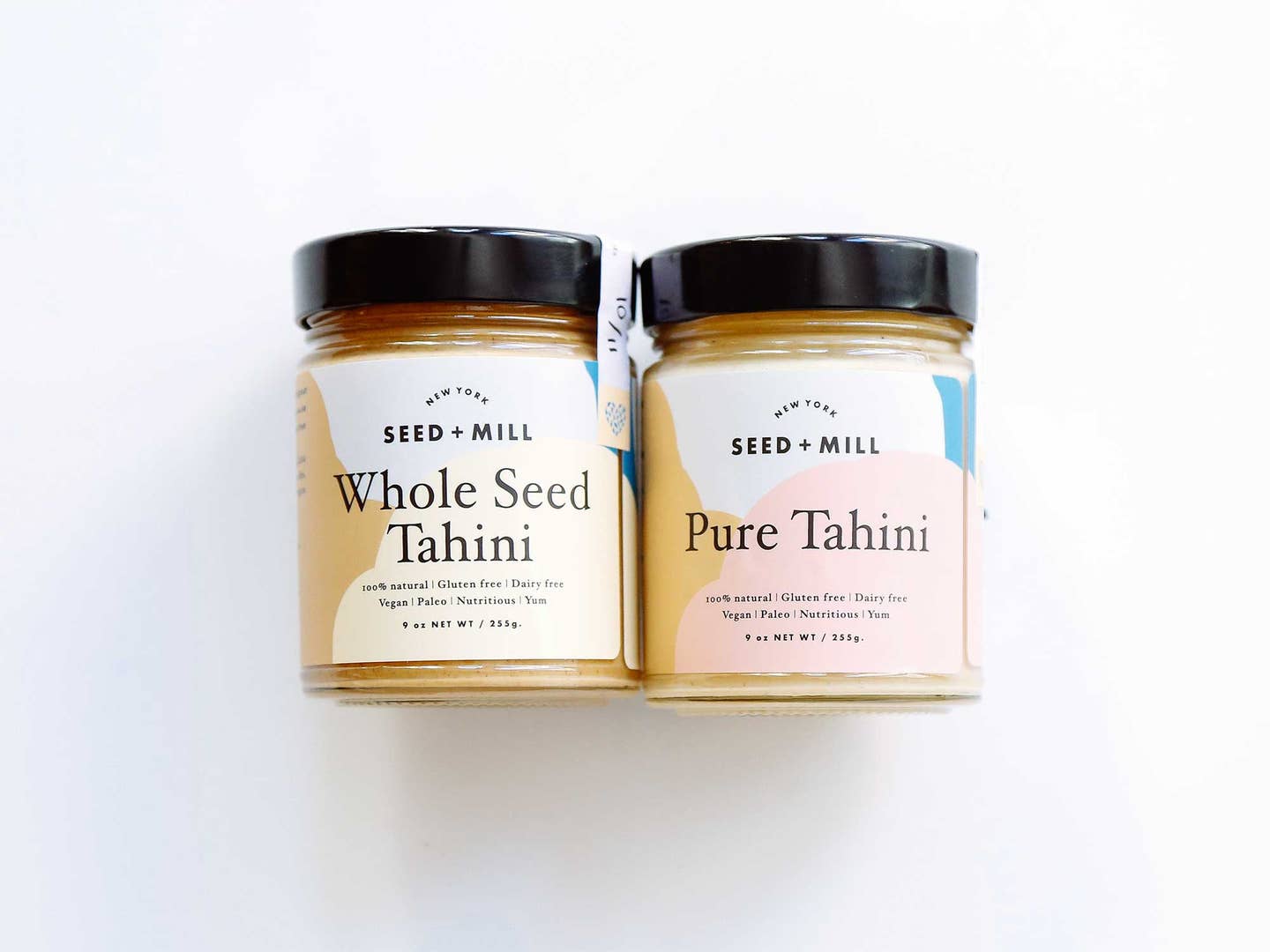 Shopping & Reviews
The Best Tahini You Can Buy—And What to Cook With It
The short answer: just about everything. Here's how to make the most of this pantry essential
Poor sesame seeds must have an inferiority complex. The seeds themselves, so puny and mild when used whole and raw, rarely deliver enough impact to be the main flavor of a dish—we mostly think of them as those specks that appear on our burger buns, bagels, and sushi rolls. But tahini, an oily, rich paste made purely from ground sesame seeds, is another story entirely.
A flavor and complexity booster in both savory and sweet preparations, tahini can easily be the star of a dish, sauce, or dessert, and even when it's not, it can lend a subtle nutty background note to any of those applications. As comforting as peanut butter and as soothing as honey stirred into tea when you're home sick, tahini deserves to be a staple in your pantry.
With a name derived from the Arabic word tahana, which means "to grind," tahini is a puree made from ground raw or toasted white sesame seeds. (The word can also be used to describe a sauce made with this paste—often with lemon, water, and garlic—but for our purposes here, we mean the pure, unadulterated paste.)
Tahini's consistency and flavor also varies depending on the type of seed used, where it comes from, and whether it was roasted or raw. It can range from a darker, meatier, and more robust-tasting version, to a milky, creamy, and runnier style that looks lighter and tastes a little less bitter than its darker-hued brothers. It also comes in smooth and coarse versions, something you can usually judge by peering into the jar or giving it a quick stir.
While the seeds for most tahini brands come from a range of oil-seed producing countries like Myanmar, India, China, the crème de la crème are said to come from a small region in Northwest Ethiopia called Humera. But as most tahini is ground and processed in the Middle East—where it's a beloved everyday pantry staple—and it's also popular in countries like Greece and India, you'll likely find tahini packages from all over the map at any given store. To simplify things, here are the two basic types we recommend you bring home.
Think of these cream-colored versions, which have a looser, smoothie-like texture, like you would extra-virgin olive oils—they're best used in preparations where their pure flavor can shine through and won't be overpowered by stronger ingredients. They're great whisked into classics like hummus, baba ganoush, and halva; as the main component of a sauce for seasoning roasted vegetables, fresh cold salads (like tabbouleh or chopped cucumber, tomato, or bell-pepper based dishes); for topping falafel; or for drizzling on grilled or baked fish.
To make a quick and classic tahini sauce, whisk the paste with garlic and lemon juice, thin with water, and optionally stir in grated garlic or finely chopped fresh herbs like parsley, cilantro, or mint. Use it for dressing caramelized Brussels sprouts or cauliflower, roasted butternut squash or beets, or as a dipping sauce for latkes or vegetable fritters.
We recommend: We love Soom, which sources all their sesame from Humera in Ethiopia, for its pure nutty flavor. New York City's Seed + Mill is also a worthy pick, with sesame also sourced from Humera.
Tahinis made from toasted or naturally darker sesame seeds often have a heartier, coarser texture, a more pronounced (though not unpleasant) bitterness, and more robust flavor overall. Use them to bring a complexity to baked goods or chocolate confections—stirring the paste into brownies, chocolate truffles, or hot chocolate, or mixing it into chocolate chip or shortbread cookie dough—or for drizzling on grilled meats, roasted potatoes, or atop spicy dishes. In the Middle East, tahini is often eaten with honey or date honey (silan) on toasted bread, which, when made with toasted tahini tastes a bit like peanut butter and jelly on steroids.
We recommend: Al Arz, the reported favorite of chef Yotam Ottolenghi with a robust flavor and balanced bitterness.
And a Few General Guidelines
Look for tahini with as little separation between the seeds and oil as possible, a sign of freshness and quality. Always stir tahini before using, and avoid using in a blender or food processor—the speed of the motor will often cause the paste to seize up and become chunky or oddly textured (if this happens, try whisking by hand while drizzling in water). Store tahini in the refrigerator after opening.
More From the Modern Pantry