Recipes
Broiled Oysters with Parmigiano and 'Nduja
Melty cheese meets briny bivalves in this rich, silky seafood starter.
Serves

makes 1 Dozen

Cook

35 minutes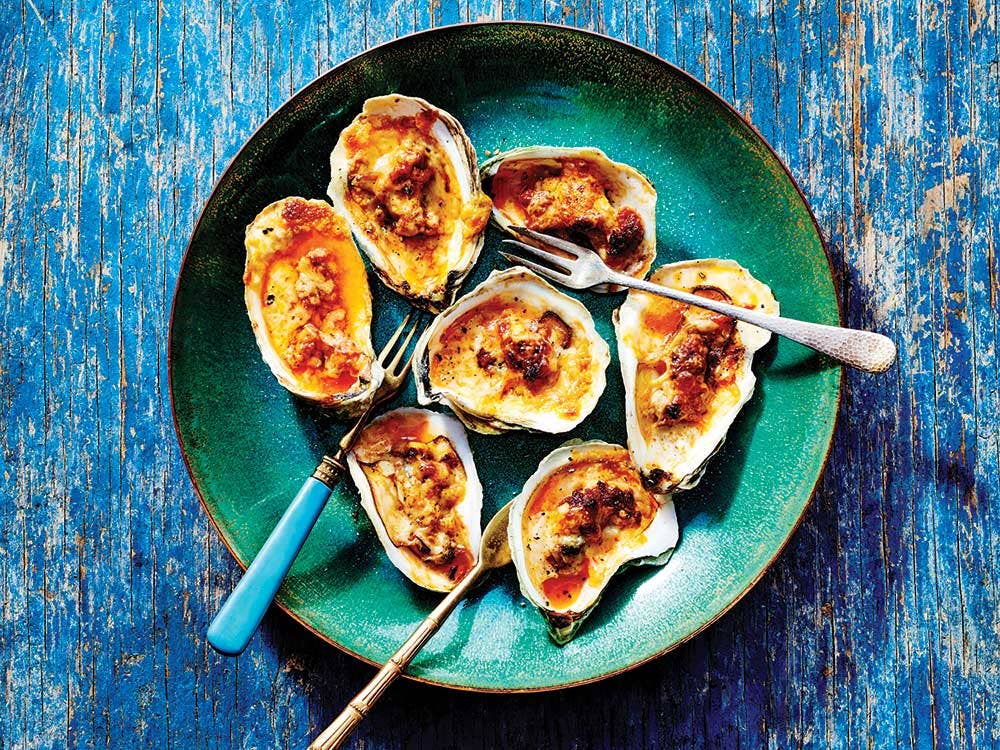 Inspired by Long Island oyster farmer Peter Stein, these broiled beauties are tucked under crispy melted cheese, garlic butter, and a spicy, Calabrian-style sausage known as 'nduja. The fatty ingredients bring richness to the bivalves' watery liquor. For more oyster recipes, check out all of favorite ways to cook the briny mollusks.
Ingredients
1 dozen medium-large oysters
3 tbsp. (2 oz.) 'nduja
2 tbsp. (1 oz.) unsalted butter, cut into 12 small pieces
1 1⁄2 oz. Parmigiano-Reggiano, very thinly sliced (about 24 slices)
Freshly ground black pepper
Instructions
Step 1
Preheat the broiler to its highest setting. Meanwhile, shuck the oysters and, using an oyster knife, detach the meat from the bottom of the shell, reserving the fluid.
Step 2
On a baking sheet, crinkle up one or more large pieces of foil to create a bed to help stabilize the oysters. Place the oysters on top, nestling them into the foil so their juices don't spill. Atop each oyster, place 1 teaspoon of the 'nduja and a piece of butter. Divide the cheese among the oysters and top with a little black pepper.
Step 3
Broil until the cheese is melted and slightly golden on top and the juices are bubbling, 6–10 minutes.
Step 4
Transfer the oysters to a platter and serve immediately with forks, if desired.