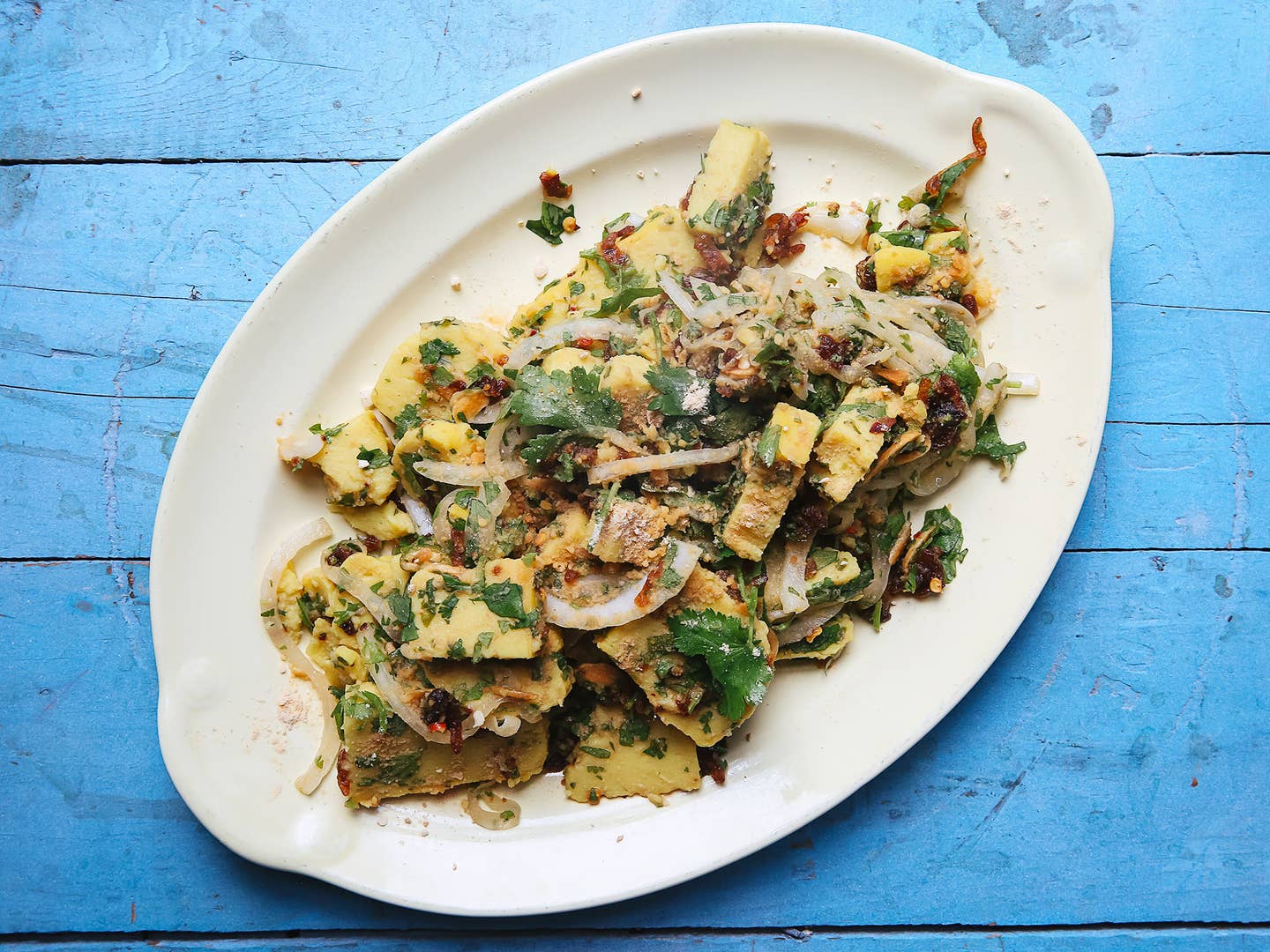 Techniques
Turn Chickpea Flour Into Super-Flavorful Alt-Tofu
How to make Burmese shan tofu for fresh salads, soups, and then some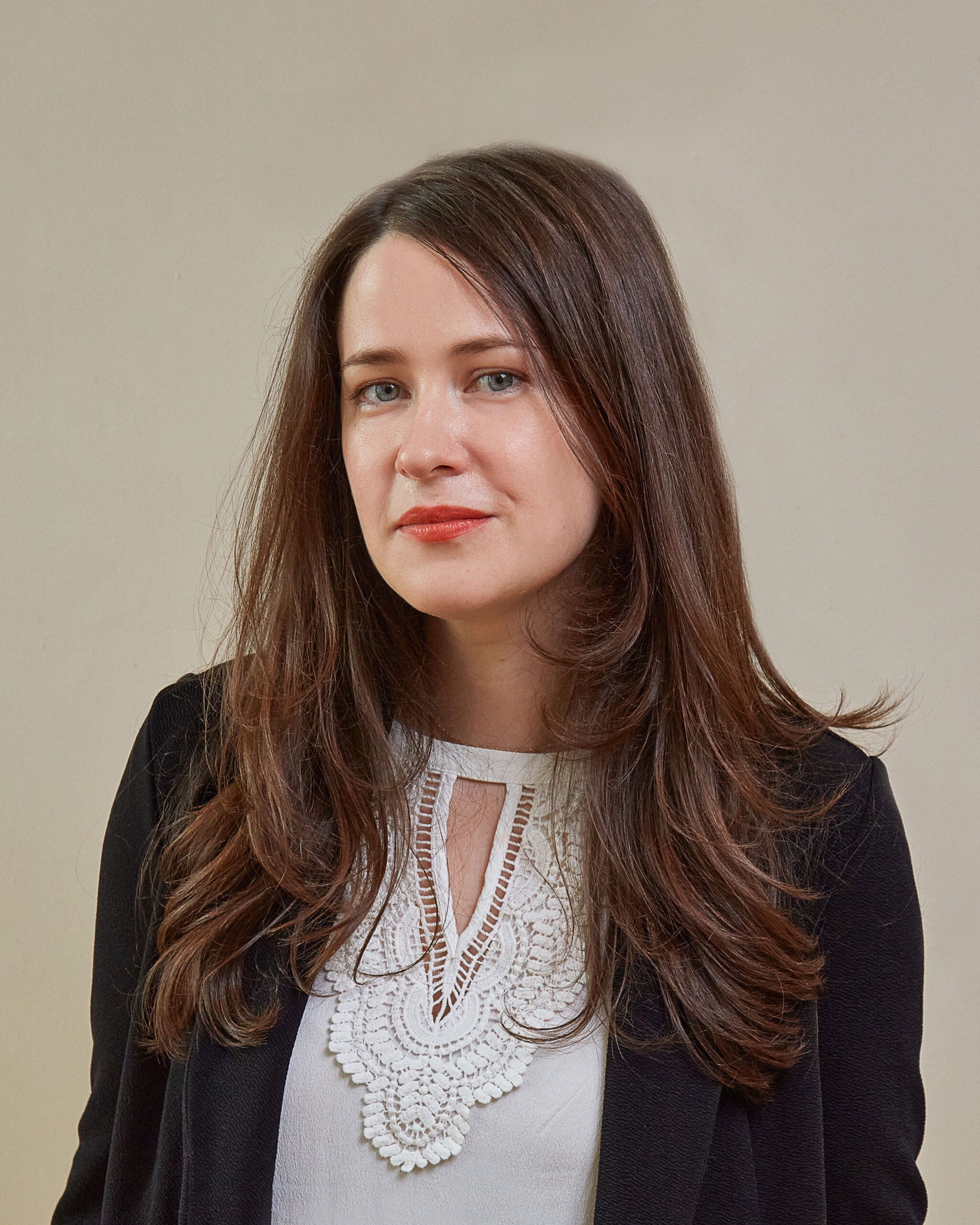 ---
Rather than thickening fragrant, spicy soups with a floury roux or cornstarch, the cooks of the famed San Francisco restaurant make a slurry of toasted chickpea flour to stir into hot stock, transforming it into a hearty and flavorful broth. The humble yellow powder is mixed with water and turmeric, cooked to a thick porridge, cooled, and cut into thin, golden strips of shan tofu. And the toasted flour appears again and again in restaurant owner Desmond Tan's complex chopped salads (thoke), where the nutty, protein-rich powder gives Burma Superstar's citrusy dressings the body needed to cling to every crunch.
These salads have proven to be a godsend for the last days of summer. Like so much Southeast Asian cookery, most of the work to make thoke can be done way ahead of time. In Myanmar, thoke can be made by tossing together just about any combination of fresh and cooked meat, legumes, and produce. Once you've stocked your pantry with plenty of fried and toasted crunchy bits, a bottle of fish sauce, and a tub of toasted chickpea flour, you're only a fridge cleanout away from your own, Superstar-inspired salad. Here are some tips to get you started.
Toast Your Chickpea Flour
"For a small batch," Tan and coauthor Leahy advise home cooks to "spread ¼ cup of flour in a skillet and heat over medium heat, stirring often, for 3 to 4 minutes or until the flour has deepened to a light caramel color."
You will likely only do a small batch only once; after, like me, you realize you're going to be going through oodles of the stuff, you're better off toasting in bulk. "For larger batches, use the oven," they go on. "Heat the oven to 350°F. Spread 1 cup of flour across a rimmed baking pan. Bake, stirring often, until the edges are starting to brown and the center is a light caramel color, about 20 minutes. The toasted flour keeps for a few months in a cool, dark place, making it convenient to have on hand for sprinkling on salads and noodle dishes
And Turn it Into Alt-Tofu
It's not that I mind traditional soy-based tofu, but it's generally the hardboiled egg white of the vegetable protein world: innocuous, austere, and in every way just fine. Plenty of ma la seasoning or shoyu, or a plunge in the deep-fryer give it some pizazz, but on its own, most tofu feels just a little too much like diet food for me.
In comes Burmese shan tofu: dense, and hearty, with a somewhat coarser texture, it absorbs sauces and dressings well, but holds onto its own nutty chickpea flavor. It is a snap to whip up on the stovetop, and so it is easy to incorporate seasonings right into the batter. Tan and his coauthor Kate Leahy call it "the polenta of the Burmese kitchen," and while it originated in the Shan State, it is now popular all over Myanmar. A dash of turmeric brightens the color and flavor nicely, and it's fabulous in a salad with tamarind dressing, or deep fried like Niçoise panisses or seared to crisp in a skillet.