Recipes
Coconut and Brown Sugar Rice Cakes (Yi Bua)
Serves

makes 14 cakes

Cook

2 hours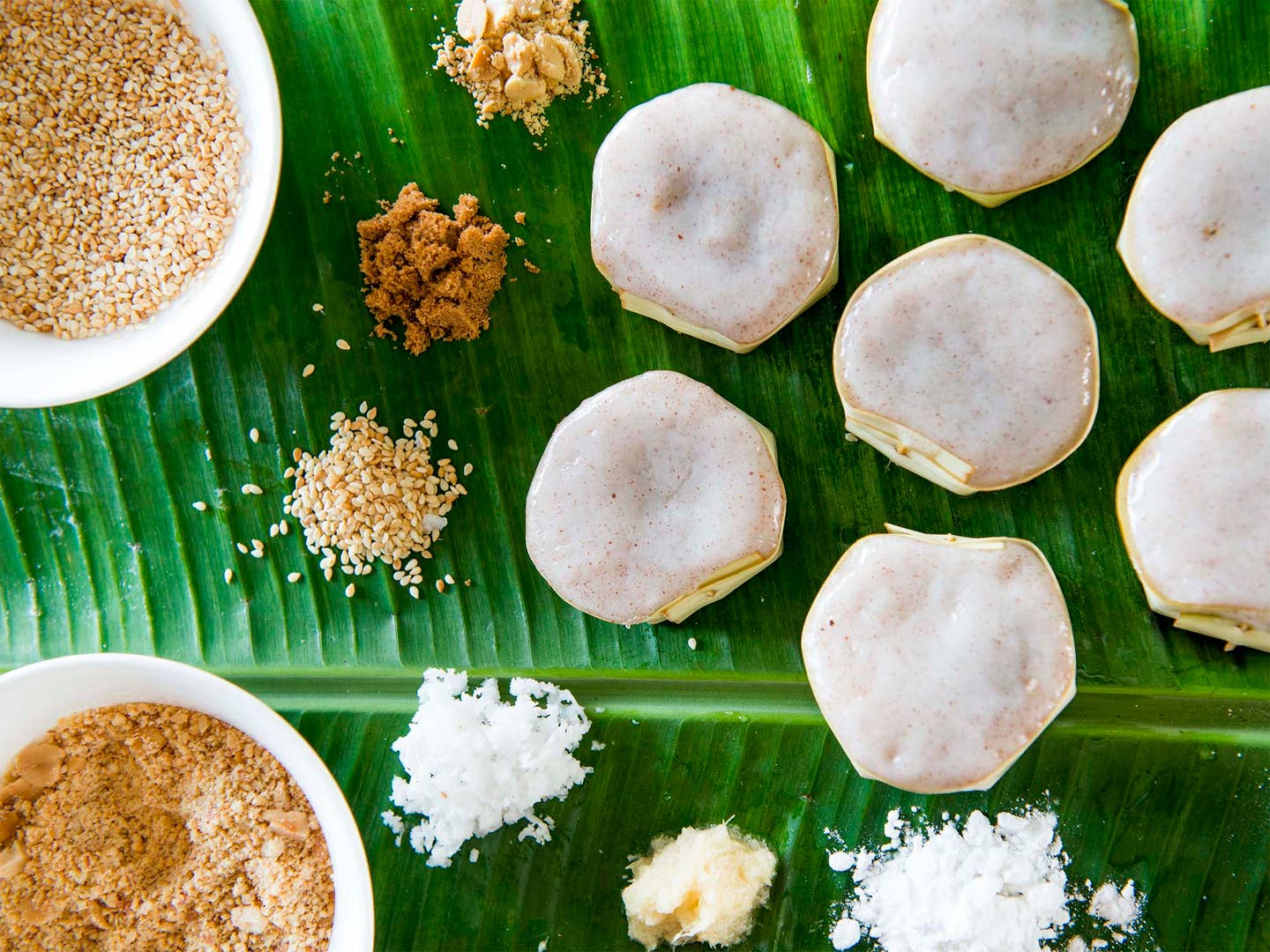 Like a tropical version of mochi, these chewy rice cakes, often eaten on sweltering Hainan days with a tall glass of coffee, hold a brown sugar and coconut filling.
Ingredients
For the Dough
1 1⁄2 cups glutinous or sweet rice flour, plus more for dusting
2 tbsp. granulated sugar
1⁄2 tsp. kosher salt
For the Filling
1⁄4 cup whole peanuts
2 tbsp. sesame seeds
1⁄2 cup packed finely grated palm sugar or dark brown sugar
2 tbsp. granulated sugar
1 cup frozen, thawed or fresh shredded coconut
2 tbsp. finely grated ginger
Instructions
Step 1
Make the dough: In a large bowl, whisk the rice flour with the sugar and salt. Make a well in the center of the flour, pour in 3⁄4 cup lukewarm water, and stir until a dough forms. Briefly knead the dough in the bowl until smooth but not sticky. Wrap the bowl in plastic wrap and let the dough rest at room temperature for 30 minutes.
Step 2
Meanwhile, make the filling: In a small saucepan, toast the peanuts over medium heat until golden brown, about 5 minutes. Transfer the peanuts to a bowl, let cool, then finely grind in a spice grinder or small food processor. Add the sesame seeds to the pan and cook, stirring, until toasted, about 3 to 4 minutes. Add both sugars and 1⁄2 cup water and bring to boil, stirring to dissolve the sugar. Stir in the ground peanuts, the coconut, and ginger and cook, stirring, until thickened, about 5 minutes. Remove the pan from the heat and let the filling cool completely.
Step 3
Break off golf ball-sized pieces of dough (about 1 oz. each) and, using wet hands, roll into a ball. Flatten the dough in your hand until 1⁄4-inch thick, place 2 teaspoons of the filling in the center, and wrap the dough around it. Shape the cake into a 3⁄4-inch-thick disk and arrange on a sheet of foil.
Step 4
Bring 2 cups water to boil in a large wok. Line the bottom of 2 bamboo steamer layers with a circle of foil, arrange the rice cakes on the foil layers, then stack the layers and cover the steamer. Set the steamer in the wok and cook the rice cakes until tender and warmed through, about 10 minutes. (Alternatively, steam the cakes in batches on a foil-lined metal steamer insert.) Uncover the steamer, transfer the rice cakes to a plate, and let cool before serving.